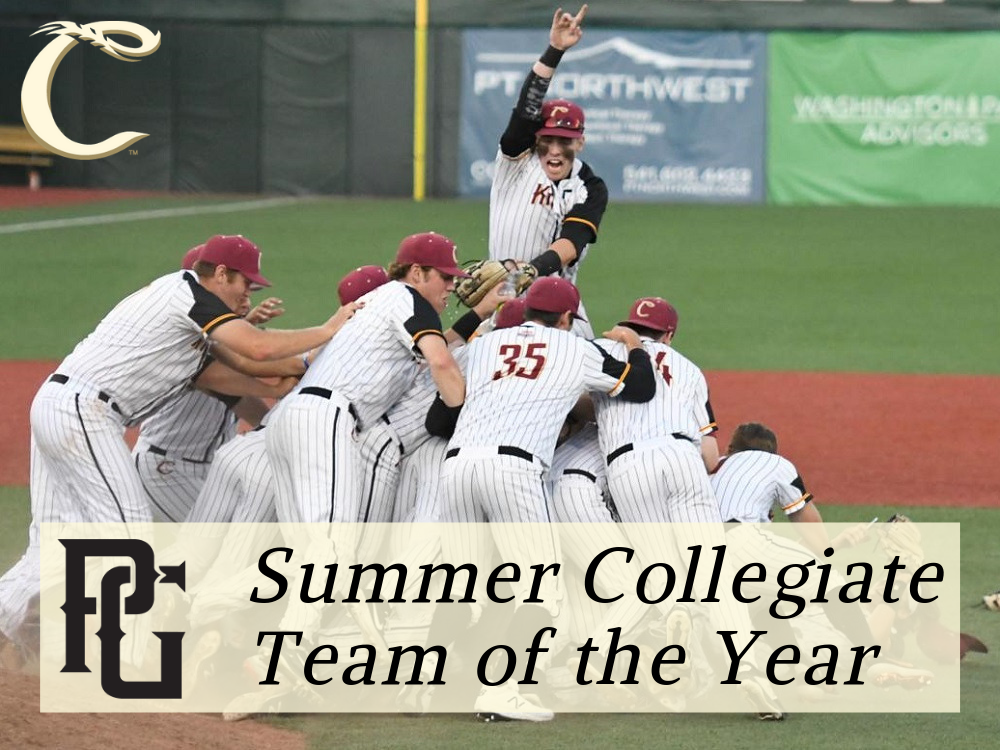 COVID-19 Pauses Corvallis Knights Memory Making Machine
Corvallis, Ore., Monday, Oct. 19, 2020 – With fall here and summer past, the Corvallis Knights are looking ahead to the day the club can focus on its core purpose – the memory making business.
The hometown team is an optimistic bunch and preparing for its return to Goss Stadium in 2021. In the wise and enthusiastic words of popular Knights assistant coach Youngjin Yoon, we have to, that's it.
"Our front office is already reaching out to season-ticket holders and community partners as we are planning and preparing for the 2021 season. It is refreshing to catch up with our fans and hear how excited they are for the return of the Corvallis Knights," said team president/GM Bre Miller.
COVID-19 may have robbed fans, players and staff of a 2020 season, but it can't take away all the uplifting memories from seasons' past, including a record-breaking 2019 summer that featured another West Coast League title, record attendance and recognition as Perfect Game's Summer Collegiate Team of the Year.
Knights Baseball Club's 30th campaign was definitely magical and no doubt a peak season among a long list of extraordinary Corvallis summers and Knights experiences.
THE BEST MEMORIES LIST
– West Coast League titles in 2008, 2011, 2013, 2016, 2017, 2018 and 2019 with all championships clinched at Goss Stadium; dogpiles lead the list of memories
– Sellouts and spectacular fireworks displays each July 3rd at Goss (compliments of Oregon State Credit Union); it's a summer highlight for all and Corvallis tradition
– Each summer starting up with Goss Stadium packed with elementary school students on Science, Engineering & Art Day; oh the energy and the noise, we love it
– Appearances by the world famous San Diego Chicken and ZOOperstars! over the years; outrageous fun for fans, players and staff…so many smiles and laughs at Goss
– Big Jim Murphy's mammoth eighth-inning two-run blast at Goss to put Corvallis up 4-3 over Kitsap, a lead Greg Peavey would hold propelling the Knights to an intense 2007 decisive Divisional Series game victory, the team's first West Coast Collegiate Baseball League playoff series win. The victors were coached by first-year skipper Matt Dorey now the Senior Vice President of Player Development for the Chicago Cubs
– Future big leaguer Josh Osich pitching a gem in the West Coast Collegiate Baseball League Championship Series finale at Goss in 2008, showing off his mid 90s fastball as the Knights clinched their first ever league title with a 4-1 win over Wenatchee
– Smooth-fielding Richie Jimenez wrapping his two-year run with the Knights with a 2009 WCL MVP award; the first of many championship shortstops that showcased their extraordinary grit and talents like Trent Oleszczuk, Peter Van Gansen, Andy Atwood, Chad Stevens, Beau Philip and Brooks Lee
– The atmosphere at the 2011 WCL All-Star Game at a packed Goss (2,517 in attendance) and Knights' slugger Sean Myrom winning the Home Run Derby; it was a celebration of Corvallis, the organization and of a rising summer collegiate league
– Future big leaguer Greg Mahle's dazzling no-hitter vs. Cowlitz at Goss Stadium in 2012, and the lefty banged out four hits that night too
– Jorge Perez's two-hit West Coast League Championship Series (WCLCS) masterpiece; a 1-0 shutout in the 2013 finale vs. Wenatchee at Goss, dogpiling before dusk (game duration of 1 hr, 28 min)
– A monster walk-off playoff homer by slugger Kevin Kline to beat rival Bend in the 2014 Divisional Series, a two-run shot to left that delivered a 2-1 win and the series sweep
– Marveling at the talent and presence of team MVP and future big leaguer Nick Madrigal over the long summer of 2015
– Most clutch "relay" ever (sorry Wallace to Barney to Canham, ok maybe second most clutch relay) in the 2016 WCLCS finale vs. Bellingham at Goss; it was Kyle Nobach (cf), to Matt Kelly (2b), to Zak Taylor (c) in the eighth-inning to squelch a Bells' rally and keep the Knights up 5-4. The Knights would go on to win 6-4 to capture the title. The inning prior, Roman Garcia put the Knights ahead with a two-run bomb in arguably the most compelling home playoff game in Knights history
– Team MVP Jordan Qsar (2017) blasting homers over the Goss scoreboard in right-center, absolutely scorching WCL pitching and setting new Knights' power marks; so many wow moments
– So many momentum catches by three-year Knight outfielder Emilio Alcantar at Goss Stadium, a real fan favorite.
– While Emilio created great buzz, another outfielder made a diving grab vs. Wenatchee that Knights' fans and coaches are still talking about to this day. That playmaker was future big leaguer Mitch Haniger, a 2010 All-WCL selection. His eighth-inning web gem started a DP for the ages, holding off the Sox in a 4-2 win. We're not sure we've seen a better or more impactful play by a center fielder at Goss
– Never seen before steal of home in the 2019 WCLCS finale vs. Victoria by Knights' veteran Andy Atwood, with the bases loaded! It was a freaking triple steal, and the game's first run, as Corvallis went on to capture its fourth straight WCL title with a 11-1 shellacking of the HarbourCats. The excitement and energy ignited by this play was an exclamation point to a dream season and another exceptional summer by Everett's finest – the uber talented infielder/outfielder Andy Atwood.
– Being awed by Brooks Lee's wizardry at shortstop in 2019, likely the top prospect to excel at Goss Stadium like ever, well at least since infielder Nick Madrigal and catcher Adley Rutschman (who got his first taste of college ball with the Knights in 2016)
– Admiring the craftsmanship of the WCL hit king, Jake Holcroft (2019); the sweet left-handed swing, all the hits, the hustle and a bat for the ages
– Hometown kid makes great, WCL MVP Briley Knight, head coach Brooke Knight's son, did it all in 2019; crushing baseballs, bringing the energy and patrolling center field like a boss
Following the 2019 season, the team's momentum was monumental, and its players were poised for big 2020 springs. But it all stopped in March and we continue in a paused state, for now.
"I have been so fortunate to be part of this amazing organization," said Knights' skipper Brooke Knight. "Sure, I've always loved baseball and the competitive atmosphere that encompasses my summer nights. But to think about all of the relationships, the long bus rides, and all of the amazing memories that we have made over the years. It has just been so special. I appreciate those times even more these days, and I can't wait to strap it on with our crew again and make a run at another WCL title."
As mentioned in our list, players like Jake Holcroft of University of Portland, Brooks Lee of Cal Poly and Briley Knight, now of University of Portland, were riding high and eager for fall/spring baseball.
Holcroft, who had redshirted due to an injury in 2019, showed off his extraordinary hit tool in 2020 as the freshman outfielder collected the second most hits of all NCAA DI players and was named a Freshman All-American. He was rolling, as were the Pilots. Jake would later play in a local Portland area summer league, the Wild Wild West League for coach Knight and his West Linn Knights, and earn MVP honors.
Lee suffered an injury that kept him out of action for the first part of 2020, but he beat his rehab/recovery schedule and made his Mustangs debut before the season was cancelled. He was recently named the #3 overall prospect for the 2022 MLB Draft by Baseball America.
Knight was at University of Utah when COVID put an end to the collegiate spring season. While home for summer, he made the decision to transfer to Portland where he will join his former Knights' teammates Chad Stevens, Jake Holcroft, Trace Tammaro, Nicholas Klemp and Jacob Dobmeier in their quest for a West Coast Conference title.
For the Knights, like most, it's been a sad period as not only have we missed our fans and players, we've missed out on memories not to mention experienced other painful losses.
We as an organization felt awful for longtime coaching friend Gary Van Tol and his student-athletes who lost their spring program because of COVID, as Boise State dropped baseball shortly after its resurrection (a COVID related financial casualty). And we lost one of our absolute favorites with the passing of dedicated partner and friend Mike Gillespie (legendary head coach at UC Irvine and USC).
Also, our amazing director of hospitality Jennifer Beaumont was diagnosed with cancer, a gut punch for the team. She's currently battling, and fighting to get healthy for next year. It just seems like 2020 just keeps piling on.
But again, we have our memories that we can savor, and that make us better appreciate our good fortune and amazing partners. In the words of Master Yoon, we will stand tall.
With that said, we introduced an online coaching video series starring Yoon, recently wrapped a fundraising campaign to help out with wildfire relief efforts in our area and have been enjoying Summer Knights Kolsch in a can (more on that later). We were able to donate $2,500 to the United Way thanks to the efforts of the team's front office and support of its fans. But back to the Kolsch, thanks to longtime partner Block 15 Brewing our Summer Knights beer was canned this year for fans (and many in our front office) to reminisce about games at the ballpark.
While it's been tough for all, the organization responded to the COVID-19 threat with great urgency. The club implemented mitigation measures in February and subsequently secured a SBA loan in the spring to keep its front office intact through the year.
Because of ongoing COVID concerns, the office is closed to guests, but our staff has been active in the community and is looking forward to further engaging with fans and partners this fall/winter.
What 2021 looks like is still unclear, but the Corvallis Knights are signing high caliber players, the West Coast League is working on scheduling options and the team is excited to announce that season tickets will go sale on November 2.
We've never been more appreciative of our fans, our partner schools, our partnership with Oregon State and our growing summer collegiate league as during these unprecedented times.
We are well positioned to return strong and thrive thanks to our fan base, host families, long-term sponsors and relationships with schools like longtime partners OSU, Portland, Cal Poly, Washington, Washington State, Oregon, UC Santa Barbara and UC Riverside; and new partners like Cal State Fullerton, Stanford, Utah, UCLA, Gonzaga and Cal State Northridge.
One thing we know for sure, we believe wholeheartedly in bringing community together at Goss Stadium, making memories and entertaining. We need each other, and there is no better social space than the ballpark.
Be kind to each other and please be healthy. Let's move positively towards being social again, as we think we're all anxious to hear "Play Ball" again and there is no better place to be than at the home of champions – OSU's Goss Stadium.
It's where the good times roll.
In the meantime, enjoy your baseball memories, be safe and stay in touch by following the hometown team on its social media channels.