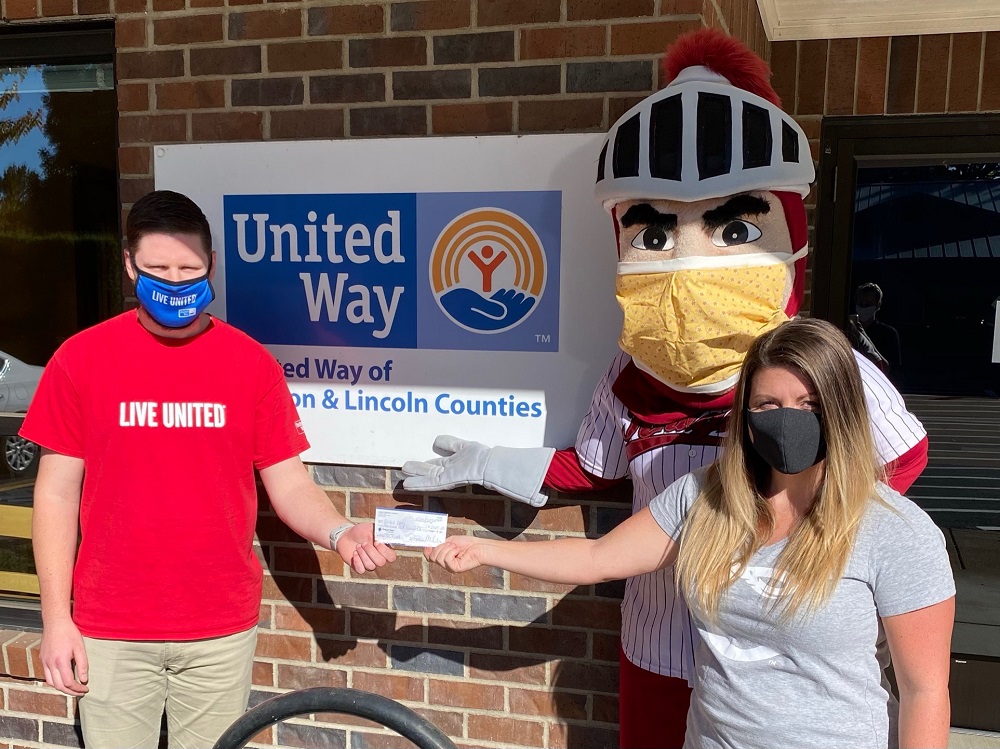 Corvallis Knights Donate $2,500 to United Way Wild Fire Emergency Fund
Corvallis, Ore., Thursday, Oct. 15, 2020 – Corvallis Knights President/GM Bre Miller (pictured with Mack the Knight and Michael McClain of United Way) announced today that Knights Baseball Club donated $2,500 to the United Way Wild Fire Emergency Fund as part of the hometown team's special limited-time Douglas Fir merchandise fundraising campaign.
"Thanks to our awesome fans, we're thrilled to share that we were able to donate $2,500 to United Way as a result of nearly 100 orders," said Miller. "This was an extraordinary team effort, and we're pleased we could contribute to United Way's relief efforts."
"Thank you to everyone who bought merchandise. We hope you wear it with pride, and thanks to our donors as well."
Fire and smoke damage were significant in the area this past month, as Benton, Linn and Lincoln counties were all affected.
"We'd like to thank the Corvallis Knights and their fans for this donation. Our community has really stepped up to the plate in support of our neighbors and fellow Oregonians during these trying times but there is still work to be done. There are many community organizations still in need of donations and volunteers or if you feel led to financially support the ongoing efforts, I urge you to consider the United Way Wild Fire Emergency Fund. 100% of the dollars raised will directly benefit individuals through the work that our non-profit partners are doing across our region," said United Way of Linn, Benton & Lincoln Counties Director of Resource Development Michael McClain.
To donate directly to United Way, please visit: http://www.unitedwaylbl.org/donate.html
If you purchased a Knights' branded Douglas Fir product, deliveries are planned for the end of the month.
The Corvallis Knights look to return to West Coast League action at OSU's Goss Stadium in June of 2021. The back-to-back-to-back-to-back WCL champions hope to announce their 2021 schedule in November.