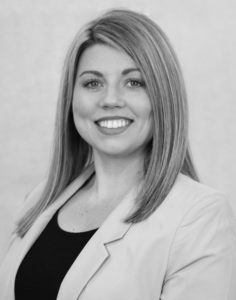 Bre Miller
President/General Manager
Throws: R | Bats: R
Experience: 15 Seasons
Hometown: Corvallis, OR
Alma Mater: Oregon State University
The 2021 season marked Bre's 15th year with the Corvallis Knights. In 2017, Miller was promoted to Team President, after four seasons as the Knights General Manager. Bre will continue in her General Manager's role while also acting as the hometown team's President.
Miller is also the team's Director of Business Development. She's worked with the Knights ever since the club moved to Corvallis from Gresham, Oregon; starting as an intern in 2007. She was named the club's 2011 Staff Member of the Year and assumed her general manager's position in 2012. At the time, Bre was the first female general manager in the West Coast League.
Bre is a graduate of the Leadership Corvallis class of 2013 and Leadership Albany class of 2014. She is also very active in Rotary, and serves on the board of directors for many area community public service organizations.
In 2012, Miller, then Bre Kerkvliet, earned Albany Junior First Citizen honors.
Born and raised in Corvallis, Bre grew up playing sports. She played varsity soccer at Crescent Valley and Corvallis High Schools and she's been around baseball her entire life, starting as a volunteer at Richey's Market American Legion games.
Bre graduated from Corvallis High in 2004 and earned a degree in speech communications from Oregon State in 2009. She resides in Monroe with her husband Bryan and their daughter Harper and son Conley.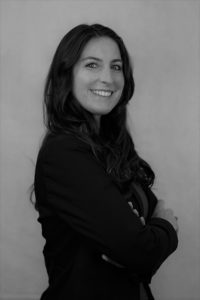 Jennifer Beaumont
Director of Hospitality
Throws: L | Bats: L
Experience: 6 Seasons
Hometown: Albany, OR
Alma Mater: Oregon State University
Jennifer Beaumont wrapped up  her sixth season with the Knights and her third season full-time as the Knights first Director of Hospitality in 2021. Beaumont was previously the seasonal catering manager for the Knights since June of 2017. Jennifer manages the team's food & beverage operations as well as group sales.
Beaumont came to the Knights with six years of experience in the hospitality industry working in corporate and group sales for Northwest X Southern Hospitality representing top brands like the Hilton, Holiday Inn and Marriott. Jennifer also managed the Corvallis Knights hotel partnership with the Holiday Inn Express from 2014-2017. She is a Corvallis Chamber Ambassador and involved in many local non-profit organizations.
Beaumont grew up in Albany participating in sports, choir, 4-H and FFA.  She is a graduate of South Albany High School.  Beaumont has a BSHSM from Oregon State University and a Masters in Holistic Health.  Beaumont lives in Albany with her husband and 2 dogs and appreciates the proximity to many outdoor recreational activities.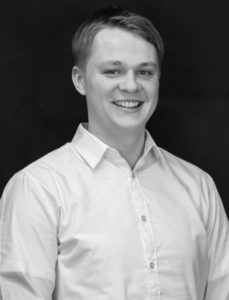 Derek Buchheit
Ticket & Facilities Manager
Throws: R | Bats: L
Experience: 4 Seasons
Hometown: Stayton, OR
Alma Mater: University of Oregon
Derek Buchheit wrapped up his fourth season with the Knights and his third season full-time at the conclusion of the 2021 campaign. Derek was an intern for the Knights in 2018, and moved into a full-time role for the 2019 season as the Box Office & Facilities Manager. He was promoted to Ticket & Facilities Manager during the 2019 off-season and in 2020 he was named the Corvallis Knights Staff Member of the Year. His roles include leading the ticketing department, stadium preparation and upkeep, and overseeing the Knights internship program.
Derek graduated in June 2018 from the University of Oregon with a degree in Business Administration with a concentration in Sports Business.
Derek is from Stayton, Oregon, where he grew up playing baseball, basketball, soccer and football, and graduated from Stayton High School in 2014.  In his spare time he enjoys hanging out with his friends, refereeing high school basketball, and watching sports. His favorite teams are the Portland Trail Blazers, Oregon Ducks, and Seattle Mariners. Derek resides in Portland.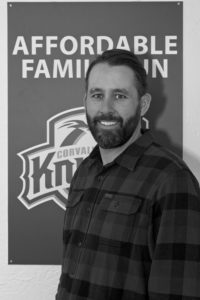 Mike Gits
Partner Relationship Manager
Throws: R | Bats: R
Experience: 2 Seasons
Hometown: Portland, OR
Alma Mater: Portland State University
Mike Gits finished up his second season full-time with Knights Baseball Club after serving five years on its board of directors. As the club's first Partner Relationship Manager, Mike focuses his efforts on business development, the Oregon All Star Series, the NW Baseball Coaches Association convention and Corvallis Knights strategic sales & marketing support.
Prior to joining the Knights as a full-time staffer, Mike worked in Nike's MLB sports marketing division for 14 years. Gits pitched for the Knights for two summers, 2000-2001. His 17 saves in 2001 still stands as a club single-season record.
He and his wife, Lindsay, reside in Portland and have a daughter, Addie, and a son, Clutch.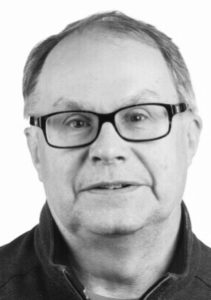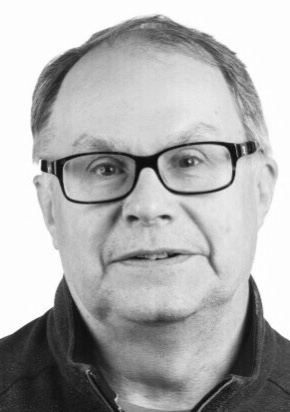 Brooks Hatch
Director of Media Relations
Throws: R | Bats: L
Experience: 11 Seasons
Hometown: East Aurora, NY
Alma Mater: University of Richmond
Brooks joined the Knights in 2011 following a 34-year newspaper career, the last 26 of which were spent at the Corvallis Gazette-Times. He covered the Knights for the G-T for four seasons from the club's first year in Corvallis until joining the team. Hatch was named the Knights Staff Member of the Year in 2014.
Brooks is a 1972 graduate of East Aurora (N.Y). High School, where he played baseball and soccer. He graduated from the University of Richmond (Va.) in 1976 with degrees in history and journalism. He worked at the Minot (N.D.) Daily News from 1976-79 and at the Bismarck (N.D.) Tribune from 1979-84 before moving to Corvallis to join the Gazette-Times in Oct., 1984.
Brooks also worked as the Director of Writing/Sports Communication Assistant at Oregon State from Aug., 2014 until May, 2017. He and his wife, Margi, live in Corvallis and have a son, Owen, a Crescent Valley High School (2016) and Oregon State (2019) graduate.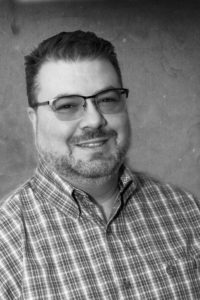 Bobby Merwin
Public Address Announcer
Throws: R | Bats: R
Experience: 3 Seasons
Hometown: Albany, OR
Alma Mater: Oregon State University
The Corvallis Knights welcomed back Bobby Merwin to the announcers booth for the 2021 season, his third with the team. He took over for the legendary Bob Knight as the Public Address announcer for the Knights in 2018.
Bobby's unique and vast experience as an improvisational actor, stand-up comedian, play-by-play announcer and news broadcaster lends itself well to the announcing booth and the Knights are proud to have his talents again this year.
When Bobby is not behind the microphone for the Corvallis Knights he works full time for Acme Counseling as a Licensed Professional Counselor proudly helping those in our community with both mental health and substance abuse issues.
Want to join our team?  Check out our available jobs & internships!