Hotel Corvallis
Omaha Room
$900
Up to 125 guests
Experience the best views in the stadium from the Hotel Corvallis Omaha Room! This large, exclusive suite with indoor and outdoor seating includes tickets for 125 guests and two private restrooms. Additional guests are $9 each. Food and beverage service may be added on. Includes 52 outdoor stadium seats and 56 indoor seats. Overflow seating available.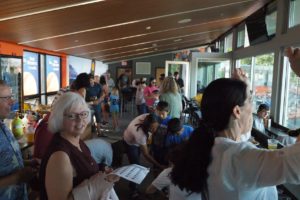 TnT Builders
Party Deck
$1,250
Min. 50 guests
Host a party on the TnT Builders Party Deck and enjoy the game under the shade from the 3rd baseline! This exclusive group experience includes admission to the game and a ballpark BBQ for 50 guests. Additional guests may be added for $25 per person. Includes picnic table and patio seating for 52 guests. Overflow seating available.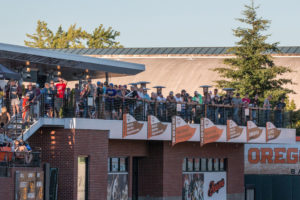 .
Casey Corner
$2,500
Min. 100 guests
Perfect for a large group, Casey Corner offers casual seating and front row views down the 1st baseline. Your exclusive Casey Corner group reservation includes admission to the game and a ballpark BBQ for 100 guests. Additional guests may be added for $25 per person.Includes barstools, patio furniture, and picnic table seating for 45 guests. Overflow seating available.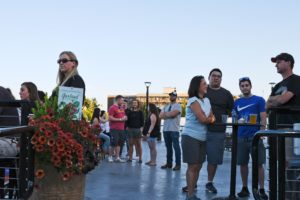 GROUP RATES: Groups of 10 or more can receive group pricing on single-game tickets. Visit the Single-Game Tickets page for more details.
Assumption of Risk and Waiver of Liability at Corvallis Knights Games
HOLDER of each ticket voucher assumes all danger incidental to the game, whether occurring before, during or after the completion of the game, including the risks of being injured by thrown or batted balls, bats, or any other equipment leaving the playing field. HOLDER of each ticket voucher knowingly and freely assumes all such risks and agrees to hold harmless and not sue the TEAMS, PLAYERS, Knights Baseball Club, Inc. or Oregon State University for any injury or act that occurs at this event.
Refund Policy
Tickets are not refundable for cash. In the event that a legal (4 1/2 innings if the home team is winning, or 5 innings if the visiting team is winning) or make-up game is not played, the ticket will become a voucher, good for any subsequent game for a seat price of equal or lesser value. The voucher will be good for the current season only, and may be exchanged at the Goss Stadium Box Office or the Knights downtown Corvallis office. Subject to availability.
Third-Party Ticket Websites
The Corvallis Knights do not offer tickets to be purchased from third-party ticket selling platforms (Ticketmaster, Stubhub, etc.). Fans who purchase fraudulent tickets from any third-party site will not be reimbursed.
Stadium Policies
Please review all stadium policies before making your summer trip to Goss Stadium. You can find the stadium policies by clicking here.
Questions?
If you have any questions or issues accessing your account, please contact Derek Buchheit by email at [email protected] or by phone at 541-752-5656.