The Corvallis Knights are looking for host families for the 2023 season! Some players will arrive in late May, with the majority of players arriving the second and third week of June. They will require housing possibly as late as mid-August. If you are interested in finding out more, please fill out the form below and a Knights front office staff member will be in touch with you to further discuss the host family program.
Expectations
Expect:
• The organization will handle any necessary disciplinary actions (we are your hammer)
• To start a long-time relationship with your host player/s
Expect your player/s to:
• Follow house rules – please communicate house rules prior to or the day of your player/s arrival
• Be in and out of the house throughout the day
• Arrive home late after night games, which start at 1:05pm/6:35pm/7:15pm
• Be gone half the season on road trips – the players are home for about 30 days throughout the regular season
• Be friendly with family friends and your children
• Want to have personal time on off-days
• Have large appetites – the players are like big kids
• Feed and care for themselves (but they love home cooked meals and appreciate Corvallis hospitality!)
Don't expect:
• Players to work for housing
• Players to baby-sit your kids
*Please do not provide or purchase alcohol for the players. The organization discourages the consumption of alcohol with its players. The majority of players are minors.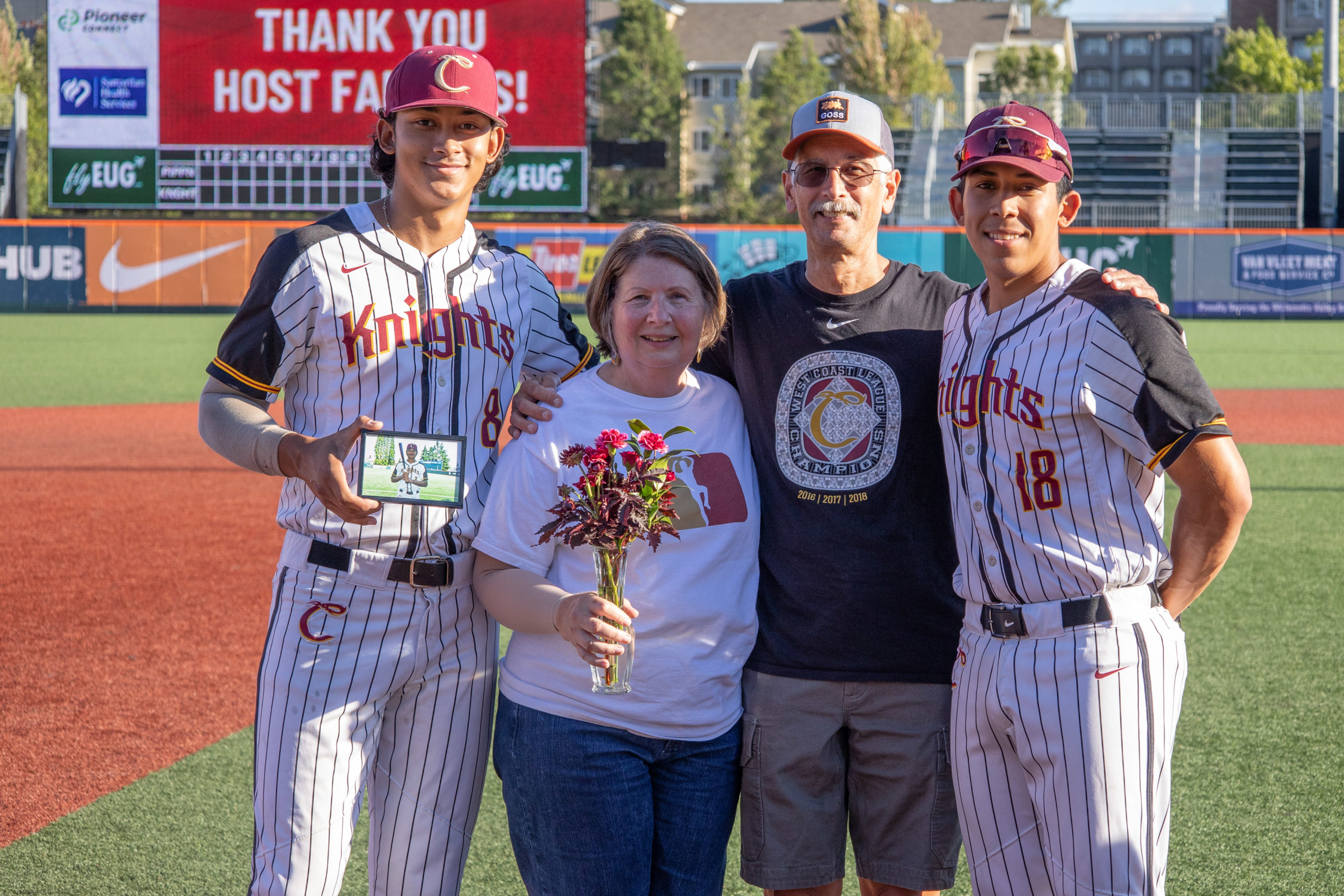 Nate Nankil and Sebastian Garcia with their host family, Vickie and Keith Taylor, in 2021.
Criteria
General
In selecting our host families, we look for candidates interested in the team, student-athletes and our community who are dedicated to making our players' summer experience positive and memorable. Knights' host families spend time with their player/s and treat them as if they are part of the family. The Corvallis Knights benefit greatly from host family support as host families help shape the players perception of the organization and community. Host families significantly contribute to the success of the team.
Matching Players with Host Families
We try to match players and host families of similar interests and look for commonality when placing players with host families. Whether it is similar collegiate interests, religion, or hobbies, we try to make the best match.
Facilities and Services Provided by Host Family
Your residence must be within 15 miles of Goss Stadium. This allows players to be close to the park and our 15-mile radius also keeps players closer together. The Knights try to place at least one player with a car per host family, but there are instances where we have to place a player with a host family minus transportation. In these instances, your player may ask for a ride from time to time. In most cases, a teammate will shuttle him to and from the park.
Bedroom
Your player/s must have a private room for sleep and study. If you host two players, it is fine to have them share one room, but two separate beds must be provided. Each player's bed should be dressed with clean linens and have a pillow. If you have young children, please ask them to respect the student's privacy and belongings. The room should also have adequate A/C, light and ventilation.
Bathroom
A private bathroom is not required. If a player is sharing a family bathroom, they should have a place for personal grooming items and the door should lock from the inside for privacy.
Laundry
Players are expected to do their own laundry, but they will need access to laundry facilities including a washer and dryer. The Knights will launder player uniforms.
Kitchen
Players must have access to the kitchen and utensils to cook and eat meals and snacks. Please provide players with adequate cupboard space and shelf space in the refrigerator to store personal food items.
Interested in becoming a Knights host family? Fill out the short questionnaire below, and the Knights will be in touch to answer any questions you have.