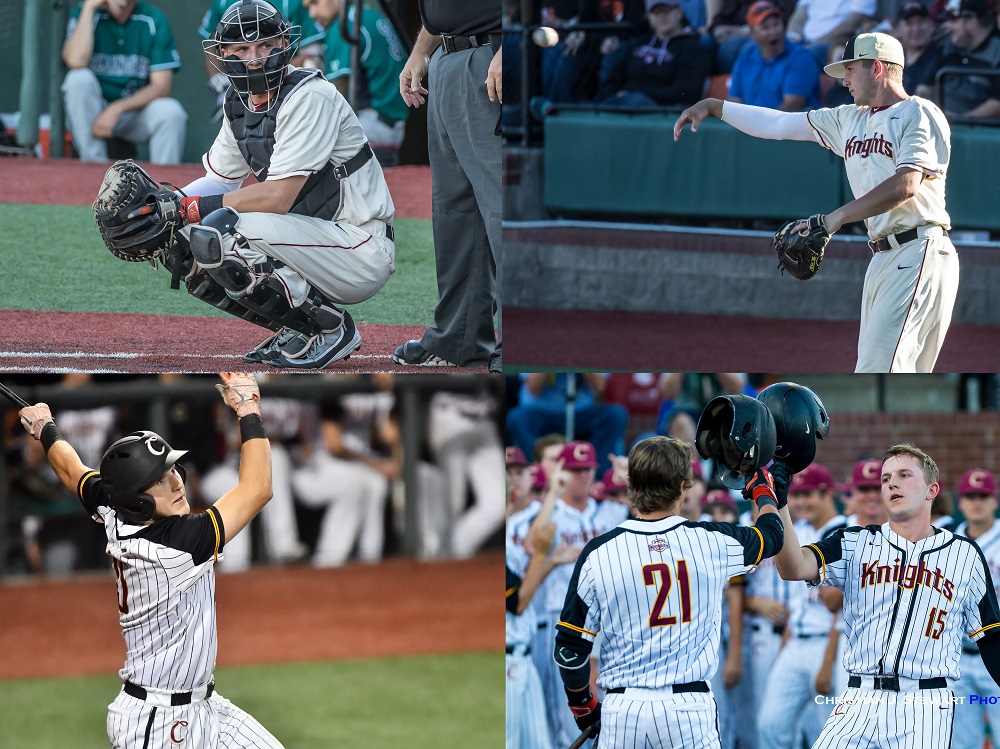 Three-Year Corvallis Catcher Zak Taylor of OSU Named Knights Collegiate Player of the Decade
Corvallis, Ore., February, 18, 2020 – Knights Baseball Club unveiled its Collegiate Player of the Decade for 2010-2019 naming former Corvallis Knights catcher of Zak Taylor of Oregon State, as announced by club CEO Dan Segel.
This announcement follows the club's recent unveiling of its all-decade teams last Thursday. Taylor caught and played first and third base for Corvallis for three summers, 2016-2018.
Zak faced stiff competition for this honor, as several other Knights were deserving and posted numbers for the ages this past decade.
It was Taylor's intangibles, leadership, success and time with the team that were separators. Following his freshman season at Oregon State in 2016, Zak helped start the Knights current run of four consecutive West Coast League titles as he emerged as the team's starting catcher on a squad that also featured current pro catchers Adley Rutschman (OSU/Baltimore) and Nick Kahle (UW/Milwaukee). He proved to be that club's team leader and continued in that capacity for the next two summers leading the Knights to a back-to-back WCL title and then a Three-Peat.
"We can't be more proud of Zak Taylor and while it was difficult picking just one Player of the Decade it was a pleasure to name Zak," said Knights Baseball Club CEO Dan Segel. "We're so fortunate we were part of his college baseball journey. He epitomizes what we aspire to be as championship caliber Knights, and that goes for all of us from our players, to coaches, to staff. Zak's a special role model and his future as a leader is a bright one."
Zak's junior campaign was a magical one, as he won a National Championship with the Beavers and capped his baseball season with another WCL crown in 2018. He was like a player/coach that summer, leading the Knights to a clean sweep of the playoffs.
Taylor's College World Series performance, both offensively and defensively (at first base), was clutch and critical to Oregon State capturing its third national title. And his leadership and steady contributions at bat and in the field were crucial to yet another WCL championship for Corvallis.
A product of Aloha youth baseball and Sherwood High School, no one played more games for the Knights over the team's recent run of championships, 126 games played in total. Over three summers of regular-season, post-season and non-league play, Zak collected 452 at bats and 130 hits, batted .288, banged out 30 doubles, homered 9 times and knocked in 67 runs while playing solid defense behind the plate and at the corner infield spots.
As a catcher, he earned second-team all-WCL honors in 2016, honorable mention honors in 2018 and played in the 2017 WCL All-Star Game at Yakima County Stadium. Over three WCL regular seasons, he hit .293 with 21 doubles, 7 homers and 50 RBIs.
"I want to thank the entire Knights organization for this honor," said Zak Taylor. "It was a pleasure to spend three seasons in Corvallis. I formed some amazing friendships through the Knights and grew up so much as a player and a man. Dan Segel and his staff run one of the best collegiate summer ball teams in the country. I will always cherish my time in Corvallis."
There were other Knights with bigger numbers, but Zak's body of work and contribution to establishing championship culture – along with his consistent performance and extraordinary attitude – made him the right guy for this special honor.
With that noted, first-team all-decade Corvallis Knights like Andy Atwood of Oregon State/Texas Rio Grande Valley (2016, 2019), Jordan Qsar of Pepperdine (2017), Jake Holcroft of Portland (2019) and Briley Knight of Utah (2018-2019) were more than deserving of this award.
Atwood put together two spectacular championship summers. His energy, versatility, offensive exploits, base running, toughness and leadership were next level. He was so worthy of this recognition. As were champions like Qsar, Holcroft and Knight, as Jordan arguably turned in the most dominant summer in Knights' history; Jake set multiple records, was a club catalyst and a league batting champ; and Briley won two titles, earned the team's only league MVP award (over the decade) and put up monster offensive numbers last season while playing a plus center field and leading with grit.
We would be remiss to not recognize another former Knights' catcher worthy of this honor as well, Dane Lund. A product of Astoria, Ore., Dane played four summers with the Knights following springs at Mt. Hood CC, San Jose State and Oregon State. He earned two rings (2011 and 2013), was the team's MVP in 2013 and earned first-team all-WCL honors that year too. Daner was versatile, athletic and a spark plug. He also shined in the outfield and was an extraordinary teammate.
After a four-year collegiate baseball playing career at OSU, Zak Taylor is currently working as an instructor/coach at Portland Baseball Club, and is looking forward to reporting to his second season of independent professional baseball later this spring.
To check out the complete Corvallis Knights all-decade teams, click here.
The Corvallis Knights 2020 home opener is set for Tuesday, June 2 at 10 am as the team hosts its ninth annual Weyerhaeuser Science, Engineering & Art Day game at Goss Stadium. The club's title defense, and quest for five championships in a row, starts Friday, June 5 at Yakima Valley. The Knights WCL home opener is Friday, June 12 vs. longtime rival Bend. Don't miss a single pitch or promotion this summer. Click here to reserve your seats for the 2020 season