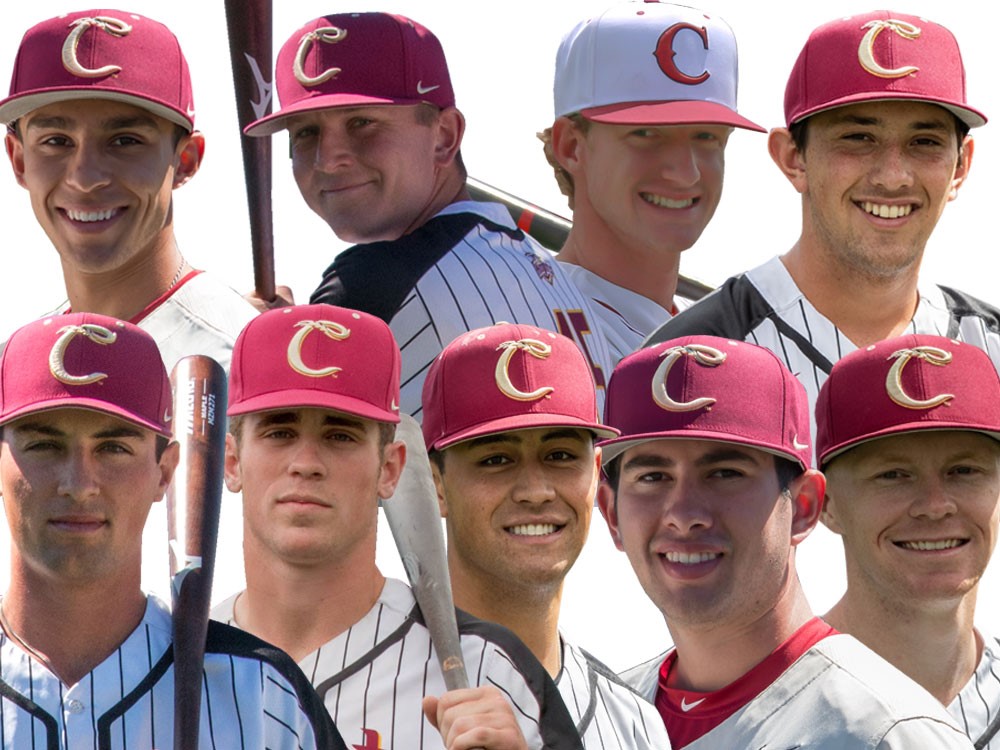 Knights Baseball Club Unveils Corvallis Knights All-Decade Teams
Corvallis, Ore., February 13, 2020 – The last decade was very, very good to the Corvallis Knights. Over the past 10 years, the Knights qualified for the playoffs each season; won divisional titles every year with the exception of 2015; appeared in 8 West Coast League Championship Series; captured WCL crowns in 2011, 2013, 2016, 2017, 2018 and 2019; and culminated its decade of dominance by being named the 2019 Summer Collegiate Team of the Year by Perfect Game USA.
That's a lot of winning, powered by extraordinary players, exceptional performances and great coaching.
In recognition of a magical decade of outstanding play, Knights Baseball Club is naming all-decade teams for 2010-2019. Picking these teams was challenging as there were so many shining Knights to choose from.
The Corvallis Knights all-decade selections were determined by the vote of Knights' head coach Brooke Knight, director of media relations Brooks Hatch, club CEO Dan Segel and former pitching coach Connor Lambert (2011-2017).
Without further ado, we are proud to unveil our Corvallis Knights all-decade honorees; First Team, Second Team and Honorable Mention.
First Team
Catcher –                            Zak Taylor, Oregon State
First Base –                        Dalton Kelly, UC Santa Barbara
Second Base –                   Marc Gallegos, Corban
Shortstop –                        Brooks Lee, Cal Poly
Third Base –                      Andy Atwood, Oregon State/Texas Rio Grande Valley
Utility –                               Nick Madrigal, Oregon State
Outfield –                           Jordan Qsar, Pepperdine
Outfield –                           Jake Holcroft, Portland
Outfield –                           Briley Knight, Utah
Pitcher –                             Tevita Gerber, Dixie State
Pitcher –                             Jorge Perez, Grand Canyon
Pitcher –                             Connor Redmond, Cal Poly
Pitcher –                             Elliot Surrey, UC Irvine
Pitcher –                             Landen Bourassa, San Francisco
Head Coach – Brooke Knight. Pitching Coach – Connor Lambert. Assoc Head Coach – Ed Knaggs. Assistant Coach – Youngjin Yoon
Zak Taylor, a key part of Oregon State's 2018 national championship club, stayed home for three summers to play for Corvallis. He was the team's leader all three campaigns, leading the Knights to three West Coast League titles, 2016-2018. He was a steadying force, who not only caught, but also played first and third base equally as well. As a catcher, he earned second-team all-WCL honors in 2016, honorable mention honors in 2018 and played in the 2017 WCL All-Star Game at Yakima County Stadium. Over three WCL regular seasons, he hit .293 with 21 doubles, 7 homers and 50 RBIs over 368 at bats. Zak will report for his second season of independent professional baseball later this spring. He currently is an instructor/coach at Portland Baseball Club.
Dalton Kelly flashed all kinds of leather and mashed WCL pitching during the summer of 2014. The left-handed swinging slugger from UC Santa Barbara nearly led his Knights to a league title, as Corvallis lost a heart-breaking WCLCS to Bellingham that season, 2 games to 1. Dalton earned first-team all-WCL honors, led the Knights in hitting with a .336 batting average and blasted 7 home runs while collecting 34 RBI. He is arguably the best defensive first baseman to have ever played in the program. He also played a stellar right field for Corvallis. Kelly is currently a prospect in the Tampa Bay organization and hit .283 at AAA Durham in 2019.
Former Corban star Marc Gallegos played two summers in Corvallis, 2012 and 2014. He was part of two teams that were edged in hard fought decisive WCLCS third games at Wenatchee and at Bellingham. While he did not earn a ring, he did earn first-team all-WCL honors in 2014 and second-team honors in 2012. He was also selected to play in the 2014 WCL All-Star Game in Klamath Falls, which was unfortunately rained out. Marc played a solid second base and during WCL regular-season action hit .316 in 2012 and .309 in 2014. He led the Knights in runs scored with 37 and hits with 59 in 2012. He also hit .350 in the 2012 WCL playoffs. Over two WCL regular seasons, Gallegos batted .312 with 13 doubles, 38 stolen bases, 3 homers and 50 RBIs. Marc currently works for his former skipper, Brooke Knight, as an Operations Manager/Mortgage Advisor at Knight Financial in Corvallis.
Switch-hitting and slick-fielding Brooks Lee of Cal Poly started his college career to rave reviews last summer in Corvallis. He was named the league's top prospect by Perfect Game. He was also named the top prospect by MLB scouts at the WCL All-Star Game Bend. Brooks earned first-team all-WCL honors at shortstop and hit .342 with 12 doubles, 12 stolen bases, 2 homers and 30 RBIs during the WCL regular season while playing spectacular defense from beginning to end. As a result of an injury this past fall, Brooks will debut at Cal Poly later in the spring for his dad, longtime Knights' partner and Mustangs' head coach Larry Lee.
Andy Atwood was a key part of Four-Peat bookend titles, winning a championship in 2016 following his frosh spring at Oregon State, and again last summer following his redshirt junior season at University of Texas Rio Grande Valley. He is one of the most decorated Knights earning second-team all-WCL honors in 2016 and first-team honors in 2019, setting a franchise single-season triples mark with 8 last year and appearing in two All-Star Games. Andy led Corvallis in overall hitting (.323), hits (64) and stolen bases (19) in 2016. During his regular seasons, Atwood hit .308 in 2016 and .313 in 2019. Combined, he batted .311 in WCL regular-season action with 77 runs, 121 hits, 16 doubles, 7 triples, 36 stolen bases, 4 homers and 56 RBIs while playing multiple positions very well. He started his career with the Knights playing shortstop and finished it at third base while also appearing in the outfield, at second base and at first. The lanky, athletic right-handed hitter from Everett, Washington was also clutch in the post-season, hitting .366 with 7 RBIs over two playoff campaigns. Andy begins his final collegiate season tomorrow night as his Vaqueros host Kansas State.
Former Oregon State great Nick Madrigal started his collegiate career with the Knights in 2015, taking the WCL by storm. At the time, he set the league's single season steals mark with 40 stolen bases, which is still a Knights single-season record. He played all over the diamond, mostly at shortstop and center field, and earned first-team all-WCL recognition as well as team MVP honors. His energy and leadership, not to mention his offensive, defensive and base running prowess, were on full display for the very first time at Goss Stadium that summer. Nick hit .303 over 44 WCL games and 178 at bats with 35 runs, 9 doubles, 2 triples and 20 RBIs. Madrigal is currently a prospect in the Chicago White Sox organization. He finished last season playing for the Charlotte Knights in AAA, where he hit .331. Nick is expected to make his MLB debut in 2020.
Jordan Qsar of Pepperdine put together a monster summer in 2017, shattering team records for doubles, home runs and RBIs; leading the Knights to a back-to-back WCL title both as a right fielder and relief pitcher. He was named team MVP, earned first-team all-WCL honors and appeared in the WCL All-Star Game in Yakima where he was named the game's top prospect by MLB scouts. Qsar was also named the league's top prospect by Perfect Game and was an honorable mention Summer All-America pick by Perfect Game as well. During the regular season, Qsar hit .304 with an incredible 21 doubles, 13 homers and 49 RBIs. For the summer, he set franchise marks with 22 doubles, 14 home runs and 53 RBIs. Jordan just finished playing for his former Knights' skipper Brooke Knight for the Perth Heat in the Australian Baseball League. He is currently a prospect in the Tampa Bay Rays organization. He played for the Bowling Green Hot Rods in the Class A Midwest League last season.
Redshirt freshman outfielder Jake Holcroft of University of Portland won a WCL batting crown last season (the only Knight to do so this past decade), hitting a sizzling .368. The sweet-swinging left-handed hitter also shattered the league's hits record, setting a new standard with 82 knocks. Like Qsar, Jake stayed molten hot all summer, breaking several franchise single season marks. Holcroft is now the club's new single-season leader in at bats (282), runs (66), hits (102) and batting average (.362). He also led the Knights in stolen bases with 29. During the WCL regular season, Jake banged out 7 doubles, 2 triples and a homer while collecting 33 RBIs and playing a solid left field. He was a first-team all-WCL selection and played in the WCL All-Star Game in Bend. Jake sat out last spring due to injury and is set to debut tomorrow with Portland as the Pilots host University of Nevada-Reno at the Ridgefield Outdoor Recreation Complex.
Briley Knight, the son of Corvallis Knights head coach Brooke Knight, has had a front row seat to the Knights decade of dominance from his days as a team bat boy, to working out with the club as a high school player, to his introduction to college baseball in 2018. Briley started his career in Corvallis as a utility player before finding a home as a plus center fielder last summer. Showcasing a legit power bat, aggressive base running and lots of grit, Knight turned in an tremendous performance following his freshman spring at University of Utah; earning West Coast League MVP honors (the only Knight to do so this past decade). He was named first-team all-WCL and played in the WCL All-Star Game in Bend. The left-handed hitting slugger led the league in several offensive categories including on base percentage (.460), slugging percentage (.621), total bases (113) and extra base hits (29); and finished second in the league in hitting (.357) and RBIs (42) while blasting 8 home runs. For the summer, he led the Knights in doubles with 19, home runs with 11 and RBIs with 50. Over two WCL regular seasons, Knight hit a combined .297 with 64 runs, 94 hits, 25 doubles, 5 triples, 28 stolen bases, 8 homers and 60 RBIs. Briley, a grad of Crescent Valley High School in Corvallis, starts his sophomore campaign with the Utes tomorrow at UC Davis.
Southpaw Tevita Gerber of Dixie State blossomed over a record-setting summer, emerging as the club's ace last season. The former UNLV lefty earned West Coast League Pitcher of the Year honors, set a new Knights single-season mark for wins with 9 and led Corvallis in innings pitched with 66 and strikeouts with 75. Tevita also earned first-team all-WCL honors and the Knights Top Pitcher Award. During the regular season, he made 10 appearances and 9 starts, logging 49 innings while going 7-1, striking out 50 and posting a 2.20 ERA. He made two quality starts in the post-season, as he tossed 12.2 innings, struck out 16 and earned two wins while posting a 1.42 ERA. Gerber's final collegiate season is underway and going famously as Tevita has led NCAA DII Dixie State to a 7-0 record out of the gate, with the redshirt senior twirling two gems; earning two wins over two starts and 11 innings pitched while striking out 12 and allowing only one earned run. Dixie State hosts Asuza Pacific tonight to open a four-game series.
Three-year Knights' right-hander Jorge Perez of Grand Canyon shined as both a starter and closer with Corvallis. His milestone moment with the club was his epic 2013 complete-game shutout vs. the Wenatchee AppleSox in a WCLCS clinching 1-0 championship game win at Goss Stadium that was completed in one hour and 28 minutes. He dominated that post-season, making two quality starts over 15.1 innings, walking one while striking out 11 and posting a 1.17 ERA. Perez earned honorable mention all-WCL honors and was recognized as the league's #2 rated prospect by both Baseball America and PG Crosschecker in 2013. He was also a third-team Summer College All-America pick by PG Crosschecker. Jorge also pitched in the 2012 WCL All-Star Game in Walla Walla. Perez made 8 appearances and 7 starts in 2012, logging 45 innings while going 3-3 and posting a 2.77 ERA. He was the Knights' closer in 2013, making 11 regular-season appearances (with only one start), registering a team-leading 6 saves while posting a 1.30 ERA. Jorge concluded his Knights career with 7 relief appearances in 2015. He recently wrapped his first season pitching for his former Corvallis skipper Brooke Knight with the Perth Heat of the Australian Baseball League. The former New York Yankees draft pick pitched professionally for Tijuana of the Mexican League in 2019.
Nicknamed Big Game Redmond for his legendary exploits in the post-season, Connor Redmond has earned three rings with Corvallis and excelled in the playoffs for three years running. His first summer in Corvallis followed his freshman spring at Cal Poly. During the 2017 regular season, he made 6 appearances and 5 starts and went 1-2 with a 3.65 ERA. In the playoffs, he showed off his big-game ability with a five-inning quality start in the Knights' 3-2 home victory vs. Yakima Valley in the WCLDS. In 2018, Connor made 9 appearances and 6 starts over the regular season. The right-hander tossed 34 innings while walking only 5 and striking out 27 and posted a 2-1 mark with a 3.80 ERA. And then Big Game Red came up huge in his game two WCLCS home start vs. Kelowna. He threw 6.2 innings, struck out 8 and allowed only one run to earn the win, as Corvallis beat the Falcons 5-1 to capture its third consecutive WCL title. Last summer, Redmond made 6 appearances and 4 starts posting a personal best 3.24 regular-season ERA. In the post-season, he shined once again with yet another quality start, tossing 6.1 innings of three-hit ball to earn the win in a decisive third game 6-2 home victory over Walla Walla in the WCLDS. Connor is sitting out this spring as part of his transfer from Cal Poly to Montana State-Billings. Redmond is set to pitch a fourth summer with the Knights in 2020.
Lefty Elliot Surrey of UC Irvine was the ace of the 2013 WCL champion Knights. His WCL regular-season ERA of 1.27 was a league low. Elliot was a first-team all-WCL selection and the recipient of the Knights Top Pitcher Award. Following his frosh spring at UCI, Surrey made 10 appearances, six starts and logged 49.2 innings over the WCL regular season posting a 5-1 won/loss record for Corvallis. Elliot made one start in the post-season, tossing 7 innings and allowing only one run to earn the first-round 7-3 playoff series clinching win vs. Medford at Goss Stadium. Surrey would go on to have a stellar collegiate career with the Anteaters including a brilliant post-season at the NCAA Corvallis Regional at Goss Stadium in 2014, where he earned a win and save as his Irvine club knocked off #1 national seed Oregon State. After a two-year professional career in the Seattle Mariners organization, Elliot is now working in college baseball as the director of baseball operations at Cal State Northridge of the Big West Conference.
Landen Bourassa of University of San Francisco propelled Corvallis to a Three-Peat in 2018 and was named West Coast League Pitcher of the Year. He also posted the league's lowest ERA at 1.96 and led the Knights with an overall team-low ERA of 1.83. In addition, the right-hander from Lethbridge, Alberta, Canada earned first-team all-WCL honors, appeared in the WCL All-Star Game at Civic Field in Port Angeles, was the recipient of the Knights Top Pitcher Award and was a second-team Summer College All-America pick by Perfect Game. During the WCL regular season, Landen made 8 appearances, 7 starts, logged 46 innings and went 5-1. In his one playoff start at the Portland Pickles, he threw 8 innings of one-run ball while striking out eight in a game the Knights would win in extra-innings 4-1 to advance to the WCLCS. Bourassa sat out last spring due to injury and is expected to return for his redshirt senior season in 2020. The Dons open up tomorrow at Cal State Northridge.
Our all-decade team is led by the West Coast League's most tenured skipper, Brooke Knight. Coach Knight was at the helm all decade, winning six titles. He was named WCL Coach of the Year four times over the last 10 years and has earned the honor six times over his distinguished career. His pitching coach for seven years was Connor Lambert, now the pitching coach at University of Portland. Lambo won four titles during his time with the Knights. Completing the all-decade coaching staff is associate head coach Ed Knaggs, who joined the club in 2018, and assistant coach Youngjin Yoon, who first started coaching in Corvallis in 2016. Ed has won two titles with the Knights and five WCL championships as the skipper of the Wenatchee AppleSox. Yoon has collected championship rings for four consecutive years and has earned the label of Master Skill Developer. In addition to Knight, Lambert, Knaggs and Yoon, the Corvallis Knights program has benefited greatly from the contributions of assistant coaches like Kellen Camus, who earned three rings as a pitching coach from 2017-2019; championship assistants Kevin Gunderson of Gunderson Pitching Academy and Max Gordon of University of Michigan (2016); pitching coach Ryan Wing (2010); and assistants Billy Clontz (2010-2011, 2013), Travis Hanson (2010), Andy Jenkins (2012), Skyler Riley (2014) and Dane Lund (2015). Clontz, a former star player for the Knights and Corvallis native, won titles in 2011 and 2013 as a coach. Clontz and Jenkins are now excelling as assistant coaches at Ohlone College (JC) and Cal State Fullerton, respectively.
Second Team
Catcher –                            Dane Lund, Mt. Hood CC/San Jose State/Oregon State
First Base –                        Kevin Kline, Dixie State
Second Base –                  Matt Duffy, Long Beach State
Shortstop –                        Peter Van Gansen, Cal Poly
Third Base –                      Cody Lenahan, Portland
Utility –                               Chris Rabago, UC Irvine
Outfield –                           Blake Drake, Concordia
Outfield –                           Mitch Haniger, Cal Poly
Outfield –                           Kyle Nobach, Oregon State
Pitcher –                             Max Beatty, Pacific Lutheran
Pitcher –                             Trenton Toplikar, UC Riverside
Pitcher –                             Mark Trentacosta, UC Irvine
Pitcher –                             Brandon Choate, Tacoma CC/Washington
Pitcher –                             Abbott Haffar, UC Riverside
Honorable Mention
Catcher: Cole Hamilton, Linn-Benton CC. First Base: Dillon Shrum, Nevada-Reno; David Armendariz, Cal Poly. Second Base: Jacob Harvey, Oregon State. Shortstop: Beau Philip, Oregon State; Michael Lucarelli, Portland; Chad Stevens, Portland. Third Base: Michael Farris, UC Riverside. UTL: Greg Mahle, UC Santa Barbara; Dylan Jones, Mt. Hood CC/Oregon State. Outfield: Chandler Anderson, Utah; Grant Melker, San Diego; Emilio Alcantar, Linn-Benton CC/Lewis-Clark State. Pitchers: Chase Kaplan, Western Nevada/Kansas; Jace Fry, Oregon State; Matt Boyd, Oregon State; Trevor Frank, UC Riverside; Hazahel Quijada, UC Riverside; Rob Dittrick, Pacific; Ryley Widell, Washington State; Jacob Wong, Grand Canyon; Jacob Fricke, Western Oregon; Chris Bishop, Pacific Lutheran; Dylan Stuart, UC Riverside; Kyle Kraus, Portland; Harrison McGhee, Concordia; Trenton Dupre, Washington State; Chris Johnson, Portland.
The Corvallis Knights 2020 home opener is set for Tuesday, June 2 at 10 am as the team hosts its ninth annual Weyerhaeuser Science, Engineering & Art Day game at Goss Stadium. The club's title defense, and quest for five championships in a row, starts Friday, June 5 at Yakima Valley. The Knights WCL home opener is Friday, June 12 vs. longtime rival Bend. Don't miss a single pitch or promotion this summer. Click here to reserve your seats for the 2020 season.