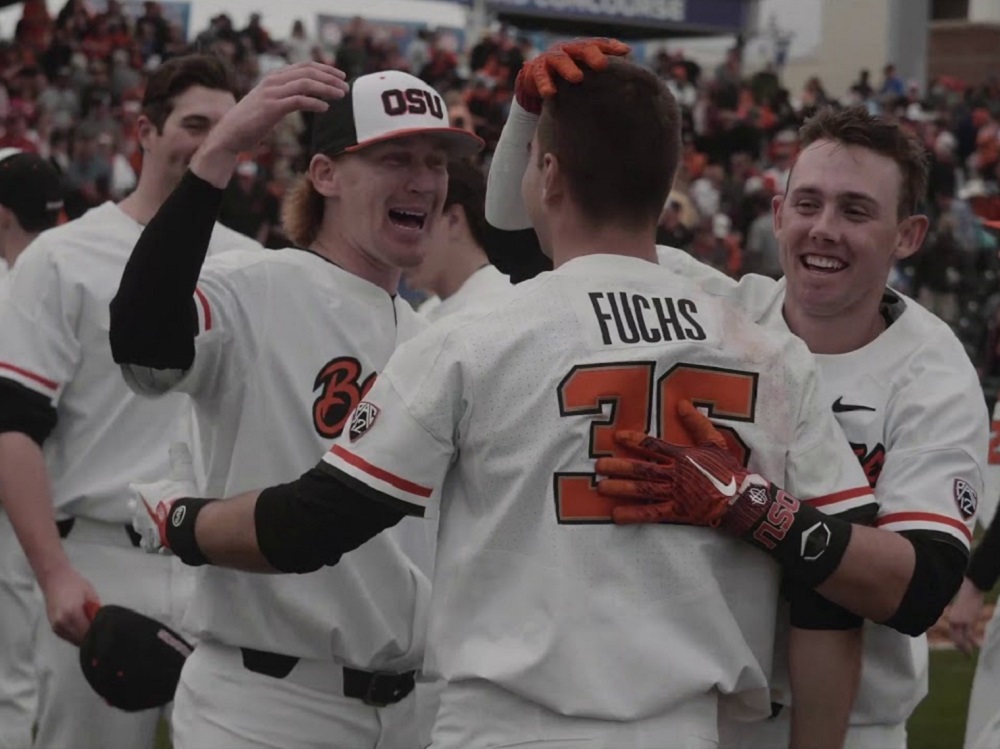 Knights Sign Four Beavers for 2020 Season
The Corvallis Knights of the West Coast League have signed four Oregon State players for the 2020 season, head coach Brooke Knight announced Thursday.
The newest Knights are freshman pitcher Kai Murphy, who played for the Knights briefly in 2019; sophomore infielder Wade Meckler; sophomore outfielder/first baseman Greg Fuchs (pictured), and freshman pitcher A.J. Lattery.
Fuchs is a 6-foot, 203-pound left-handed batter from Mercer Island HS in Mercer Island, Wash. He hit .167 in 20 games with the Beavers in 2019, with a double and four RBIs.
He was his league's MVP as a senior at Mercer Island HS, with three homers and 25 RBIs. He was also all-state and all-league as a junior and senior and was named to the Seattle Times newspaper's All-Area Team as a senior.
"I'm very excited, it's going to be fun to stay in Corvallis to play on my home field again," Fuchs said. "I think I'll bring a whole bunch of energy to the team.
"I can hit pretty well so I'm excited to be in the lineup and help them out in the outfield. I've heard great things about the coaches and I'm really looking forward to the summer."
Fuchs played 10 games for Yakima Valley in the WCL last summer, hitting .143 (4-28) with four runs and two RBIs, so he's familiar with the expectations playing for the four-time defending WCL champions.
"Corvallis wins championships and is a very dominant program," he said. "It's going to be fun playing for them."
Meckler is a 5-10, 175-pound switch-hitting middle infielder/outfielder from Esperanza High in Yorba Linda, Calif. He played in 20 games as a freshman in 2019 and hit .100 (1-10), with five runs scored.
"It's going to be great," Meckler said. "I've heard good things about the Knights from the guys who have played here before. I'll get to work all summer, have access to great facilities and just be at home.
"I'm pretty fast, I'm scrappy and a hard out," he added. "I get on base at least two or three times a game and score runs.
"[Former Knights] said it's a great culture, that it's a lot like playing [at OSU]. They love the guys, they love the coaches, and it's made me excited to get after it."
Meckler, a switch-hitter, played for Duluth in the Northwoods League last summer and hit .267 (27-101) in 34 games, with six doubles, a triple, seven RBIs and five steals.
"I had a pretty good summer," he said. "I started off cold but about a month in I got some at-bats under my belt and started to heat up near the end. It was a grind, a lot of travel, but it's awesome playing with guys from different schools and the camaraderie you form."
Murphy is a 5-foot-8, 173-pound lefty from Red Mountain High School in Mesa, Ariz. He hit .171 (6-35) in nine games as a position player for the 2019 Knights, with a double, two RBIs and four steals. He was 0-1, 7.20 in three WCL pitching appearances, with two saves and four strikeouts in five innings. Kai also hit .300 over 10 at bats in non-league action and had one non-league pitching appearance.
A four-year letterman at Red Mountain, Murphy was named 6A all-state as a senior, when he hit .370 and went 8-2, 1.90 as a pitcher. He was a finalist for the Arizona Republic newspapers Arizona Player of the Year award, and was ranked as the No. 12 prospect and the No. 2 left-handed pitcher in Arizona by Prep Baseball Report. Rated as the No. 2 left-handed pitcher.
His father, Pat, is the bench coach for the Milwaukee Brewers and previously was the head coach at Notre Dame and Arizona State.
Lattery is a 6-5, 245-pound right-hander from Prior Lake HS in Prior Lake, Minn. He played in the Minnesota All-Star Series and earned all-league postseason honors three times at Prior Lake HS. He played for the Minnesota Mash club team.
"They are high-ability guys, they're going to throw a lot of strikes, they are two of our best competitors," OSU pitching coach Rich Dorman – a former Aloha Knight (1999) – said in describing Murphy and Lattery.
"They will fit in great," he added. "They will compete well and they will represent Oregon State and the Knights really well."
The Knights have also signed incoming OSU freshman Thomas Dukart, presently a senior at Lake Oswego High School. He is a 6-2, 185-pounder who is ranked as the No. 1 outfielder in Oregon by Baseball Northwest. His older brother, Jake, is a sophomore infielder for the Beavers.
The Knights open the 2020 home season on June 2 with their ninth annual Weyerhaeuser Science, Engineering & Art Day game at Goss Stadium. The four-time defending champs West Coast League opener is June 5 at Yakima Valley; their WCL home opener is June 12 against longtime rival Bend.
Corvallis starts the season on the road versus the Humboldt, Calif., Crabs in a three-game series at Arcata Baseball Park, May 29-31.