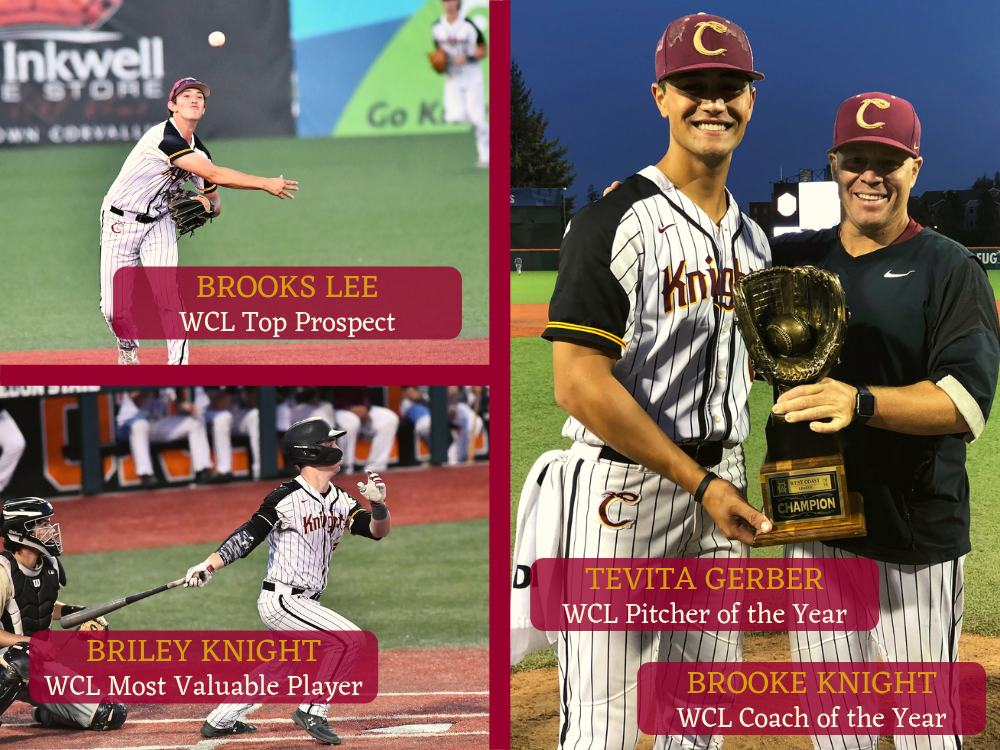 Eight Knights Earn First-Team All-WCL Honors; Briley Knight Named MVP
Corvallis, the Perfect Game Summer Collegiate Team of the Year, landed a team record number of Knights on the all-West Coast League first team in addition to earning all four individual player/coach awards.
Sophomore-to-be Briley Knight of Utah was named the league's Most Valuable Player and also earned all-WCL first-team honors. Knight led the league in several offensive categories including on base percentage (.460), slugging percentage (.621), total bases (113) and extra base hits (29); and finished second in the league in hitting (.357) and RBIs (42) while blasting 8 home runs.
Senior-to-be Tevita Gerber of Dixie State, who won 7 regular season games and 2 post-season games, was named WCL Pitcher of the Year and future Cal Poly Mustangs shortstop Brooks Lee earned Top Prospect recognition. Lee played stellar defense and hit .342, which was the third highest batting average in the WCL. Both Gerber and Lee were all-WCL first-team selections.
Skipper Brooke Knight earned his league-record sixth Coach of the Year award.
In total, eight Knights were named to the league's first team including Knight, Gerber, Lee, third baseman Andy Atwood of Texas Rio Grande Valley, utility man Michael Curialle of UCLA, second baseman Jake Harvey of Oregon State, WCL batting champion Jake Holcroft of University of Portland and relief pitcher William Kempner of Gonzaga.
Atwood, a senior-to-be, led the league in triples with 7 (a new league single-season mark), games played with 54 and tied for the league lead in runs scored with 51. He was second in the league in hits (68), at bats (217) and total bases (102). Andy hit .313 in league play and stole 17 bases.
UCLA Bruins incoming frosh Michael Curriale hit .281 with 3 homers and 27 RBIs while playing outfield, shortstop and third base.
Harvey, a sophomore-to-be, hit .282 with 9 doubles and 3 triples.
Holcroft, who redshirted as a frosh, led the WCL in batting average (.368), at bats (223) and hits (82). He broke the league's single-season hit mark and set a new Knights single-season record for at bats. He also stole 22 bases, scored 51 runs (tying for the WCL lead with Andy Atwood) and collected 33 RBIs while playing an outstanding outfield.
Gonzaga incoming frosh William Kempner made 16 relief appearances, went 2-1, recorded 2 saves, posted a 0.61 ERA and struck out 36 over 29.1 innings pitched.
Corvallis was also represented on the all-WCL second team as pitchers Jackson Arnsdorf of Corban and David Watson of Utah were both selected. Junior-to-be Arnsdorf went 5-1 with a 1.70 ERA and sophomore-to-be Watson tossed 47 innings, struck out 45 and posted a 5-1 mark and 4.02 ERA.
Knights earning honorable mention recognition were pitchers Brodie Cooper-Vassalakis of Grand Canyon, Tim Josten of Cal State Fullerton and Connor Knutson of University of Portland.
To check out the all-WCL teams, please click here.
The 2019 Corvallis Knights won the first-half and second-half WCL South titles, posted the league's top mark at 42-12 and won their 4th straight West Coast League championship.