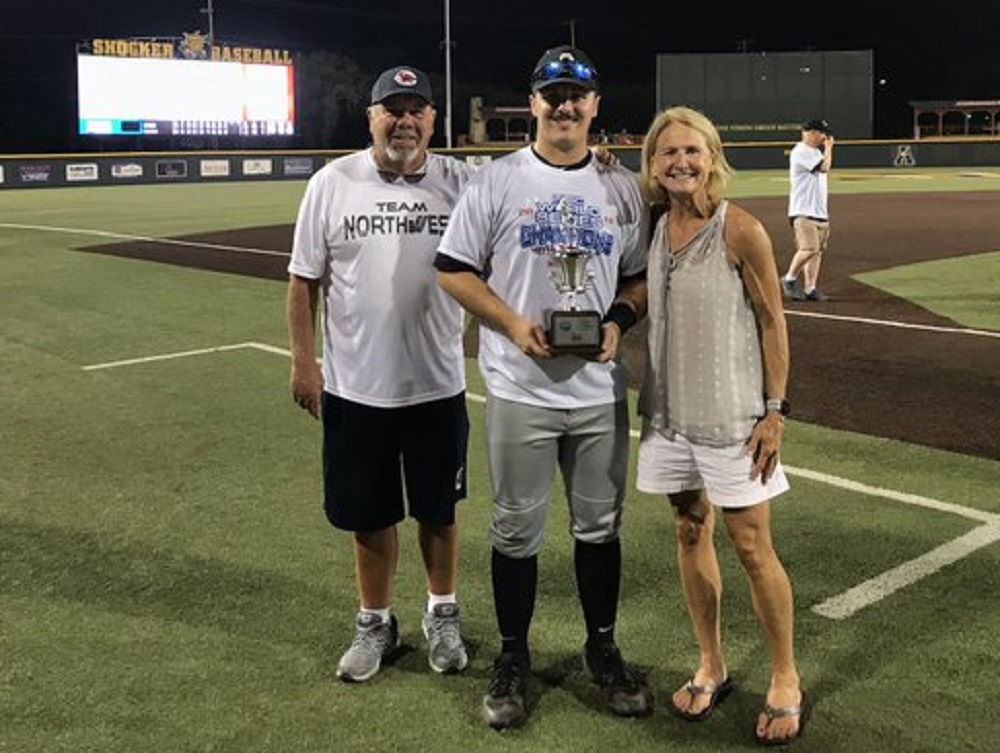 Brooks Hatch Blog: Knights Home Tonight; Henry Cheney Honored
Happy Wednesday, everyone, from the world-wide headquarters (WWHQ) of the Corvallis Knights, your 2016-2017 and 2018 West Coast League champions!
————–
Game 2 of the West Coast League's South Division playoffs between the Knights and the Walla Walla Sweets is set for 6:30 p.m. Wednesday at Goss Stadium. We lead the best-of-3 series 1-0 after winning 6-3 at Walla Walla on Tuesday night in Game 1.
Right-hander Jackson Arnsdorf (5-1, 1.70) of Corban University is our scheduled starter.
We will host Game 3 (if necessary) at 6:35 p.m. Thursday. Playoff tickets are available by clicking here.
Victoria defeated host Wenatchee 5-1 on Tuesday in Game 1 of the North Division playoffs. Game 2 is Wednesday at Victoria. Game 3 (if necessary) would be Thursday at Victoria.
The final schedule for the WCL Championship Series has not been set as yet. Stay tune for an update once the finalists are determined.
The Knights have qualified for the playoffs every season since the current divisional postseason format began in 2007. We have won six championships, the last three in a row.
————–
Knights alum Henry Cheney (2017, pictured above), a senior-to-be at the University of Portland, was named the MVP of the National Baseball Congress World Series after leading the Seattle Studs – a team founded in 1954 by his grandfather – to a 5-4 win over the Cheney Diamond Dawgs in a game played at Wichita, Kansas.
Henry hit .429 (9-21) in six games, with four RBIs, in the series, and scored the winning run in the title game. For more information, please click here.
The old Aloha Knights won the WBC championship in 2004.
————–
Lots of new about the just-completed regular season on our website, compiled by El Presidente, Knights Baseball CEO Dan Segel.
For a story on our franchise-record attendance (55,072), please click here.
For a story on the highlights of the 2019 regular season, please click here.
For a story on outfielder Jake Holcroft (Portland) winning the WCL batting title, please click here.
————–
Some updates on our alums in professional baseball:
The Arizona Diamondbacks have activated pitcher Matt Andriese (2009). The former UC Riverside star has been on the injured list since July 20 with a bruised foot. Matt was the 2009 WCL Pitcher of the Year, and played at UC Riverside.
The Mariners have sent outfielder Mitch Haniger (2010) on a rehab assignment to the Modesto Nuts in the California League. He's been on the injured list since June 7 with a groin injury. He played at Cal Poly and was the 2012 Big West Conference Player of the Year.
Tampa Bay acquired catcher Rocky Gale (2007, 2009) from the Los Angeles Dodgers on July 31. The Rays then assigned Rocky to Durham in the triple-A International League, where he hit .480 (12-25) in his first seven games. Rocky played at Portland.————–

Aberdeen (A New York-Penn, Orioles) DH Adley Rutschman (2016) was 2-for-4 with a double, a run and two RBIs in a 7-2 win over Vermont on Tuesday night to earn Corvallis Knights Minor League Player of the Day honors. The first pick in the 2019 MLB draft, Adley played at Oregon State.

Honorable mention goes to:
Lynchburg (A Carolina, Indians) outfielder Steven Kwan (2015) was 2-for-5 with ta run in a 3-2 loss to Wilmington. He played at Oregon State. Steven was also named the Carolina League Player of the Week on Monday.
Charlotte (AAA International, White Sox) second baseman Nick Madrigal (2015) was 4-for-6 with two RBIs and three runs and raised his average to .302 in a 15-1 win over Scranton/Wilkes-Barre. He played at OSU.
Durham (AAA International, Rays) first baseman Dalton Kelly (2015) was 2-for-4 with two runs in a 9-6 win over Syracuse. He played at UC Santa Barbara.
Richmond (AA Eastern, Giants) pitcher Chase Johnson (2011) had three strikeouts in four scoreless innings in a 4-2 win over Bowie but was not involved in the decision. He played at Cal Poly.
Amarillo (AA Padres) second baseman Peter Van Gansen (2013) was 2-for-3 with two RBIs in a 5-4 win over Midland. He played at Cal Poly.
————–
Some news from elsewhere in the West Coast League:
The West Coast League's Moss Adams Player and Pitcher of the Week for Aug. 5-11 are UC Irvine outfielder John Jensen of the Portland Pickles and Mt. Hood Community College pitcher Hayden Minich of the Ridgefield. For more details, please click here.
————–
That's all for today. See you again on Aug. 28!