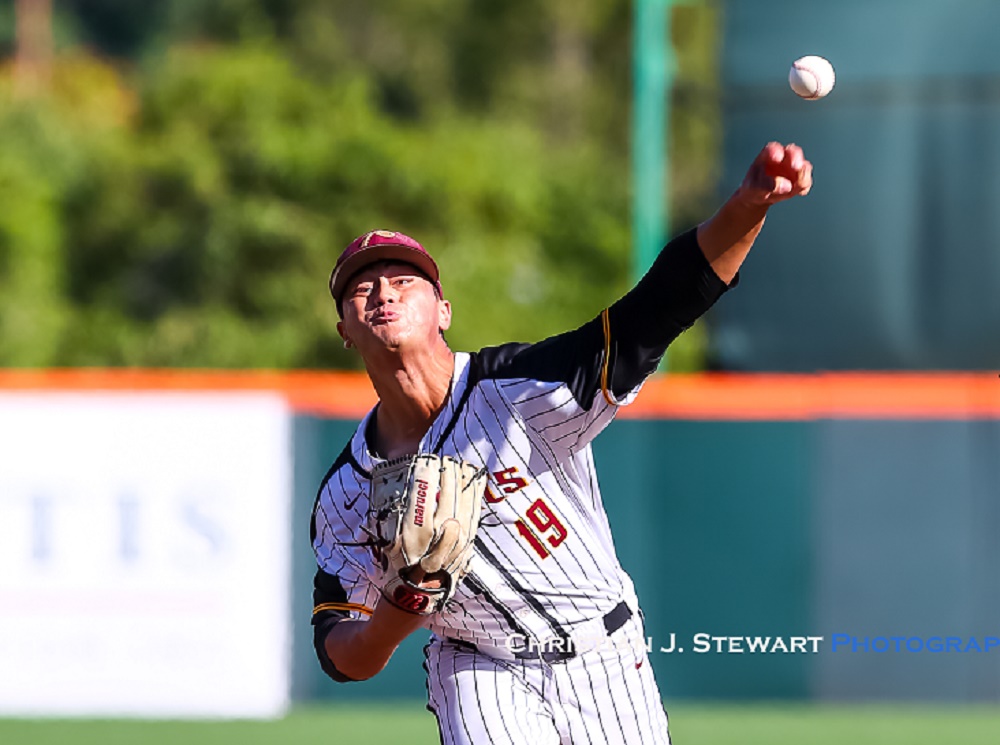 Brooks Hatch Blog: Knights capture fourth straight WCL title
Happy Monday, everyone, from the world-wide headquarters (WWHQ) of the Corvallis Knights, your 2016, 2017, 2018 and 2019 West Coast League champions!
————–
We captured our fourth consecutive West Coast League championship on Aug. 18 by defeating Victoria 11-1 at Goss Stadium in Game 3 of the Championship Series. Left-hander Tevita Gerber (pictured, above) pitched into the seventh inning to get the win, his second of the playoffs.
The Knights have now won seven WCL titles since the current playoff format was adopted in 2007; no other team has won more than three.
Congratulations to the coaches, players and staff for a job well done. For complete details of this year's final game, please click here.
Also, second baseman Jake Harvey of Oregon State and pitcher Tevita Gerber of Dixie State were named the West Coast League Player and Pitcher of the Week for their playoff performances. Please click here for more on that story.
We'll take a couple days off, and then begin building our 2020 team. Winning never gets old, but it's hard work and we can't wait to get started again.
————–
The Colorado Rockies recalled alum right-handed pitcher DJ Johnson (2008, 2009) from Albuquerque of the triple-A Pacific Coast League on Sunday. It will be his second stint with the club this season; he made the team out of spring training but was returned to triple-A on April 29.
DJ was 3-1, 6.02 in 36 games at Albuquerque, with two saves and 58 strikeouts in 43.1 innings. He was 0-1, 9.26 in 14 games with the Rockies earlier this year, with 10 strikeouts in 11.2 innings.
Twelve Knights are/have been on MLB rosters this season: Johnson; Mets pitcher Stephen Nogosek (2013); Arizona pitcher Jimmie Sherfy (2011); Los Angeles Dodgers/Tampa Bay catcher Rocky Gale (2007, 2009); Chicago White Sox pitcher Josh Osich (2008); Colorado pitcher Tyler Anderson (2009; Detroit pitcher Matt Boyd (2010); Seattle outfielder Mitch Haniger (2010); Tampa Bay infielder Matt Duffy (2010); Chicago White Sox pitcher Jace Fry (2011); Toronto pitcher Sam Gaviglio (2009), and Arizona pitcher Matt Andriese (2009).
————–
Detroit left-handed pitcher Matthew Boyd (2010) surpassed the 200-strikeout milestone against Tampa Bay on Sunday, but the bullpen blew a 4-1 lead and he got a no-decision in a 5-4 loss.
Boyd pitched seven innings, allowing one run on just two hits and two walks while striking out nine. He now has 201 strikeouts; his previous MLB high was 159 in 2018.
Matt left Detroit immediately after his start to join his wife, Ashley, in Seattle. She is due to give birth to their second child at any moment.
Please click here for more on Matt's start, from MLB.com.
————–
Some news of alums in professional baseball:
The Detroit Tigers have released left-handed pitcher Austin Sodders (2014), a former Riverside City College standout. A seventh-round draft pick in 2016, Austin was 14-13, 2.70 in 56 lifetime games in his four-year minor league career, all in Class A. He had 217 strikeouts in 253 innings.
The Minnesota Twins have released pitcher Tanner Howell ((2016, 2017) after two years in their system, all at Class A. The former Dixie State righty was 1-3, 4.72 in 24 games, with six saves and 36 strikeouts in 40 career innings.
————–
That's all for today. We are on vacation next week so we will see you again on Sept. 4!