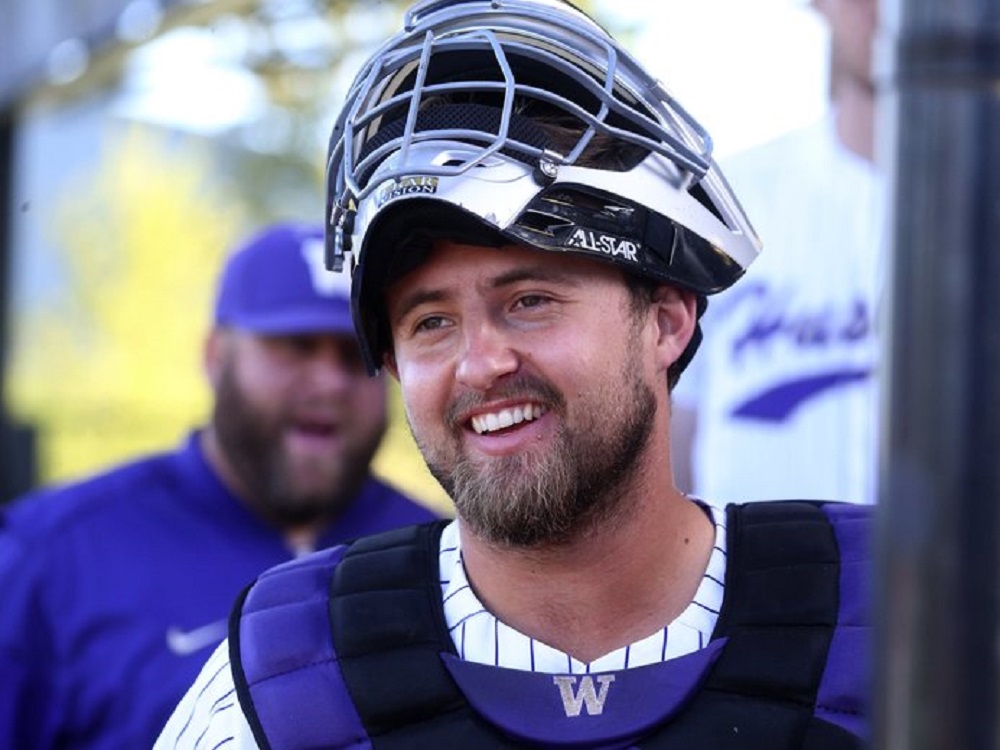 Brooks Hatch Blog: Brewers Draft Alum Nick Kahle
Happy Wednesday, everyone, from the world-wide headquarters (WWHQ) of the Corvallis Knights, your 2016-2017 and 2018 West Coast League champions!
We opened our 2019 WCL season last night (June 4) with an 8-2 loss at Walla Walla. That series continues at 6:35 p.m. on Wednesday and Thursday; we then head north to Victoria for a weekend set with the HarbourCats.
We return to Corvallis after that series for a seven-game homestand. We'll host the Cowlitz Black Bears on June 14-16, the Bellingham Bells on June 18-20 and the Gerding Construction American Legion team on June 21.
See you at Goss!
————–
Washington catcher Nick Kahle (2016, pictured above) was selected by Milwaukee in the fourth round of the MLB draft on June 4. He was the 133rd overall selection.
Nick earned all-Pacific-12 Conference honors this year as a junior. He hit .339 in 52 games, with eight homers, 50 RBIs and a 59-28 walk-to-strikeout ratio.
Former Oregon State pitcher Dakota Donovan (2017), who spent the 2019 season at Central Arizona JC, was taken in the 16th round by the Los Angeles Angels as the 481st overall choice. He has signed with Hawaii for the 2020 season.
OSU right-fielder Tyler Malone (2017) went to San Diego in the 27th round as the 803rd overall selection. Tyler hit three homers at the 2018 College World Series, helping the Beavers win the NCAA title.
Infielder Michael Curialle (2019) of JSerra High School in California, a UCLA signee, went to Colorado in the 31st round as the 939th overall pick.
Infielder Brooks Lee (2019), a Cal Poly signee from San Luis Obispo High School, went to the Giants in the 35th round. He is the son of Larry Lee, the head coach at longtime partner school Cal Poly.
Left-handed pitcher Austin Crowson (2016) of Western Oregon was drafted by Philadelphia in the 39th round as the 1,170th selection. He was a first-team GNAC all-star.
Earlier this week, Oregon State catcher Adley Rutschman (2016) went to Baltimore as the No. 1 overall selection (click here); OSU shortstop Beau Philip (2018) went to Atlanta in the second round as the 60th selection (click here).
————–
More Adley Rutschman (2016) news. He is one of three finalists for the Buster Posey Award, given annually to the nation's top collegiate catcher. Other finalists include Kyle McCann of Georgia Tech and Eric Yang of UC Santa Barbara.
The Buster Posey Award was formally named the Johnny Bench Award. The winner will be unveiled at the 22nd Annual Greater Wichita Sports Banquet on June 27.
————–
Make sure to save the date for our first Nectar Creek Fan Faire celebration, set for 5:30-9:30 p.m. on Thursday, June 13. We will turn Goss Stadium into a 13th century castle with the help from the Shrewsbury Renaissance Faire!
Come shop the concourse with Shrewsbury Renaissance Faire vendors, drink mead and enjoy a game of rounders on the field. Players will be available for autographs and there will be live music! This will be a fun event to kick off our 13th season in Corvallis.
Full concessions will be available. Jugglers, belly dancers, fiddlers and more! See you there.
————–
Our 2019 regular season is underway but there are still 31 more home games! Our WCL home opener is June 14, against the Cowlitz Black Bears.
Like last season, start times for Monday-Saturday games is 6:30 p.m. Sunday games will start at 3 p.m. Fireworks games will have special start times, either 7:15 p.m. or 7:05 p.m.
The Knights 2019 home schedule features six Thursday games, six Friday games, five Saturday games, five Sunday games, one Monday game, four Tuesday games and five Wednesday games.
Reserve the best seats in the house for the 2019 season now by emailing [email protected] or by calling (541) 752-5656. Our entertainment schedule is available by clicking here.
Here's the remainder of the 2019 schedule:
JUNE: 5-6, at Walla Walla. 7-9, at Victoria. 14-16, Cowlitz. 18-20, Bellingham. 21, Gerding Construction. 22-24, at Yakima Valley. 25-27, Ridgefield. 28-30, Yakima Valley.
JULY: 1, Hayesville Hammers. 2-3: Portland. 4, at Portland. 5-7, at Ridgefield. 8-10, at Port Angeles. 11, Mid-Valley Southpaws. 12-14, Kelowna. 18, Chaffey Baseball. 19-21, Walla Walla. 22-23, All-Star Game, at Bend. 24, at Portland. 25, Portland. 26, at Portland. 27-29, at Bend. 30-31, Bend.
AUGUST: 1, Bend. 2-4, at Cowlitz. 6-8, at Bellingham. 9-11: Wenatchee.
————–
Some news from elsewhere in the West Coast League:
The Port Angeles Lefties open their season on May 30 with optimism and the assurance that Civic Field will be their ballpark for years to come. The City Council last week approved a five-year facility use agreement with MACK Athletics, Inc., the Lefties' parent company, that will allow the summer collegiate baseball team to play in the city-owned stadium at 307 S. Race St., in Port Angeles through 2024. Please click here for more details, from Ballparkbiz.com.
It's a first in the history of the City of Victoria — a zipline attraction within city limits. The Victoria HarbourCats have teamed up with WildPlay and TELUS to install a 400-foot zipline. It opened to the public for the first time on June 1 when the HarbourCats held their first Peninsula Co-op Alumni Classic. Please click here for more details, from Ballparkbiz.com.
————–
That's all for today. Have a great week and we will see you next week!