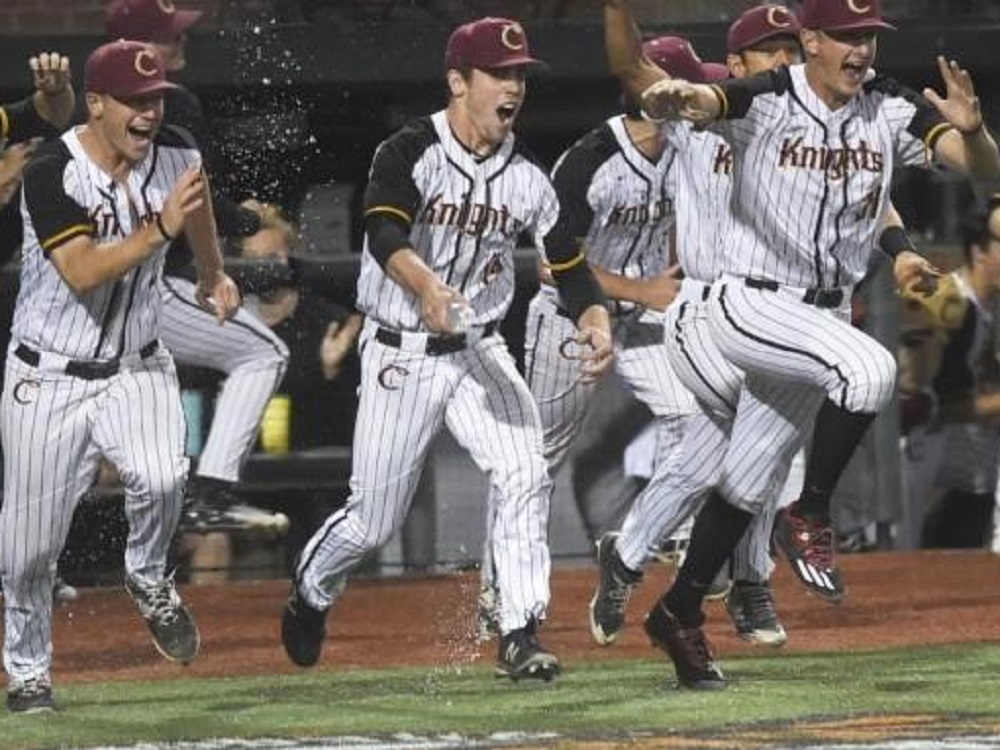 Brooks Hatch Blog: Knights Open Home Schedule on Friday
Happy Wednesday, everyone, from the world-wide headquarters (WWHQ) of the Corvallis Knights, your 2016-2017 and 2018 West Coast League champions!
————–
We usher in the 2019 home season with our inaugural Nectar Creek Fan Faire, starting at 5:30 p.m. Thursday. The Knights and the Shrewsbury Renaissance Faire will transform The Castle at Goss Stadium into the 13th century.
Come join us on Thursday to meet the team, enjoy the festivities, check out our concessions offerings and to start celebrating our 13th year in Corvallis. Full concessions will be available. Jugglers, belly dancers, fiddlers and more! See you there.
And at 7:15 p.m. Friday, we start the WCL home season at Goss Stadium with a bang on Samaritan Health Services Opening Fireworks Night against the Cowlitz Black Bears.
It's the start of a seven-game homestand against Cowlitz (Friday-Sunday), Bellingham (Monday-Wednesday) and the Gerding Builders American Legion team (June 20).
Seats are going fast. For more information on tickets, click here.
————–
More Adley Rutschman (2016) news. The junior catcher from Oregon State was named the National Player of the Year by Baseball America, Perfect Game and Collegiate Baseball. He also earned Baseball America first-team All-American honors.
Adley Rutschman is also a finalist for the Golden Spikes Award, Dick Howser Trophy and Buster Posey Award. He was also the first player selected in the 2019 MLB draft. For a complete rundown of drafted Knights, please click here.
Ninety WCL alums were selected in the draft. For more on that story, please click here.
————–
Alum catcher Chris Stewart (2001) of Riverside City College was released from his minor league contract by the San Diego Padres after exercising his right to be let go if not added to the major league roster by June 1.
The 37-year-old hit .277 with two doubles, one homer and eight RBIs in 19 games with Triple-A El Paso. He has played in the major in 12 of the past 13 seasons, with the Chicago White Sox, New York Yankees, Texas, San Diego, San Francisco, Pittsburgh, Atlanta and Arizona.
————–
Our 2019 regular season is underway but there are still 31 more home games! Our WCL home opener is Friday against the Cowlitz Black Bears, starting at 7:15 p.m.
Like last season, start times for Monday-Saturday games is 6:30 p.m. Sunday games will start at 3 pm. Fireworks games will have special start times, either 7:15 p.m. or 7:05 p.m.
The Knights 2019 home schedule features six Thursday games, six Friday games, five Saturday games, five Sunday games, one Monday game, four Tuesday games and five Wednesday games.
Reserve the best seats in the house for the 2019 season now by emailing [email protected] or by calling (541) 752-5656. Our entertainment schedule is available by clicking here.
Here's the remainder of the 2019 schedule:
14-16, Cowlitz. 18-20, Bellingham. 21, Gerding Construction. 22-24, at Yakima Valley. 25-27, Ridgefield. 28-30, Yakima Valley.
JULY: 1, Hayesville Hammers. 2-3: Portland. 4, at Portland. 5-7, at Ridgefield. 8-10, at Port Angeles. 11, Mid-Valley Southpaws. 12-14, Kelowna. 18, Chaffey Baseball. 19-21, Walla Walla. 22-23, All-Star Game, at Bend. 24, at Portland. 25, Portland. 26, at Portland. 27-29, at Bend. 30-31, Bend.
AUGUST: 1, Bend. 2-4, at Cowlitz. 6-8, at Bellingham. 9-11: Wenatchee.
————–
Some news from elsewhere in the West Coast League:
The West Coast League's Moss Adams Player of the Week and Pitcher of the Week for June 4-9 are Santa Barbara City College outfielder Patrick Caulfield of the Walla Walla Sweets and Cal State Fullerton pitcher Joe Magrisi of the Yakima Valley Pippins for the week of June 4-9. Please click here for more details, from the Our Sports Central website.
The Victoria HarbourCats announced that right-handed pitcher Josh Gessner, a native of Australia who had a scholarship to attend Tulane University as a freshman this fall, has accepted an international-player contract with the Philadelphia Phillies of the National League, and as such is no longer eligible for West Coast League action. Please click here for more details, from Our Sports Central.
The West Coast League is sorry to report the recent passing of former league president Dennis Koho. From July 2013 until December 2015, Koho oversaw the WCL's dynamic growth, which included bringing baseball back to Yakima County Stadium in 2014, with the expansion Yakima Valley Pippins, and managing three member transfer sales. Please click here for more details.
————–
That's all for today. Have a great week and we will see you at the ballpark!