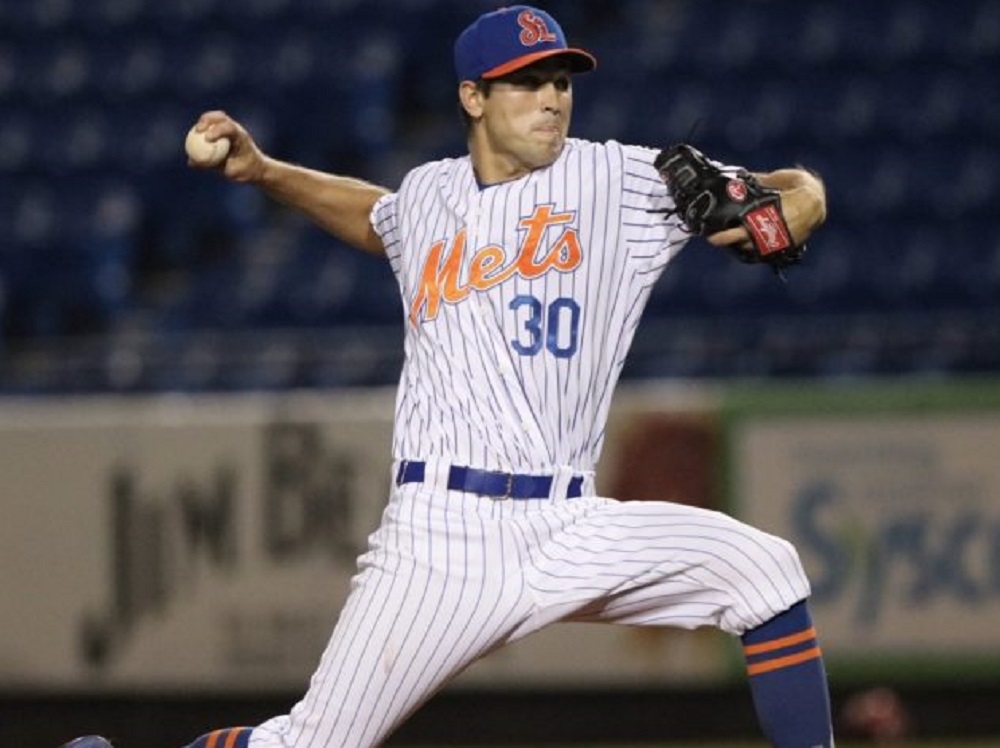 Brooks Hatch Blog: New York Mets Recall Alum Stephen Nogosek
Happy Wednesday, everyone, from the world-wide headquarters (WWHQ) of the Corvallis Knights, your 2016-2017 and 2018 West Coast League champions!
————–
The New York Mets promoted pitcher Stephen Nogosek (2013) the majors on Tuesday from Syracuse of the triple-A International League. He was 0-0, 0.00 in eight games at Syracuse, with 15 strikeouts in 12.2 innings.
Nogosek started the season at Binghamton of the double-A Eastern League but earned a promotion to Syracuse by going 0-0, 0.95 in 11 games, with a save and 20 strikeouts in 19 innings.
Stephen was originally selected by Boston in sixth round of 2016 draft, following his junior year at Oregon. Boston traded him and RHPs Jamie Callahan and Gerson Bautista to the Mets for RHP Addison Reed on July 31, 2017.
He was an infielder/pitcher on our 2013 WCL championship team, the summer before he started his freshman year at Oregon.
Twelve Knights are/have been on MLB rosters this season: Nogosek; Arizona pitcher Jimmie Sherfy; Los Angeles Dodgers catcher Rocky Gale; Chicago White Sox pitcher Josh Osich; Colorado pitchers Tyler Anderson (2009) and DJ Johnson (2008-09); Detroit pitcher Matt Boyd(2010); Seattle outfielder Mitch Haniger (2010); Tampa Bay infielder Matt Duffy (2010); Chicago White Sox pitcher Jace Fry (2011); Toronto pitcher Sam Gaviglio (2009), and Arizona pitcher Matt Andriese (2009).
Fry, incidentally, was activated on Tuesday after spending 10 days on the injured list with soreness in his left (pitching) shoulder.
————–
We defeated Bellingham 14-5 in Tuesday night in the opener of a three-game series that resumes at 6:30 p.m.  Wednesday. Oregon State lefty Andrew Walling (0-0, 0.00) will make his starting debut for Corvallis, opposed by Washington State righty Bryce Moyle (0-1, 5.40).
Three-year Knights' veteran Connor Redmond makes summer debut in Thursday's 6:30 p.m. series finale, opposed by PLU's Justin Armbruester (1-0, 3.00) in a matchup of right-handers.
We close their opening homestand against the Corvallis Gerding Builders American Legion team at 6:30 p.m.  Friday. We resume WCL action at Yakima Valley on Saturday night.
————–
Tuesday night's crowd of 1,087 raised the season total to 9,377 in five outings. That's an increase of 588 over a corresponding number of 2018 home dates.
————–
More Adley Rutschman (2016) news. He was named the 2019 Golden Spikes Award winner in a June 13 ceremony at TD Ameritrade Park. Presented in partnership with the Rod Dedeaux Foundation, the Golden Spikes Award recognizes the top amateur baseball player in the United States based on their athletic ability, sportsmanship, character and overall contribution to the sport.
Adley also received the 2019 Dick Howser Trophy, presented annually by the National Collegiate Baseball Writers Association (NCBWA) to the nation's top collegiate player.
He is also a finalist for the Buster Posey Award. He was the first player selected in the 2019 MLB draft, by the Baltimore Orioles.
————–
Alum pitcher Nick Duron (2015) of Clark College has signed with the Seattle Mariners, and is now playing for Modesto in the high-A California League. Still only 23 years old, he was playing for the Southern Illinois Miners in the independent Frontier League after being released by the Boston Red Sox following two years in their minor-league organization.
————–
Our 2019 regular season is underway but there are still 27 more home games! Our next home game is tonight, against Bellingham.
Like last season, start times for Monday-Saturday games is 6:30 p.m. Sunday games will start at 3 pm. Fireworks games will have special start times, either 7:15 p.m. or 7:05 p.m.
Reserve the best seats in the house for the 2019 season now by emailing [email protected] or by calling (541) 752-5656. Our entertainment schedule is available by clicking here.
Here's the remainder of the 2019 schedule:
JUNE: 19-20, Bellingham. 21, Gerding Construction. 22-24, at Yakima Valley. 25-27, Ridgefield. 28-30, Yakima Valley.
JULY: 1, Hayesville Hammers. 2-3: Portland. 4, at Portland. 5-7, at Ridgefield. 8-10, at Port Angeles. 11, Mid-Valley Southpaws. 12-14, Kelowna. 18, Chaffey Baseball. 19-21, Walla Walla. 22-23, All-Star Game, at Bend. 24, at Portland. 25, Portland. 26, at Portland. 27-29, at Bend. 30-31, Bend.
AUGUST: 1, Bend. 2-4, at Cowlitz. 6-8, at Bellingham. 9-11: Wenatchee.
————–
Some news from elsewhere in the West Coast League:
The West Coast League's Moss Adams Player and Pitcher of the Week for June 10-16 are San Jose State outfielder Troy Viola of the Bellingham Bells and Cal State Fullerton pitcher Titus Groeneweg of the Portland Pickles. Please click here for more details, from Our Sports Central.
————–
That's all for today. Have a great week and we will see you next week!