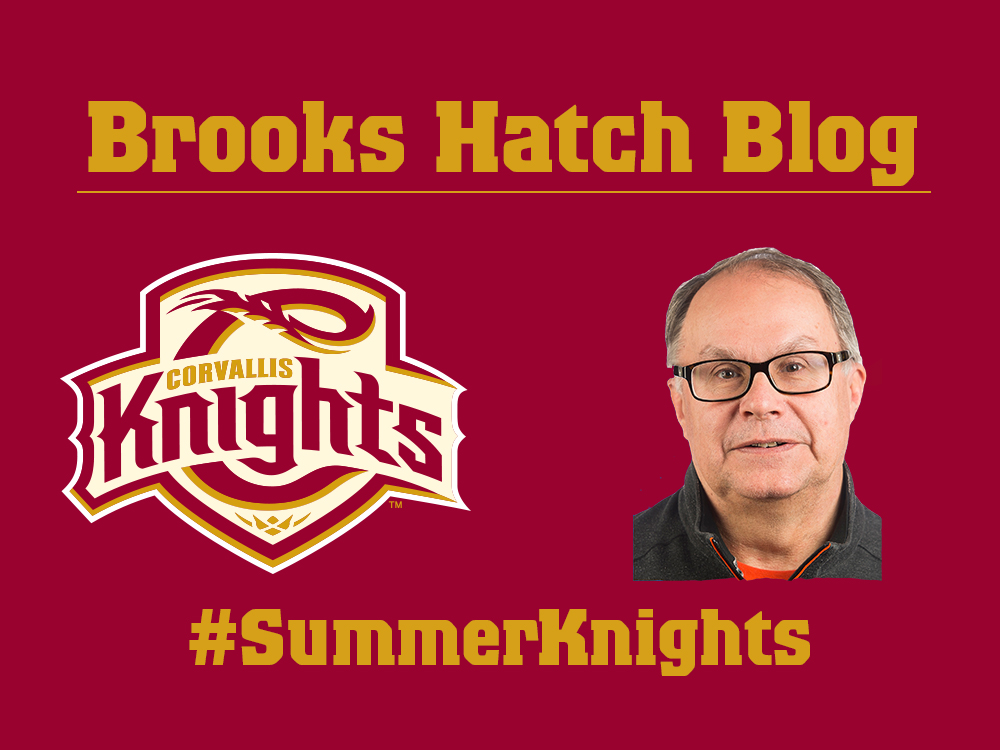 Brooks Hatch Blog: Streaking Knights Host Ridgefield Tonight
Happy Wednesday, everyone, from the world-wide headquarters (WWHQ) of the Corvallis Knights, your 2016-2017 and 2018 West Coast League champions!
————–
The Knights are red-hot! Our 7-3 victory over Ridgefield on Tuesday night stretched our winning streak to four games in a row. That's allowed us to trim Walla Walla's lead in the first-half South Division pennant race to only two games, with 11 left to play before the 27-game cutoff.
Walla Walla also owns the tiebreaker over us, so in effect the Sweets are three games ahead. But anything can happen in the next couple weeks, and we are hot on their tail.
The first-half champion earns an automatic playoff berth and home-field advantage in the divisional round of the playoffs, which begin on Aug. 13.
Our series with Ridgeview continues tonight and Thursday night, with both games starting at 6:30 p.m. Tonight, Oregon State lefty Andrew Walling (0-1, 81.00) is the scheduled starter for Corvallis, opposed by Portland righty Peter Allegro (1-0, 3.60).
Righty Connor Redmond (0-0, 0.00) will start Thursday's finale for the Knights. UC Santa Barbara lefty Carter Benbrook (1-0, 0.75) goes for the Raptors.
See you at Goss!
————–
Our ongoing nine-game homestand runs through July 3, our annual Oregon State Credit Union Fireworks Night, a game that will also feature the Famous San Diego Chicken. Tuesday's crowd of 1,328 raised the season total to 14,646 for nine dates, an increase of 769 from 2018 over a corresponding number of openings.
————–
Alum Steven Kwan (2015) of Lynchburg (A Carolina, Indians) was 2-for-4 with a double and two RBIs on Tuesday in a 13-6 loss to Frederick to earn Corvallis Knights Minor League Player of the Day honors. The center fielder from Oregon State improved his average to .266.
Honorable mention goes to:
Potomac (A Carolina, Nationals) first baseman KJ Harrison (2015) was a combined 3-for-8 with a homer and two RBIs in a doubleheader split with Wilmington. KJ played at OSU.
Richmond (AA Eastern Giants) pitcher Chase Johnson (2011) allowed no runs and had four strikeouts in 2.2 innings of relief in a 5-1 loss to Altoona. He played at Cal Poly.
Tennessee (AA Southern, Cubs) second baseman Christian Donahue (2015) was 3-for-4 with a double and a walk in an 8-6 win over Chattanooga. He played at OSU.
————–
Our 2019 regular season is underway but there are still 23 more home games! Our next home game is tonight, against Ridgeview.
The starting time for Monday-Saturday games is 6:30 p.m. Sunday games will start at 3 pm. Fireworks games will have special start times, either 7:15 p.m. or 7:05 p.m.
Reserve the best seats in the house for the 2019 season now by emailing [email protected] or by calling (541) 752-5656. Our entertainment schedule is available by clicking here. Here's the remainder of the 2019 schedule:
JUNE: 26-27, Ridgefield. 28-30, Yakima Valley.
JULY: 1, Hayesville Hammers. 2-3: Portland. 4, at Portland. 5-7, at Ridgefield. 8-10, at Port Angeles. 11, Haysville Hammers. 12-14, Kelowna. 18, Chaffey Baseball. 19-21, Walla Walla. 22-23, All-Star Game, at Bend. 24, at Portland. 25, Portland. 26, at Portland. 27-29, at Bend. 30-31, Bend.
AUGUST: 1, Bend. 2-4, at Cowlitz. 6-8, at Bellingham. 9-11: Wenatchee.
————–
Some news from elsewhere in the West Coast League:
The West Coast League's Moss Adams Player and Pitcher of the Week for June 17-23 are Baylor infielder Chase Wehsener of the Victoria HarbourCats and Cal State Fullerton pitcher Joe Magrisi of the Yakima Valley Pippins.
Wehsener went 12-for-28 (.429) with two home runs and 13 RBIs for the HarbourCats. The San Diego native hit .291 in 53 games for the Bears in 2019.
Magrisi earned his second weekly honor of the season. The Yakima Valley hurler was named the first 2019 Pitcher of the Week. The sophomore-to-be tossed six hitless innings and had 11 strikeouts in a dominant outing against the Kelowna Falcons.
Please click here for more details, from Our Sports Central.
————–
That's all for today. Have a great week and we will see you next week!