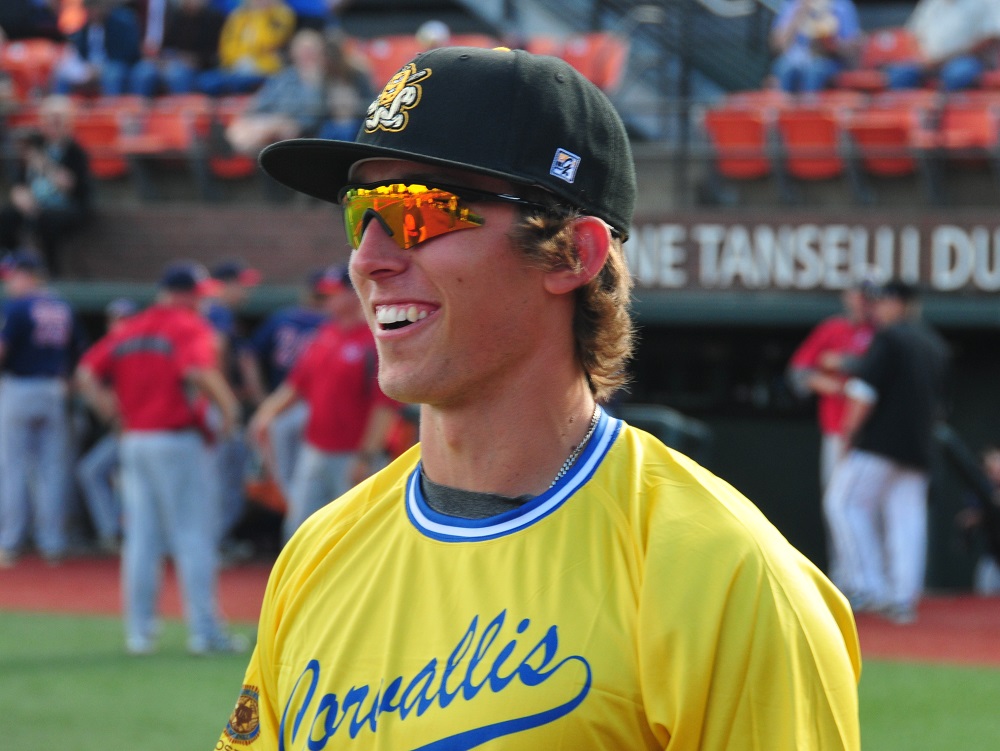 Willy Doubles Twice in 5-1 Loss to Bellingham
Outfielder Elliot Willy (pictured, above) doubled twice and drove in the only run of the game for the Knights in a 5-1 loss to Bellingham  in a West Coast League game at Goss Stadium.
The Bells (9-5 WCL) scored four times in the first inning and never looked back in evening the series. They also snapped Corvallis's four-game winning streak, and handed the Knights (10-5, 6-5) their first home loss in six games.
A redshirt junior at Oregon State, Willy doubled in the second but was stranded as the Knights left the bases loaded. His second two-bagger, to the base of the wall in left-center in the fifth inning, drove in Zach Moeller (Utah) with the Knights' lone run.
Corvallis had 14 runs, 15 hits and nine doubles in a 14-5 win in Tuesday's series-opener but they were stymied by four Bellingham pitchers in Game 2. They struck out 14 times and left 14 runners on base.
Two walks and a singled loaded the bases for the Knights with two outs in the ninth. But pinch-hitter Trace Tammaro (Portland) struck out looking for the final out, leaving the bases full for the third time on the night.
Moeller and center fielder Jake Harvey (OSU) each singled twice. Right fielder Michael Dixon, a freshman-to-be at San Diego, had his first hit in his second game with the Knights and Newport High School grad Jacob Dobmeier, a UC San Diego commit, pitched a perfect ninth in his WCL debut.
Three-year Knights' veteran Connor Redmond makes his first start of the 2019 summer in Thursday's 6:30 p.m. series finale, opposed by PLU's Justin Armbruester (1-0, 3.00) in a matchup of right-handers. Redmond started his career at Cal Poly but has not decided where he will play in 2020.
The Knights close their opening homestand against the Corvallis Gerding Builders American Legion team at 6:30 p.m. on Friday. They resume WCL action at Yakima Valley on Saturday night.
Wednesday's crowd of 1,092 raised the season total to 10,469 in six outings. That's an increase of 15 over a corresponding number of 2018 home dates.