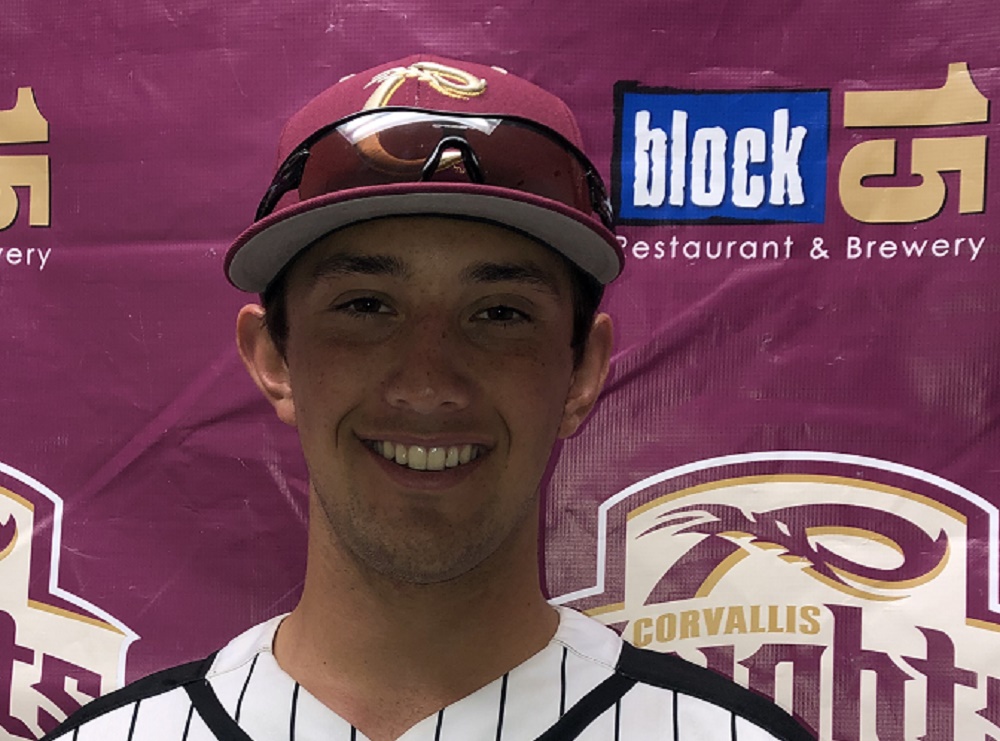 Lee Shines But Knights Drop Series Finale to Bells
Third baseman Brooks Lee (pictured, above) was 3-for-4 and reached safely four times but the Knights faltered late and lost 8-5 to Bellingham in the rubber game of their West Coast League series.
Bellingham (10-5 WCL) scored four runs in its last two at-bats to erase a 5-4 deficit. The Knights (10-6, 6-6 WCL) led 4-1 after four innings but Bellingham outscored them 7-1 the rest of the way.
The Knights had won two straight WCL series before facing the Bells. They now trail leader Walla Walla (10-2) by four games in the South Division's first-half pennant race.
An incoming freshman at Cal Poly, Lee doubled and scored to send the Knights ahead 5-4 in the sixth inning. He also singled twice, scored twice, stole a base and saved a run by spearing a line drive to end the third inning with a runner at third base.
Lee joined the Knights on June 18 after completing his senior year at San Luis Obispo (Calif.) High School. He hit .538 (7-13) in the series, with five runs, starred defensively and was named Thursday's Washington Park Advisor's Player of the Game.
"The baseball looked huge and I'm proud of what I did tonight," Lee said. "Hopefully I can carry it on (Friday)."
Center fielder Andy Atwood (Texas Rio Grande) tripled, singled and drove in a run. Right fielder Nick Yovetich (San Francisco) singled twice, scored and stole a base and future Oregon State DH/pitcher Kai Murphy drove in two runs.
Pitcher Connor Redmond made his first start of the 2019 season and allowed one run in three innings, with three strikeouts. Relievers Chase Watkins (Cal Poly) and Alex Williams (Stanford) made their Knights' debuts, each pitching a scoreless inning.
The Knights close their opening homestand against the Corvallis Gerding Builders American Legion team at 6:30 p.m. on Friday. Junior-to-be southpaw Kolbe Bales of Western Oregon gets the start for the hometown team. Corvallis resumes WCL action at Yakima Valley on Saturday night.
"We have to go into (Friday's game) totally fresh, carry on what we did tonight and do a lot of things better," Lee said.
Thursday's crowd of 1,491 raised the season total to 11,960 in seven outings. That's an increase of 521 over a corresponding number of 2018 home dates.