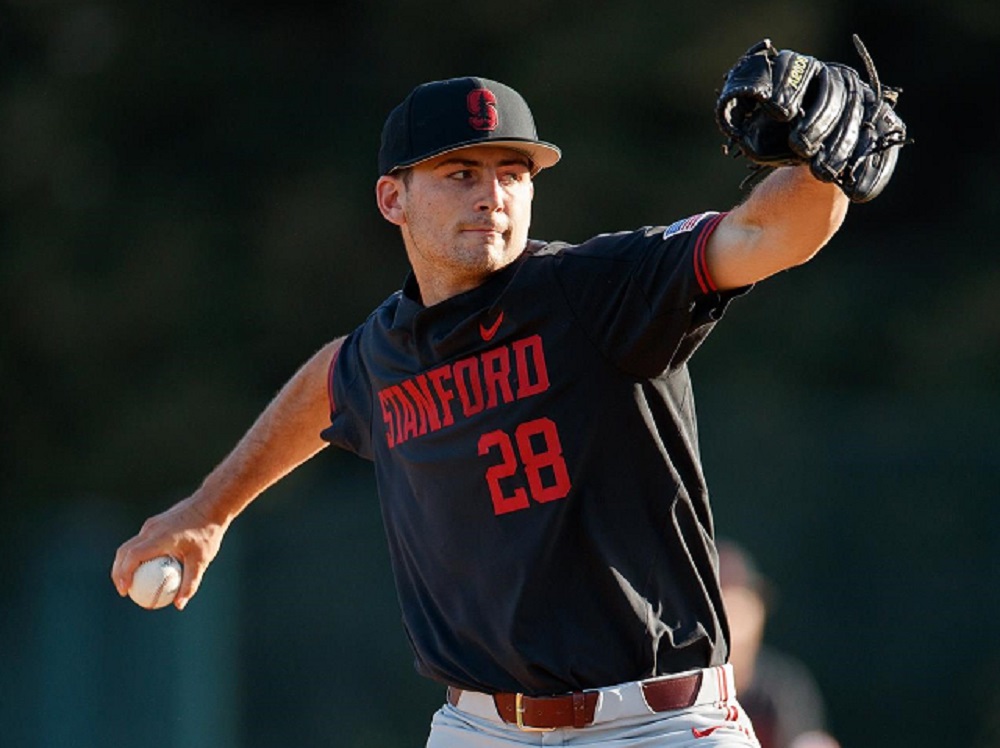 Williams Earns First Save in 7-4 Win at Yakima Valley
YAKIMA, Wash. – Freshman All-American Alex Williams of Stanford (pictured, above) earned a four-out save on as the Knights topped Yakima Valley 7-4 at Yakima County Stadium in the opener of a three-game West Coast League series. Series.
Williams entered the game with two outs and two on in the bottom of the eighth and ended that threat with a popup to shortstop. He then struck out the final two hitters and retired the Pippins in order in the ninth for his first save of the summer.
The Knights (12-6, 7-6 WCL) thus ended a two-game WCL tailspin and remained in third place behind Walla Walla and Ridgefield in the South Division's first-half pennant race. Corvallis now leads the all-time series with the Pippins 15-13.
Corvallis starter Timothy Josten (Cal State Fullerton) did not allow an earned run in 5.2 innings, had nine strikeouts and got the win, his second in three decisions. He has not given up an earned run in 11.2 innings over his last two starts, lowering his ERA from 7.20 to 2.16 in the process.
Kevin West (UC Riverside), William Kempner (Gonzaga in 2019-20) and Williams then combined for 3.1 innings of scoreless relief. They allowed only one hit and combined for six strikeouts.
Center fielder Andy Atwood (Texas Rio Grande) had three hits and catcher Briley Knight (Utah), third baseman Matthew Gretler (Oregon State) and left fielder Jake Holcroft (Portland) had two hits each as the Knights punched out 13 singles.
Knight and right fielder Michael Dixon (San Diego in 2019-20) had two RBIs each; Atwood and Holcroft also had RBIs.
The Knights and Pippins resume the series at 6:05 p.m. Sunday. Dixie State lefty Tevita Gerber (1-1, 2.45) will start for the Knights, opposed by Oregon right-hander Tyler Frazier (0-0, 0.00).
The series concludes at 6:35 p.m. Monday. The Knights will return home afterward and open a three-game series against the new Ridgefield (Wash.) Raptors on Tuesday in the opener of a nine-game homestand.