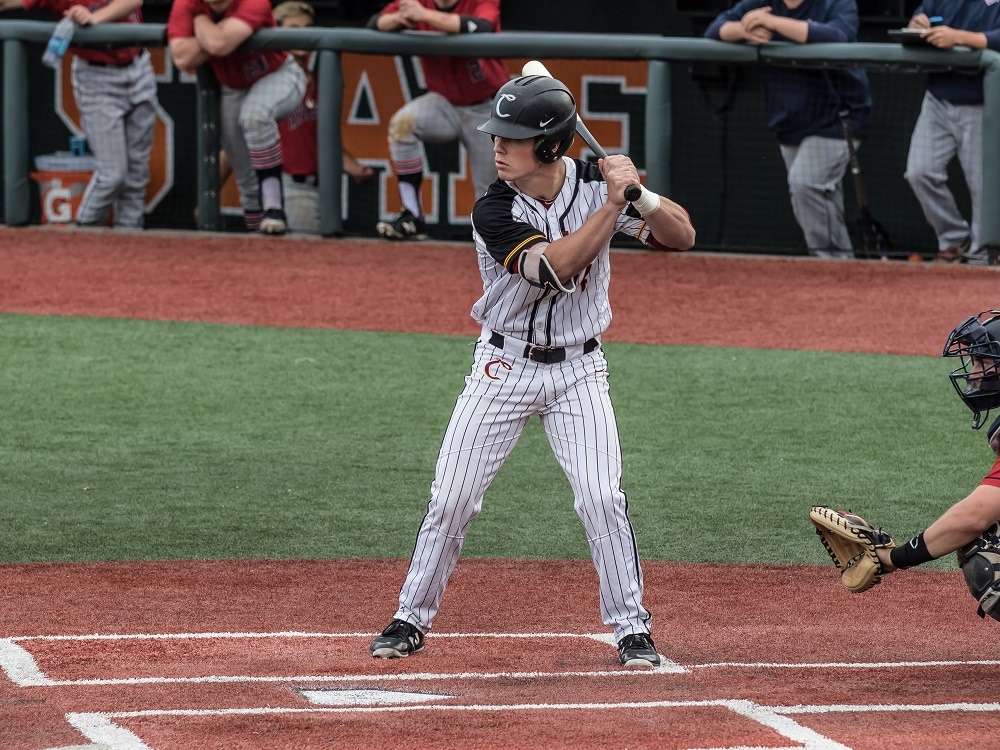 Knight Knocks in Four as Knights Top Pippins, Win Series
YAKIMA, Wash. – Center fielder Briley Knight (pictured, above) drove in four runs and the Knights defeated Yakima Valley 10-7 in a West Coast League game at Yakima County Stadium.
The Knights (13-6, 8-6 WCL), who also prevailed 7-4 on June 22, thus won the series. They go for a sweep at 6:35 p.m. on June 24  in the series finale.
A Crescent Valley High graduate who plays at Utah, Knight had a two-run single in the sixth, an RBI groundout in the first and an RBI single in the eighth. He is now tied with first baseman Trace Tammaro (Portland) for second on the team with nine RBIs.
Left fielder Jake Holcroft (Portland) was 4-for-5 with two runs and two steals and third baseman Matthew Gretler (Oregon State) doubled, singled twice and drove in two runs. Tammaro slammed a two-run homer to cap a four-run first inning, and also singled.
Corvallis led early 4-0 and 6-3 but the Pippins rallied to tie 6-6 in the third inning. Holcroft scored on the tail end of a double steal to make it 7-6 in the fourth inning and the Knights held on from there.
Starter Tevita Gerber (Dixie State) labored through 5.2 innings, gave up seven runs and nine hits but left with the lead and got his second straight win. He struck out six.
Colton Meyer (Linfield) added one scoreless inning before giving way to Kevin West (UC Riverside) with two on and two out in the seventh. West got the last out to escape the jam, and then retired the Pippins in the eighth and ninth for his first save, aided by a 4-6-3 double play following a leadoff single in the ninth.
Corvallis now leads the all-time series against the Pippins 16-13, and is 8-6 in games played in Yakima. The Knights also moved to win 3.5 games of first-place Walla Walla in the South Division's first-half pennant race.
The Knights host the new Ridgefield (Wash.) Raptors at 6:30 p.m. on Tuesday for the first time in franchise history. It's the opener of a nine-game homestand that concludes with the annual Oregon State Credit Union Fireworks Night game on July 3.