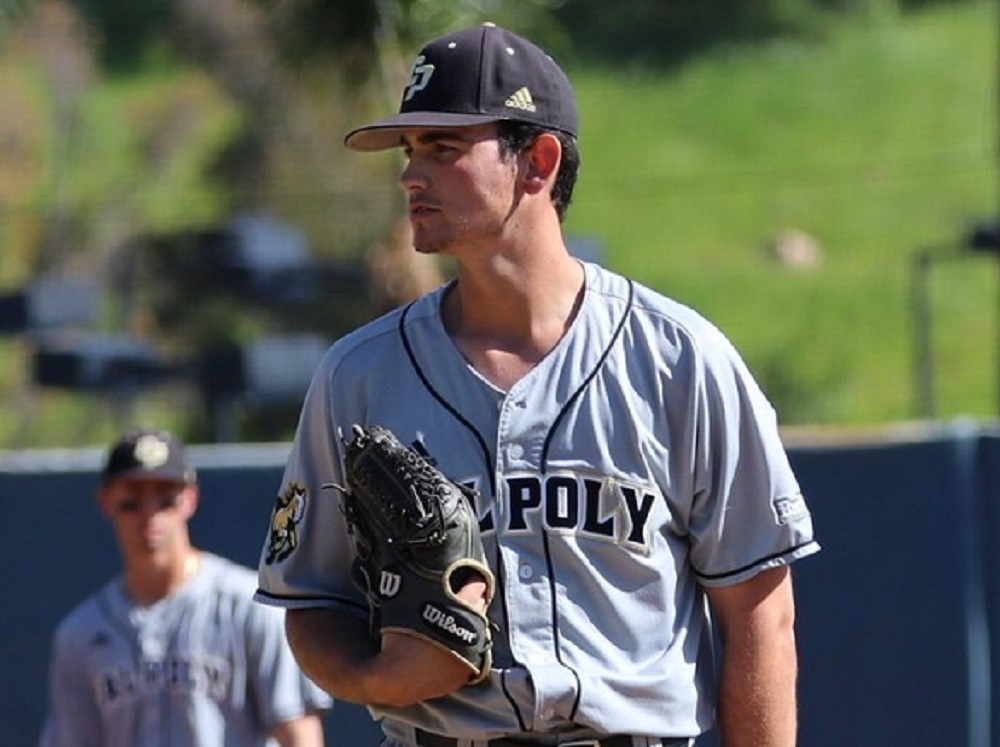 One-hit Gem by Watkins, Bullpen Gives Knights Sweep Over Pippins
YAKIMA, Wash. – Pitcher Chase Watkins (pictured, above) allowed just one hit in six innings in his first start on to lead the  Knights to an 11-0 victory at Yakima Valley and a sweep of their West Coast League series.
A rising sophomore left-hander at Cal Poly from Watsonville, Calif., Watkins struck out seven, walked two, and threw 50 strikes in 79 pitches. He had thrown just one inning before Monday, a scoreless frame against Bellingham on June 20.
The Pippins lone hit against Watkins and three relievers was a bloop single by Owen Cobb in the fifth inning that fell safely between three defenders in short left field.
It was the second series sweep of the summer for the Knights (14-6, 9-6 WCL), who also took all three from Cowlitz on June 14-16. Corvallis is 6-3 in WCL games after an 0-3 start and trails Walla Walla by three games in the first-half South Division pennant race.
Left fielder Jake Holcroft (Portland) concluded a stellar series by going 4-for-5 with a double, three runs and an RBI. He went 10-for-14 (.714) against the Pippins, with six runs, four steals and two RBIs.
Holcroft raised his average 100 points to .371, good for eighth in the WCL batting race. He entered the series mired in a 3-for-21 (.143) slump in his previous five games.
Corvallis scored once in the first and third innings and broke the game open with five runs in the fourth. Designated hitter Andy Atwood's (Texas Rio Grande Valley) second double of the game drove in the outburst's final run.
Atwood was 2-for-4 with two doubles and two RBIs. Second baseman Jake Harvey (Oregon State) doubled, singled, drove in two and scored once.
Trevor Bateson (UC Riverside), Nick Caviglia (Utah) and Trace Hokkanen (Mt. Hood CC) each added a scoreless inning of relief to complete the Knights' first shutout of the season in an efficient 2:24.
The Knights host the new Ridgefield (Wash.) Raptors at 6:30 p.m. Tuesday for the first time in franchise history. It's the opener of a nine-game homestand that runs through July 3.