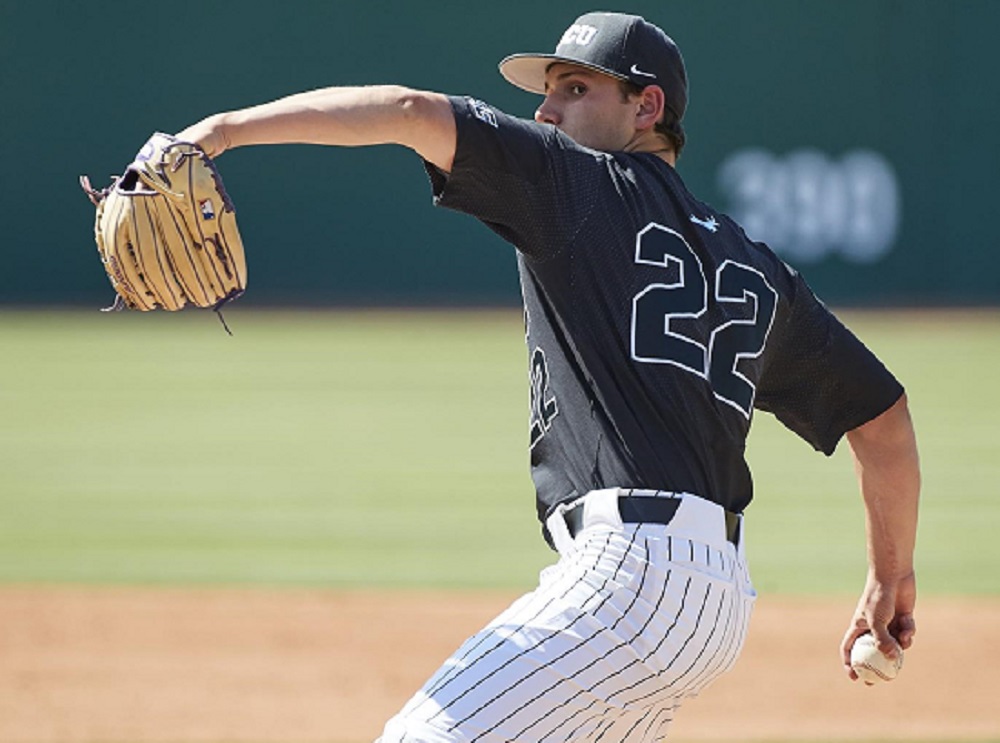 Knights Win First-Ever Game With Raptors; Now Tied for Second Place
Corvallis defeated the Ridgefield Raptors 7-3 in the first-ever game between the Knights and the West Coast League's newest franchise.
A Goss Stadium crowd of 1,328 saw the Knights (15-6, 10-6 WCL) stretch their winning streak to four games in a row. They moved into a tie for second place with Ridgefield in the first-half South Division pennant race, two games behind leader Walla Walla.
Corvallis starter Brodie Cooper-Vassalakis (pictured, above) of Grand Canyon went five innings and allowed three runs on four hits, with two strikeouts, and was named the Washington Park Advisors Player of the Game. He walked five and hit a batter in an 88-pitch outing, but stranded six Raptors.
"We worked on throwing two-seam fastballs and changeups, trying to jam guys and not worry about strikeouts," Cooper-Vassalakis (3-1) said. "We wanted to put guys away early so I could stay in the game longer."
Reliever Jackson Arnsdorf (Corban) went two scoreless innings and Connor Knutson (Portland) and Alex Williams (Stanford) each added a perfect frame. Knutson and Williams had two strikeouts apiece. Originally a 10-day signee, Arnsdorf was promoted to full-time status earlier this week.
The Knights scored five times in the first inning to erase a 2-0 deficit and to take control. They added two more runs in the third inning to take a 7-2 lead and they held on from there.
Matthew Gretler (Oregon State) doubled, singled, scored twice and drove in a run for the Knights. Beaver teammates Elliot Willy and Jake Harvey each singled twice, drove in a run and scored.
The series resumes at 6:30 p.m. Wednesday. Oregon State lefty Andrew Walling (0-1, 81.00) is the scheduled starter for Corvallis, opposed by Portland righty Peter Allegro (1-0, 3.60).
Righty Connor Redmond (0-0, 0.00) will start Thursday's 6:30 p.m. finale for the Knights. UC Santa Barbara lefty Carter Benbrook (1-0, 0.75) goes for the Raptors.
The ongoing nine-game homestand runs through July 3. Tuesday's crowd of 1,328 raised the season total to 14,646 for nine dates, an increase of 769 from 2018 over a corresponding number of openings.