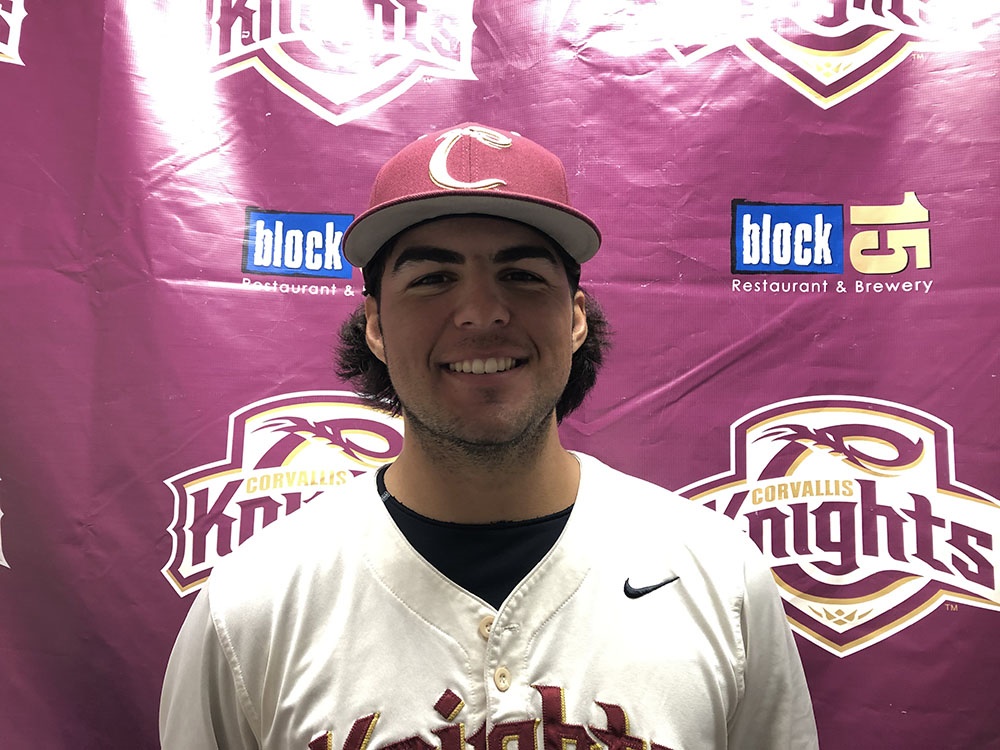 Watson Shuts Down Raptors, Knights Close In On First Place
Right-hander David Watson (pictured, above) pitched six scoreless innings of relief and the Knights rallied for a 13-1 victory over Ridgefield to win their initial West Coast League series against the first-year franchise.
A rising sophomore at Utah from Gilbert, Ariz., Watson allowed three hits and had six strikeouts in the stellar performance. He lowered his ERA from 5.90 to 3.78 and earned his first victory of the summer.
"My fastball and slider were pretty dominant, they were just carving people up," said Watson, who was named the Washington Park Advisors Player of the Game. "Those two pitches were really working."
It was the second outstanding outing in a row for Watson. He allowed one run in 5.2 innings and got a no-decision in a 5-1 loss to Bellingham on June 19. He has nine strikeouts and an 0.77 ERA in his last two appearances.
"My coaches gave me a different approach and it's allowed me to really attack hitters," he said. "I've just been dominant on the mound the last two games."
The Knights (16-6, 11-6 WCL) stretched their winning streak to five games in a row and assumed sole possession of second place in the first-half South Division pennant race. They now trail leader Walla Walla (12-5 WCL) by just one game with 10 games remaining in the first half.
"We are really blending as a team," Watson said. "We are becoming a family and it's clicking. We're a good group."
Corvallis trailed 1-0 before first baseman Tracye Tammaro (Portland) unloaded a two-run homer over the right-field fence in the fourth inning. Andy Atwood (Texas Rio Grande) and Matthew Gretler (Oregon State) drove in single runs in the fifth and seventh innings to expand that lead to 4-1.
Corvallis then exploded for nine runs in the eighth to break the game open. The first nine batters in the inning all scored.
Michael Curialle (UCLA), Atwood and Elliot Willy (OSU) had two hits apiece for the Knights. Tammaro had three RBIs, Jake Holcroft (Portland) and Atwood two each.
Righty Connor Redmond (0-0, 0.00) will start Thursday's 6:30 p.m. finale for the Knights as they go for their third series sweep of the summer. UC Santa Barbara lefty Carter Benbrook (1-0, 0.75) goes for the Raptors.
The ongoing nine-game homestand runs through July 3. Wednesday's crowd of 1,287 raised the season total to 15,933 for 10 dates, an increase of 1,213 from 2018 over a corresponding number of openings.