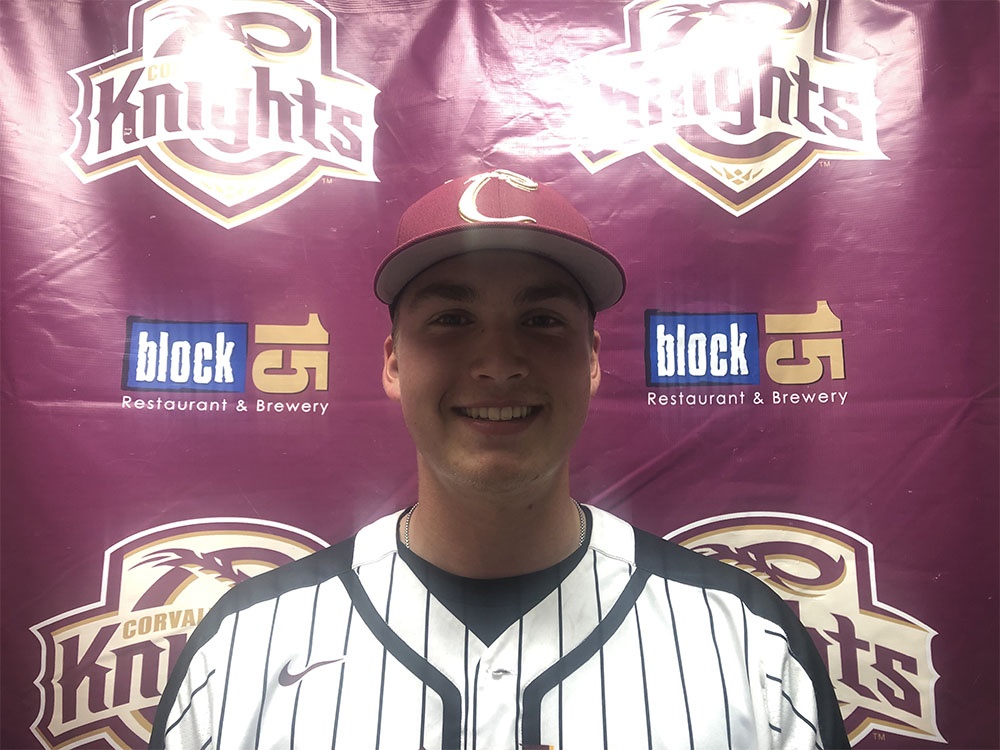 Knights blank Ridgefield, finish sweep with sixth-straight win
Six Corvallis pitchers combined on a two-hit shutout as the Knights blanked Ridgefield 2-0 to sweep the first-ever series between the West Coast League's three-time defending champions and its newest franchise.
Right-hander Jacob Dobmeier (pictured, above), a 2019 Newport High School grad who will pitch at UC San Diego in 2019-20, went two innings and was credited with the victory. He struck out one and allowed one hit and one walk in his longest outing of the summer.
"My location and throwing first-pitch fastball for a strike was really big," said Dobmeier, who was the Oregon West Conference Pitcher of the Year and a first-team 4A all-state selection for the Cubs this past spring.
"On the better hitters, being able to work backwards in some situations" was important. "Once you get ahead, it's a lot easier, and we went from there."
Dobmeier pitched 82 innings as Newport's workhorse. He had only one appearance for the Knights before Thursday, a perfect inning in a 5-1 loss to Bellingham on June 19.
So, his two-plus inning stint was his longest outing in almost a month, since the end of the high school season. He said he wasn't getting tired but overthrew on a walk leading off the eighth because he was so pumped up and excited to close out the game.
"Traditionally I throw harder as I go on, because I've been a starter my whole life," he said. "It was more of, me being young and letting my emotions of wanting it so bad get the better of me. It was just me being inexperienced."
Dobmeier said he's enjoyed pitching in the higher level of competition in the WCL.
"It's the highlight of my career so far," he said. "It's such a big step up, it forces you to get better, and that's what I need. It's been a really great opportunity for me."
The Knights (17-6, 12-6) stretched their WCL winning streak to six games in a row. Now in sole possession of second place in the first-half South Division pennant race, they remained one game behind leader Walla Walla with nine games remaining in the first half.
Corvallis had just two hits but they were grouped in a two-run seventh inning. Shortstop Michael Curialle (UCLA) doubled with one out and scored on a single by Jake Holcroft (Portland).
Holcroft advanced to third on a two-base throwing error when the Raptors tried to retire Curialle at the plate. Jake Harvey (Oregon State) then scored Holcroft with a perfect squeeze bunt.
Starter Eric Hill (Linn-Benton) went three scoreless innings. Trevor Bateson (UC Riverside) and Colton Meyer (Linfield) each added a scoreless inning before giving away to Dobmeier in the sixth.
William Kempner (Gonzaga) replaced Dobmeier in the eighth after a leadoff walk; he stranded two runners while retiring the side. Closer Connor Knutson (Portland) pitched a 1-2-3 ninth for his first save.
The Knights begin a three-game series with Yakima Valley at 6:30 p.m. Friday. Corvallis swept the Pippins in Yakima on June 22-24. Corban right-hander Jackson Arnsdorf (2-0, 0.93) will start for Corvallis, opposed Cal Poly righty Ryan Jamison (0-1, 3.60).
Three-year Knight Connor Redmond (0-0, 0.00) will start Saturday's 6:30 p.m. Game 2. Lefty Tevita Gerber (2-1, 4.32) of Dixie State gets the ball in Sunday's 3 p.m. finale.
The ongoing nine-game homestand runs through July 3. Thursday's crowd of 1,280 raised the season total to 17,213 for 11 dates, an increase of 1,458 from 2018 over a corresponding number of openings.