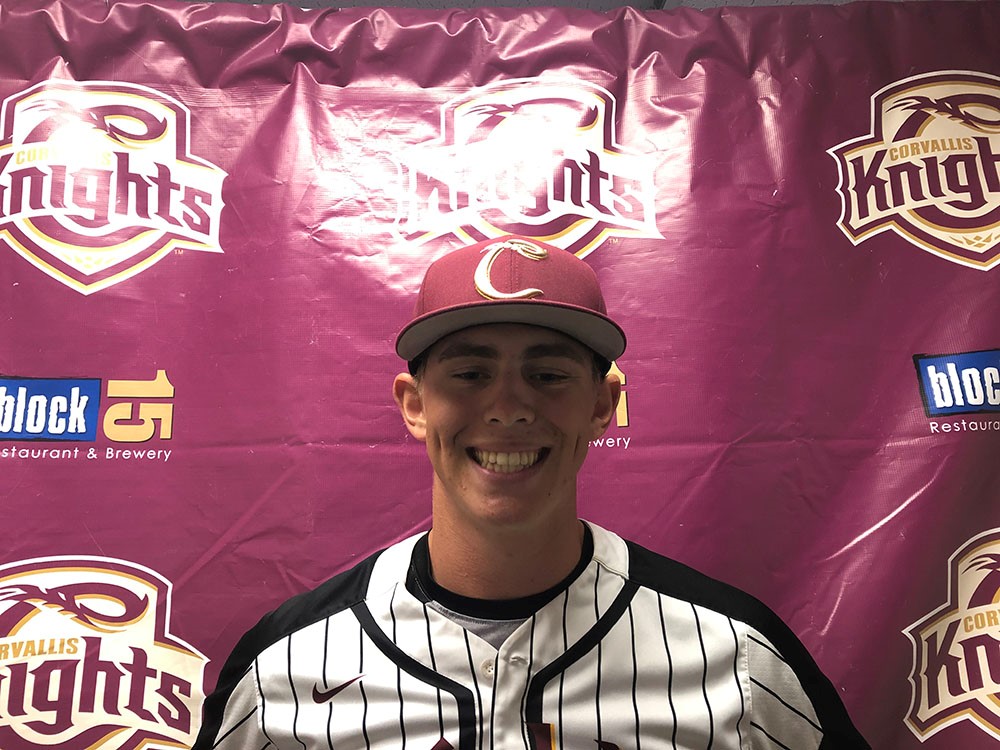 Arnsdorf shuts down Pippins in 5-2 win
Corban University right-hander Jackson Arnsdorf (pictured, above) pitched five scoreless innings as the Knights beat Yakima Valley 5-2 at Goss Stadium.
A 10-day signee from Astoria who earned a full-time roster spot earlier this month, Arnsdorf allowed just two hits in five scoreless innings. He struck out five, walked one, hit another and lowered his already-outstanding ERA to 0.61 from 0.93.
"The first inning I fell behind a couple times and they put some balls in play, but luckily they weren't making solid contact," said Arnsdorf, who leads the Knights with five wins in all competition. "The location of my running fastball, my cutter was the big difference, with swings and misses, foul balls, and weak contact."
Arnsdorf was third on the Corban staff with three wins in 2019, when the Warriors suffered though an uncharacteristic 19-31 season. He came to Corvallis ready to let the chips fall where they may after having two saves and 23 strikeouts over 30.1 innings in 11 appearances.
"I had nothing to lose; [I thought] 'Whatever happens, happens,'" he said. "I'm here to do what I'm going to do, if that wasn't good enough," then he could leave knowing he did the best he could.
"Going out and playing like you have nothing to lose has been the key. I had somewhat of an idea what to expect playing for the Knights, and it's been awesome, my favorite ballclub. Everything has exceeded my expectations."
Relievers Tim Josten (Cal State Fullerton), Trace Hokkanen (Mt. Hood CC), Nick Caviglia (Utah) and Alex Williams (Stanford) finished up. Williams pitched a 1-2-3 ninth for his second save.
The Knights (18-6, 13-6) stretched their WCL winning streak to seven games in a row. They remained one game behind leader Walla Walla with eight games remaining in the South Division's first-half pennant race.
Corvallis shattered a scoreless tie by scoring four times in the fifth on a two-run single by Jake Harvey (Oregon State) and a booming two-run double to the gap by future Cal Poly Mustang Brooks Lee. Michael Curialle (UCLA) drove in the final run in the sixth.
Yakima Valley broke through for two runs in the seventh inning, ending the Knights' pitching staff's scoreless streak at 23 innings over the past three games. They had not allowed a run since the first inning of a 13-1 win over Ridgefield on June 26.
Three-year Knight Connor Redmond (0-0, 0.00) will start Saturday's 6:30 p.m. Game 2, opposed by righty Mark Woinarowicz (3-2, 3.32) of Cal State-East Bay for Yakima Valley.
Lefty Tevita Gerber (2-1, 4.32) of Dixie State gets the ball in Sunday's 3 p.m. finale. Yakima Valley's probable is TBA.
The ongoing nine-game homestand runs through July 3. Friday's crowd of 1,234 raised the season total to 18,447 for 12 dates, an increase of 1,460 from 2018 over a corresponding number of openings.