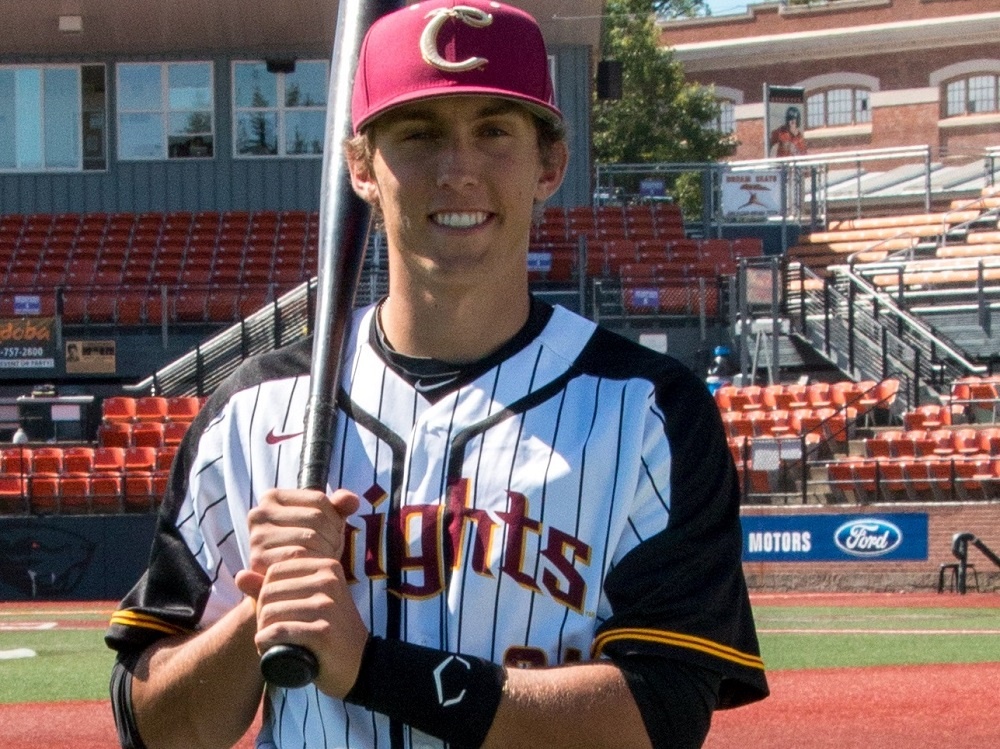 Victoria Rally Edges Knights 5-4 in Championship Series Opener
VICTORIA, B.C. –  Victoria scored two runs in the last of the ninth to edge Corvallis 5-4 in Game 1 of the West Coast League Championship Series.
A leadoff walk, a single, a sacrifice fly, a wild pitch and a single off relievers Hazahel Quijada (UC Riverside) and Jordan Qsar (Pepperdine) plated two runs for Victoria, erasing a 4-3 Knights' advantage.
Game 2 is set for 6:40 p.m. Monday at Goss Stadium. Game 3, if necessary, would be at 6:40 p.m. Tuesday, also at Goss Stadium.
Dillan Shrum (Nevada-Reno) doubled twice, Elliot Willy (Oregon State, pictured above) hit a solo homer and Matt Kelly (Portland) had two hits for the Knights in the back-and-forth affair. Corvallis led 1-0 and 2-1, trailed 3-2, retook the lead at 4-3 with single runs in the seventh and eighth, and then lost it in the ninth.
Qsar, Taylor Travess (Oregon) and Jace Duty (San Jose State) had the other RBIs for the Knights. Quijada had retired seven of the eight batters he'd faced heading into the ninth before faltering.
It is the ninth championship appearance in 11 seasons for the Knights in Corvallis, who are 4-4 all-time in the finals. Victoria is making its first finals appearance.