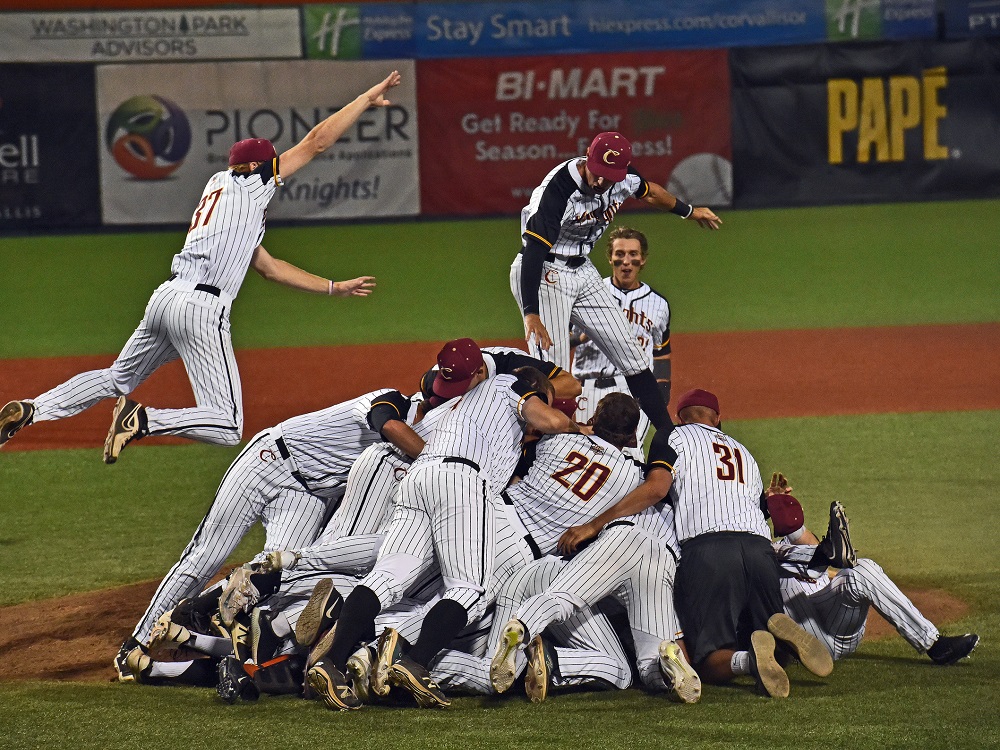 Quijada Saves the Day, Knights Win 4-2, Repeat as WCL Champions
CORVALLIS, Ore. –  How sweet to repeat.
The Knights completed their drive to a second-consecutive West Coast League title with a tense 4-2 win over Victoria in the decisive Game 3 of the WCL Championship Series before a crowd of 1,430 at Goss Stadium.
Returnee Hazahel Quijada (pictured, above) of UC Riverside quelled a budding HarbourCats rally by getting the final three outs in the ninth inning. He struck out the final two batters to strand the tying runs on second and third base.
His UC Riverside teammate, starter Trenton Toplikar, positioned the Knights to repeat with a brilliant seven-inning performance. He allowed one unearned run and four hits to post his second victory of the WCL playoffs.
The Knights earned their fifth crown in 11 years in Corvallis by winning the final two games of the best-of-three series. Tuesday night's victory was their fourth home elimination-game win in the playoffs; they also took the final two games of the South Divisional Series versus Yakima Valley after losing Game 1 on the road.
"I want to thank the fans for their support all summer, it really makes a difference when we come to the park," Corvallis coach Brooke Knight said after accepting the WCL Championship trophy for the fifth time in his 10-year tenure.
"I am really proud of this group, they battled every night. Victoria is plenty good, and we had our hands full. We worked hard all summer; we never stopped playing hard.
"We hit bumps in the road, but we all bought in and finished the job. I love these guys and we are going to celebrate tonight."
The Knights became just the second team in WCL history to repeat as champions since the two-round divisional playoff format was adopted in 2007. Wenatchee went back-to-back in 2009 and 2010.
Toplikar escaped a bases-loaded, no-out jam in the first by allowing one unearned run, and settled down from there. He retired the next eight HarbourCats in order and left after seven innings having allowed that lone run and four hits.
He struck out four and walked one, finalizing his strikeout/walk ratio at 34-3 for the season. It was his second win in the playoffs; he went seven innings in an 8-4 victory over Yakima Valley on Aug. 9 in Game 2 of the South Division playoffs.
"I stay confident with my entire team," Toplikar said. "I trust that they're all going to do their best work. Our defense was great, our offense kept hitting.
"The location on my pitches was working well for me. This is unreal. You can't mimic this. There is no other feeling like it."
Reliever Miles Glazier (UC Irvine) pitched out of a jam in the eighth but gave up two soft, opposite-field singles to start the ninth, bringing on Quijada. After Hazahel got the lead runner at third on an attempted sacrifice bunt, he threw a wild pitch to advance the runners to second and third.
He buckled down, though, and fanned pinch-hitter Noah Prewett and second baseman Justin Orton on 2-2 pitches. He threw his glove toward the dugout after the final strike and was mobbed by celebrating teammates.
Corvallis trailed 1-0 early but scored single runs in the second, third, fourth and fifth innings to build a 4-1 advantage. Zak Taylor (Oregon State) homered for the first run; Dillan Shrum (Nevada-Reno) hit a two-out RBI single for the fourth tally.
The other two runs scored on a double steal and a wild pitch.
Matt Kelly (Portland) and Elliot Willy (OSU) each doubled, singled and scored once. Jordan Qsar (Pepperdine) singled and scored the other run on the front end of a double steal.
The Knights won four elimination games at Goss Stadium en route to the crown. They defeated Yakima Valley 8-4 and 4-3 in the South Division playoffs after losing 9-3 at Yakima in the opener. They also lost Game 1 of the Championship Series, 5-4 in Victoria on Aug. 12, but rebounded with 6-0 and 4-2 wins in Corvallis.
It was the ninth championship appearance for the Knights, who improved to 5-4 all-time in the finals. It was the first finals appearance for Victoria, which joined the league in 2013.
Tuesday's crowd pushed the final attendance to 53,364 for 36 home dates, an average of 1,482 per opening. It was a decrease of 439 fans from 2016 but the highest total attendance in franchise history.