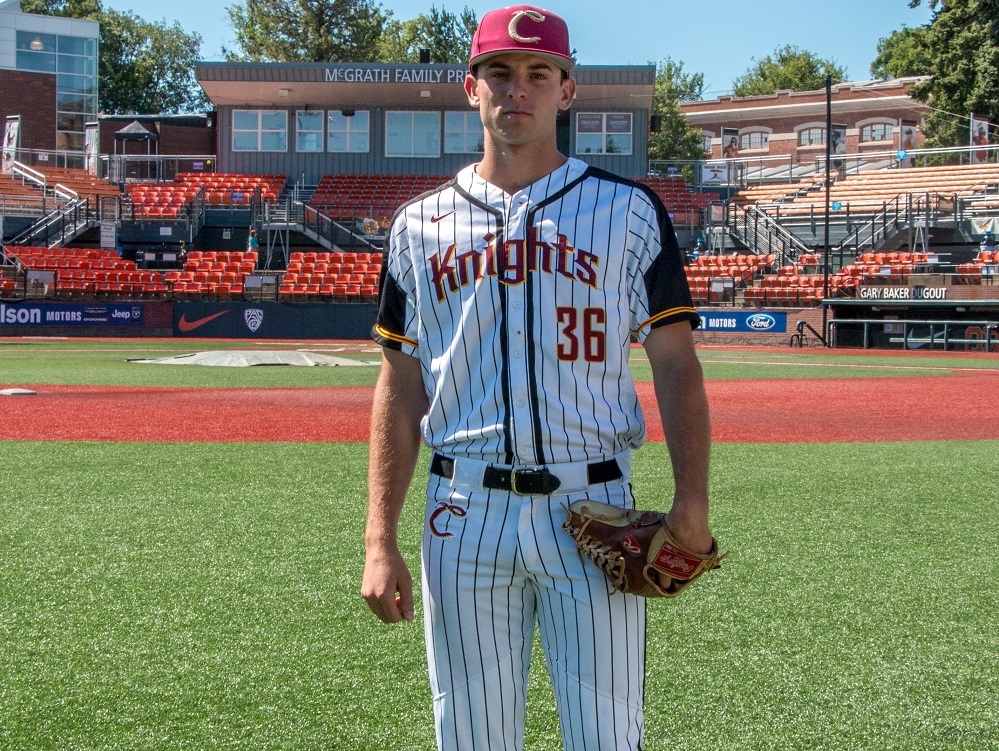 Toplikar's Strong Start Gives Knights Split With Wenatchee
CORVALLIS, Ore.  –  The Knights defeated Wenatchee 6-3 to split their doubleheader .
Starter Trenton Toplikar (pictured above) of UC Riverside went 3.2 scoreless innings, lowering his ERA from 5.95 to 5.13, in the nightcap. He allowed four hits and had four strikeouts without a walk, improving his season strikeout/walk ratio to 26-1.
Reliever Trevor Wells (Linn-Benton CC) got the final out in the fourth with the bases loaded. He then blanked Wenatchee in two innings, stretching his scoreless streak to five consecutive frames, and got the win.
The Knights (37-19, 31-19 WCL, 14-9 second half) took a 2-0 lead in the first, scoring on a wild pitch and a solo homer by Dillan Shrum (Nevada-Reno. It was his seventh of the summer and the 42nd for the Knights, extending a franchise record.
RBIs by Chad Stevens (Portland), Matt Kelly (Portland) and Jordan Qsar (Pepperdine) made it 5-0 in the second; Kelly added a sacrifice fly in the fourth to make it 6-0. All the runs came off Wenatchee starter McKabe Cottrell, the reigning WCL Pitcher of the Week.
Taylor Travess (Oregon) was 3-for-3 with a sac bunt, a run and a steal. Stevens doubled, singled, scored twice and drove in one.
Corvallis was the designated vising team in both seven-inning games, which were shifted from Wenatchee due to unhealthy conditions in the Wenatchee Valley resulting from wildfires.
In the opener, Wenatchee scored six times in the last of the seventh to post a 10-7 comeback victory. The Knights took a 7-4 lead into the last of the seventh before disaster struck.
Reliever Cameron Richman (Portland) walked the first two AppleSox on full counts. Reliever Tanner Howell (Dixie State) added a third full-count walk to lead the bases with no outs. After a strikeout, two singles tied the game and Jake Taylor then ended it with a three-run, walkoff homer.
Howell was battered for four runs on two singles, a walk and the homer in one-third of an inning.
Wenatchee rocked Corvallis starter Connor Redmond for four runs and four hits in the first inning. But the rising sophomore at Cal Poly settled down, allowed just two hits over the next four frames and left after five with a 7-4 lead.
The Knights erased the 4-0 deficit by erupting for seven runs and 10 hits in the second inning. The big blow was a two-run single by Qsar that sent the Knights ahead 5-4. Zak Taylor (Oregon State) and Gabe Matthews (Oregon) had two hits each in the rally.
The Knights close out the regular season by hosting Yakima Valley this Friday through Sunday. The South Division playoffs begin Aug. 8.