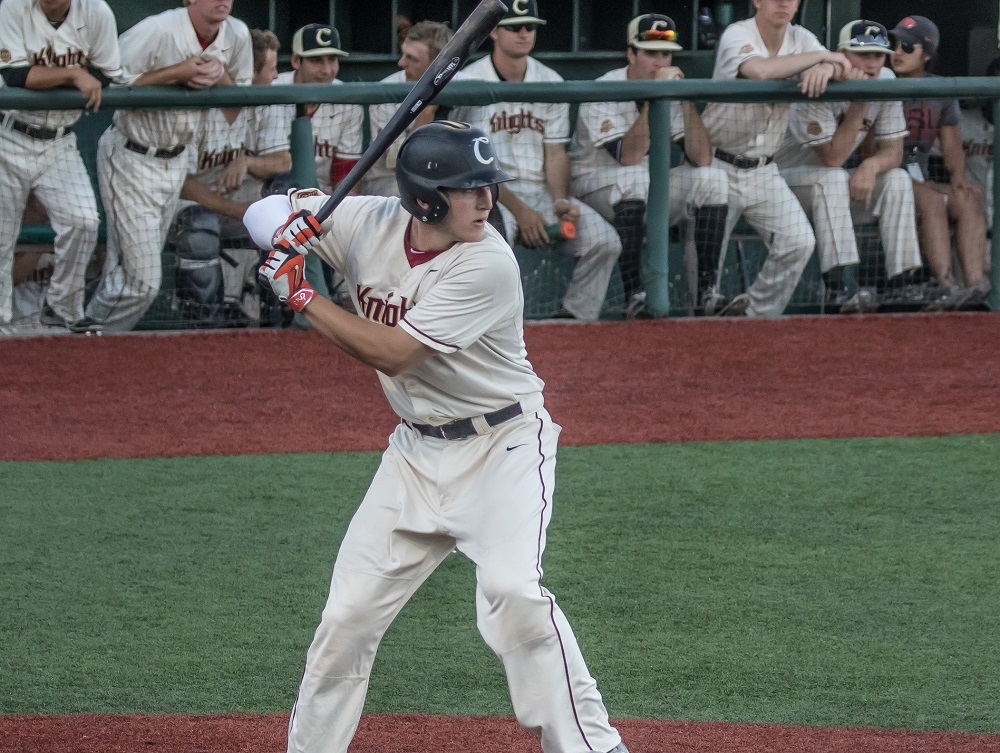 Taylor's RBI Double Lifts Knights to Comeback Win Over Pippins
CORVALLIS, Ore.  –  Third baseman Zak Taylor (pictured above) drilled a two-run double in the seventh inning to break a 4-4 tie and the Knights held off Yakima Valley 6-4 in a South Division showdown.
Taylor's key hit capped a two-out rally and Knights (38-19, 32-19 WCL, 15-9 second half) clinched a tie for the West Coast League's best overall record and home-field advantage throughout the upcoming playoffs.
The Knights led 2-0 and 3-2 early but trailed 4-3 with two outs in the seventh when they rallied. Matt Kelly (Portland) walked and Jordan Qsar (Pepperdine) singled to put runners on the corners and Dillan Shrum (Nevada-Reno) tied the game with an RBI single.
Taylor then laced a double into the left-field corner to score Qsar and Shrum with the go-ahead runs. The Oregon State junior-to-be has six doubles and 18 RBIs in only 30 WCL games.
"We've been treating each of these past few games like the playoffs, it's a playoff atmosphere," said Taylor, a key member of the Knights' 2016 WCL championship club. "Momentum is a big thing going into the playoffs.
"It was a really big win for us. It helps us a lot in the overall standings."
Kelly had an RBI triple in the first and he scored on Qsar's sacrifice fly for a quick 2-0 advantage. Yakima Valley tied it in the fourth but the Knights went back ahead 3-2 in the home half on a two-out RBI double by shortstop Chad Stevens (Portland).
Yakima Valley scored twice in the fifth to surge ahead 4-3.
The Knights hit four doubles and a triple. Qsar had two hits, drove in a run and scored once. Stevens doubled, singled, drove in a run and stole a base and Kelly tripled, singled, scored twice, stole two bases and walked.
Lefty Hazahel Quijada (UC Riverside) pitched 3.2 innings of scoreless relief, lowered his ERA from 4.28 to 3.65, and got the win. He struck out three and did not issue a walk.
Closer Chase Kaplan (Kansas) fanned two of the four Pippins he faced in the ninth and earned his sixth save. He has allowed only one run over 12 innings in his last eight WCL appearances, lowering his ERA to 1.68.
The series continues at 7:05 p.m. Saturday and concludes at 5:05 p.m. Sunday.
The South Division playoffs begin Tuesday, at either Yakima Valley, Bend or Cowlitz. The Knights will host Game 2 on Wednesday and Game 3 (if needed) on Thursday.