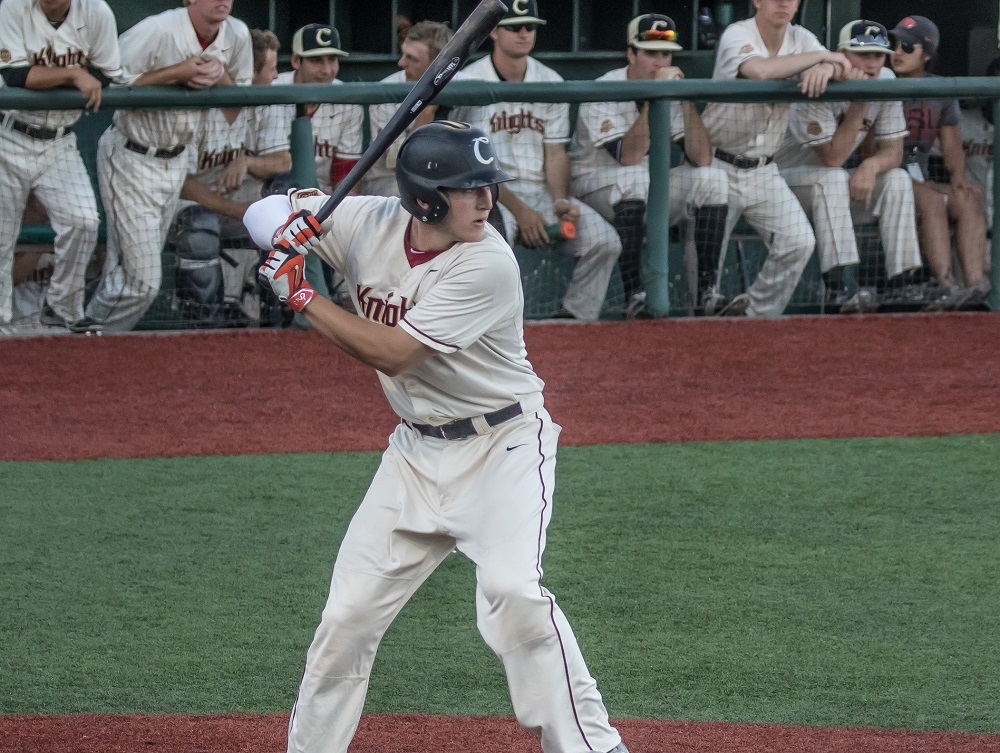 Taylor's Homer, RBI Single Leads Knights Past Victoria
CORVALLIS, Ore. – Catcher Zak Taylor (pictured, above) hit a tie-breaking homer and added an RBI single to lead the Knights to a 9-1 win over Victoria in the opener of a West Coast League series at Goss Stadium.
A rising junior at Oregon State, Taylor led off the sixth inning by hammering a 2-1 pitch well over the tall portion of the left-field fence to give the Knights a 2-1 lead.  OSU teammate Elliot Willy added a two-run shot later in the inning for a 4-1 advantage and the Knights cruised home from there.
Taylor is 4-for-6 (.667), with a homer, a double, three RBIs and three walks since joining the team on Sunday after returning from the College World Series in Omaha. Monday marked Willy's debut with the Knights.
Corvallis (15-8 all, 14-8 WCL) now has a 3.5-game lead over Cowlitz and Bend in the South Division pennant race, with five games remaining in the first half of the two-part WCL season. Cowlitz lost at Kelowna on Monday; Bend was idle. The first-half winner automatically advances to the postseason playoffs.
Second baseman Brady Rediger (Linfield) doubled, scored twice and had an RBI in his return to the team after a week's absence. Dillan Shrum (Nevada-Reno) had two singles and the Knights' other RBI.
Starter Nick Morales (San Jose State) spaced two hits and five walks over the first four innings, when the HarbourCats (10-13 WCL) stranded six runners. Reliever Dakota Donovan (Oregon State) retired all five hitters he faced, three by strikeout, and got the victory.
The series continues at 6:40 p.m. Tuesday. San Diego righty Louis Crow (0-0, 3.00) will start for the Knights while Baylor righty Luke Boyd (1-1, 6.39) goes for Victoria. The series concludes at 6:40 p.m. Wednesday.
Corvallis wraps up the homestand on Thursday with a nonleague doubleheader against the Perth Heat Colts and the Mid-Valley Southpaws American Legion team. Both games will be seven innings.