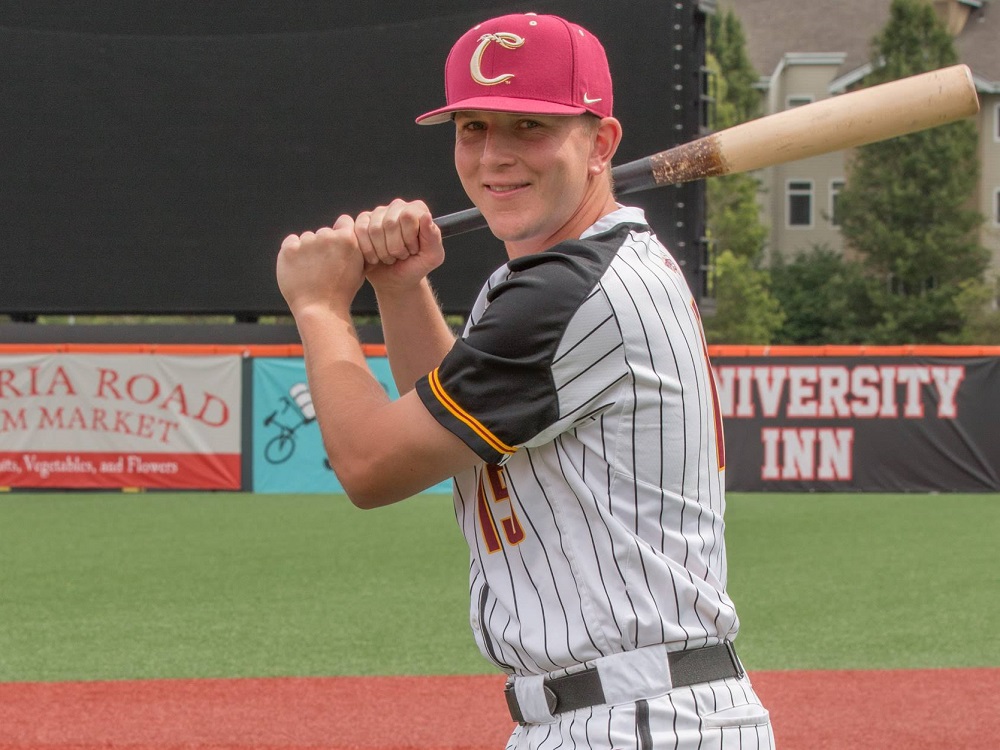 Taylor Ends Slump With Decisive Hit in 5-4 Victory at Yakima Valley
YAKIMA, Wash. – Catcher Zak Taylor (pictured, above) busted out of a 1-for-22 slump with an RBI single in the 11th inning to give the Knights a 5-4 win over Yakima Valley in the opener of a three-game West Coast League series.
A rising senior at Oregon State, Taylor's base hit scored center fielder Chandler Anderson (Utah), aboard via a one-out double, the Knights' fifth of the game. Taylor was 0-for-4 at that point, and hitless in his previous 12 at-bats.
The win was the fourth in a row for the Knights (21-13-1 all, 18-11 WCL, 2-0 second half). They were 0-3 in extra-inning games before Tuesday.
Yakima Valley threatened in the home 11th and had runners at first and second with no outs. However, Taylor backpicked the runner at second on a missed bunt for the first out. An error on a stolen base during a strikeout sent the tying run to third base, but reliever Louie Crow (Cal Poly-Pomona in 2018-19) retired the only batter he faced on a 3-1 groundout to end the game and earn the save.
Right fielder Austin Feist (St. Martin's) tripled, doubled and singled twice to lead the offense. Anderson had two hits and Cody Hawken (Portland) drove in two runs.
The Knights trailed 2-1 entering the seventh but Feist tripled with one out and then scored on a double by Beau Philip (Oregon State in 2018-19), tying the game 2-2. Hawken then knocked Philip in with another double to send the Knights ahead 3-2.
Hawken moved to third on a throwing error attempting to get Philip at the plate. He then scored on Trace Tammaro's (Portland in 2018-19) sacrifice fly to make it 4-2.
Feist also scored the Knights' first run in the second, when he doubled, moved to third on a sacrifice and scored on Hawken's sacrifice fly. The Pippins scored once in the second to tie the game, then added another run in the sixth to take a brief 2-1 lead.
Yakima Valley scored twice in the home eighth to knot the game at 4-4, sending it into extra innings.
The Knights hit five doubles on Tuesday, giving them 18 during their ongoing four-game WCL winning streak.
The series resumes at 6:35 p.m. Wednesday. Connor Redmond of Cal Poly (0-0, 0.90) will start for Corvallis, opposed by Connor White (0-1, 1.84) of Portland in a matchup of right-handers.
The Knights return home on Friday for a three-game series against Port Angeles.