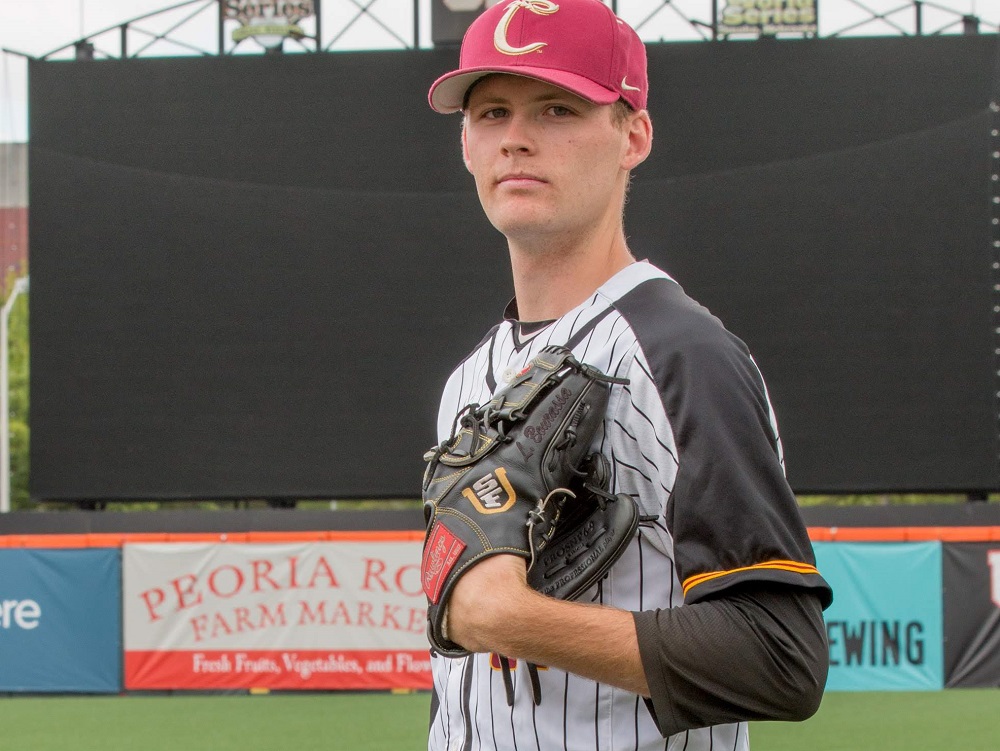 Bourassa Shines as Knights Top Victoria 10-2, Sweep Series
The Knights opened the second half of the West Coast League season in impressive fashion by topping Victoria 10-2 at OSU's Goss Stadium.
Pitcher Landen Bourassa (pictured, above) went six shutout innings in his fourth quality start in five outings to improve to 4-1. The rising senior at San Francisco struck out seven, allowed just two hits and threw 60 strikes in 94 pitches.
The Knights (20-13-1 all, 17-11 WCL, 1-0 second half) swept the series. They must win the South Division's second-half title, or have the second-best overall record if Portland repeats, to advance to the postseason for the 12th consecutive season.
"The first half didn't go the way we wanted it to, but we are fired up going forward," Bourassa said. "My defense behind me gave me the confidence tonight facing each batter. It's nice to be surrounded" with good players, just as at USF.
Corvallis scored three times in the second. Singles by future Portland teammates Cody Hawken and Trace Tammaro and a walk to Cole Cabrera (Cal Poly) loaded the bases. Hawken scored on wild pitch; Tammaro came home on Chad Stevens' (Portland) sacrifice fly and Cabrera crossed on a double by Briley Knight (Utah in 2018-19).
Cabrera had an RBI double to spark a three-run fourth. It was the fourth two-bagger in the last two games for Cabrera, who had three in a 2-1 win on Sunday. He also scored three times, as did Tammaro.
Corvallis scored three times in the sixth to break the game wide-open. Knight drove in two more runs with his second double and future Utah teammate Chandler Anderson added an RBI single.
Hawken, Knight, Stevens and Anderson had two hits each; Knight drove in three runs. The Knights had three doubles on Monday, giving them 13 for the series.
The Knights open a three-game series at the Yakima Valley Pippins on Tuesday. USF righty Daniel Slominski (0-1, 3.27) will start for the Knights, opposed by Hunter French (3-2, 3.40) of Central Washington. Connor Redmond of Cal Poly (0-0, 0.90) starts on Wednesday and Cameron Haskell of Arizona (2-1, 3.44) goes on Thursday.
The Knights return home on Friday for a three-game series against Port Angeles.
Monday's crowd of 893 included WCL commissioner Rob Neer. It raised the season attendance to 26,161 in 18 dates, an average of 1,453 per opening.