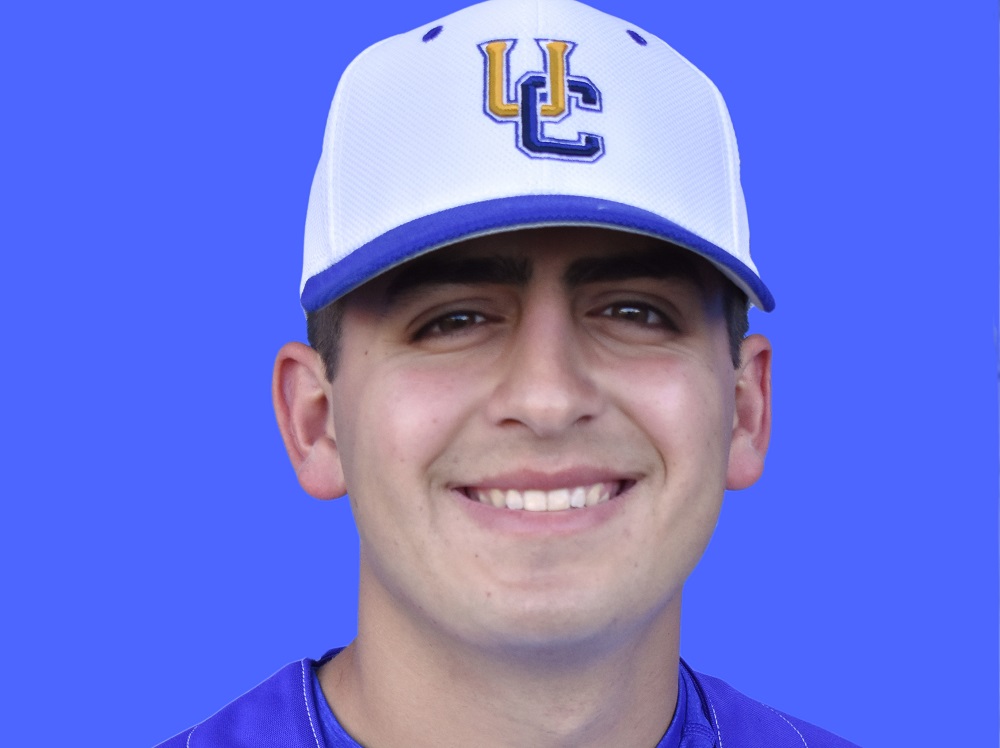 Haffar, Cabrera Team Up to Lead Knights to 2-1 Win Over Victoria
UC Riverside rising sophomore Abbott Haffar (pictured, above) pitched 4.1 innings of scoreless relief and the Knights tipped Victoria 2-1 to win the West Coast League series.
Haffar entered with two outs in the fourth after starter Brendan Beck (Stanford) had reached a predetermined pitch limit. He got the final out of the fourth and stymied the HarbourCats on two hits until the ninth.
Haffar struck out four, walked one and hit three. His defense helped him out in the eighth, when the third out was recorded on a 7-6-4 play, on single stranding the potential tying run at third base and nailing the batter trying to stretch a hit to left-center into a double.
"I felt good, felt loose, felt easy," Haffar said. "And we won, so everything feels great. [I stayed] free-minded, let things happen, trusted in my defense and threw strikes."
Lefty Jacob Palisch (Stanford) struck out the final two batters and authored a perfect ninth inning for his first save. He has six strikeouts in five scoreless innings over three appearances since being roughed up in a 13-5 loss to Portland on June 26.
Left fielder Cole Cabrera (Cal Poly) doubled three times and scored the winning run in the third on a double by Chandler Anderson (Utah). He also started the key 7-6-4 putout in the eighth inning denying the HarbourCats batter a double on a single to left-center that ended the inning.
Right fielder Cody Hawken (Portland) scored in the second to give the Knights a 1-0 lead. He led off with a double, moved to third on a bunt base hit by Beau Philip (Oregon State in 2018-19) and came home when Cameron Haskell (Arizona) hit into a force play at second.
The Knights had five doubles, giving them 10 two-baggers for the series. Philip had two hits.
Sunday's game concluded the first half of the WCL season for Corvallis (19-13-1 all, 16-11 WCL). They finished second in the South Division, behind the Portland Pickles.
Corvallis won Saturday's series opener 9-8. The brief homestand wraps up at 6:30 p.m. Monday; righty Landen Bourassa (3-1, 3.15) of San Francisco will start for the Knights; opposed by Baylor lefty Tyler Thomas (2-0, 4.09).
The Knights then head to Yakima Valley on Tuesday for three games with the Pippins. Their next home games after Monday are against Port Angeles on Friday through Sunday.
Sunday's crowd of 1,027 raised the season attendance to 25,268 in 17 dates, an average of 1,486 per opening.