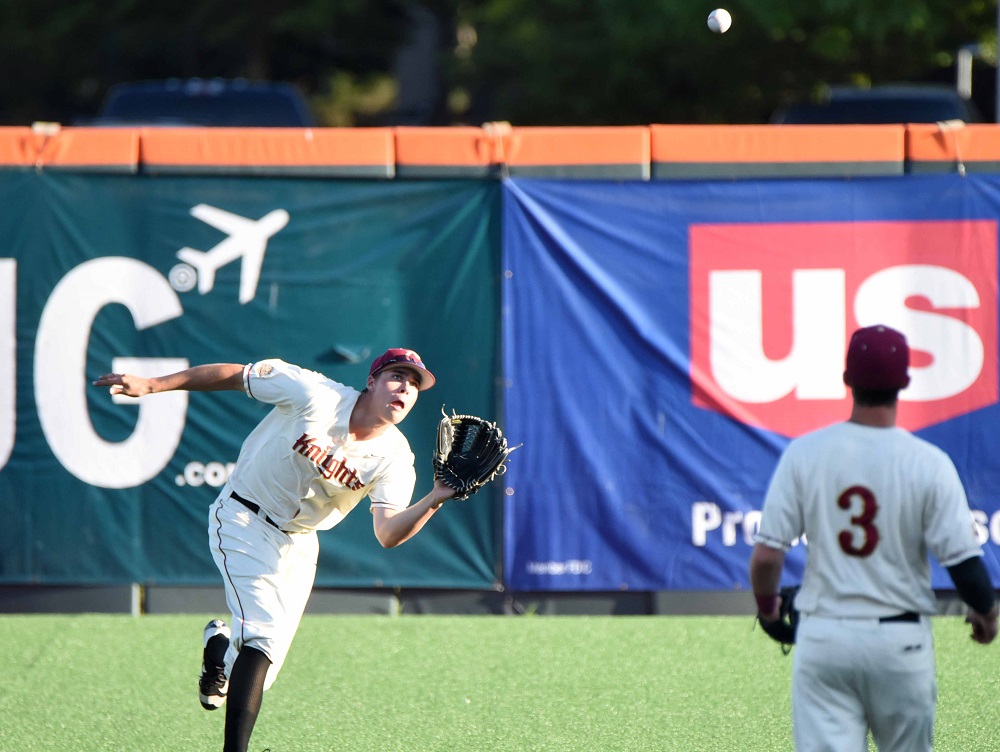 Hawken Flies High as Knights Top HarbourCats 9-8 in Series Opener
Left fielder Cody Hawken (pictured, above) had three hits, scored twice, stole a base and drove in a run to lead the Knights to a 9-8 win over Victoria in the opener of their West Coast League series at Goss Stadium.
A rising senior at Portland, Hawken had three singles, the first of which helped spark a five-run first inning that sent the Knights ahead 5-2. He also singled and scored in a three-run seventh, when the Knights broke a 6-6 tie.
Crescent Valley High graduate Briley Knight, bound for the University of Utah this fall, capped the seventh-inning rally with a two-run single. He had two hits, two RBIs, scored once and stole three bases.
Center fielder Chandler Anderson (Utah) doubled twice and scored two runs. First baseman Trace Tammaro (Portland in 2018-19) doubled, singled and drove in two runs; Austin Feist (St. Martin's) added a two-run double and Chad Stevens (Portland) singled twice and scored.
Reliever Trevor Wells (Linn-Benton CC) allowed one run in the last two innings for the save. He fanned the final two HarbourCats to strand the tying run at first base.
Corvallis (18-13-1 all, 15-11 WCL) bounced back from a tough 12-inning loss at Bellingham and a long bus ride back to Corvallis on Friday night with a 14-hit performance.
The teams play again at 3 p.m. Sunday. Stanford right-hander Brendan Beck (0-0, 2.25) is the scheduled starter for Corvallis, opposed by Victoria righty Garrett Goodall (2-0, 3.118) of Embry-Riddle. Sunday's game concludes the first half of the WCL season for Corvallis.
The series concludes at 6:30 p.m. Monday. Righty Landen Bourassa (3-1, 3.15) of San Francisco will start for the Knights; Baylor lefty Tyler Thomas (2-0, 4.09) gets the nod for Victoria.
Saturday's crowd of 1,373 raised the season attendance to 24,241 in 16 dates, an average of 1,515 per opening.