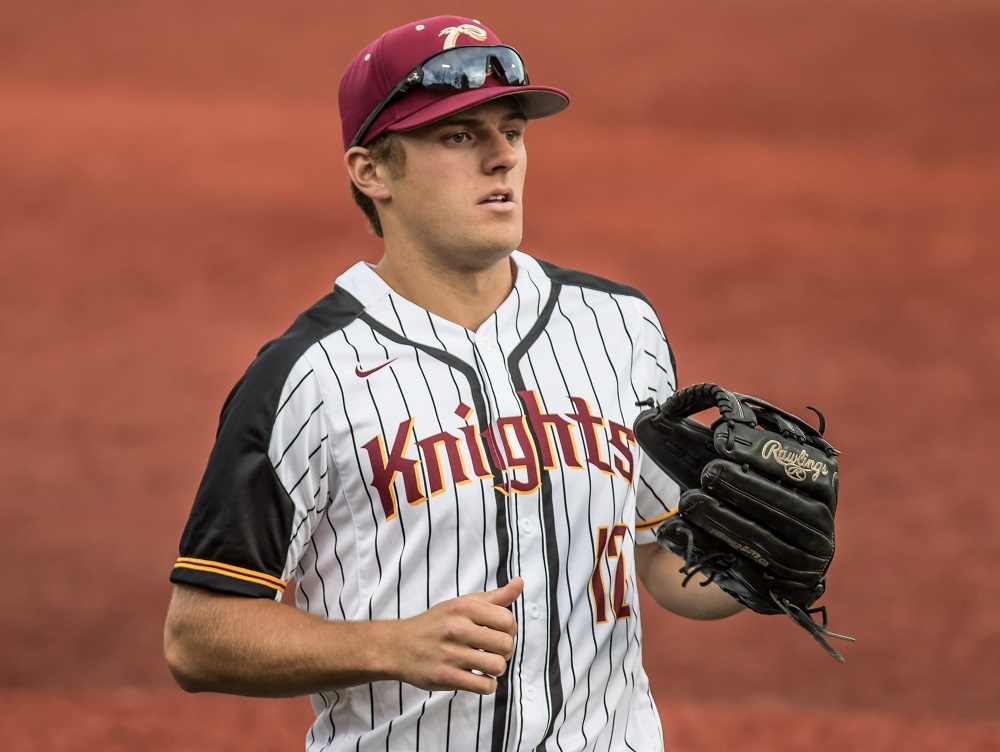 Bells Top Knights 3-2 in 12 Innings, Split Series
BELLINGHAM, Wash. – Bellingham defeated the Knights 3-2 in a marathon 12-inning West Coast League game at Joe Martin Field.
The Bells used a leadoff walk, an error, a sacrifice and a wild pitch in the 12th to score the deciding run.  Bellingham thus split the two-game series and took the season series 2-1; the Bells also won an 11-inning game at Bellingham on June 7.
Corvallis (17-13-1 all, 14-11 WCL) trailed 2-1 entering the top of the ninth but drew even on a one-out, solo homer by Utah's Chandler Anderson (pictured, above). It was his team-leading third home run of the summer.
The Knights also trailed 1-0 in the fifth before a single by Austin Feist (St. Martin's), a sacrifice and an RBI single by Beau Philip (OSU in 2018-19) tied the game. The Bells went back ahead 2-1 with a solo homer in the home sixth and held the lead until the ninth.
Corvallis starter Connor Knutson (Portland) allowed two runs and six hits in 5.2 innings, with seven strikeouts. Eli Morse (Portland) added one scoreless inning, Jacob Palisch (Stanford) went 2.1 scoreless frames and Kolby Somers (Oregon) added two more.
The Knights open a three-game series with Victoria at Goss Stadium on Saturday. It's a rematch of the 2017 WCL Championship Series, which the Knights won 2-1.
Lefty Aaron Shoup (3-2, 3.20) of St. Martin's will start for the Knights, opposed by Cal State Fullerton righty Landon Anderson (0-0, 3.00). The series continues at 3 p.m. on Sunday and at 6:30 p.m. on Monday.