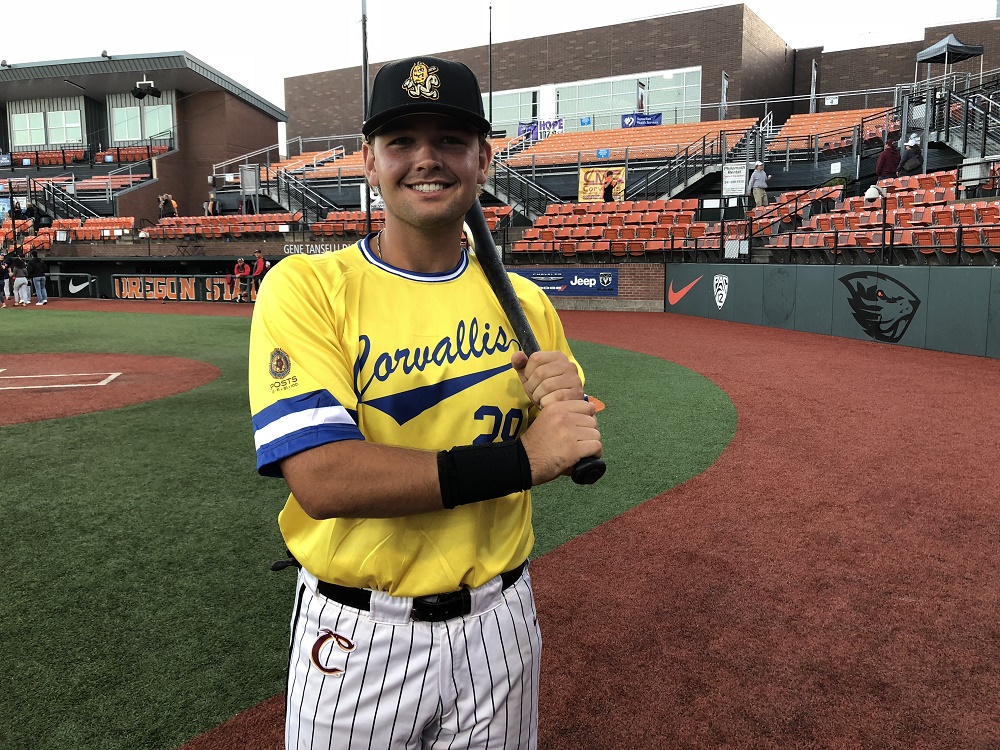 Tammaro Homers Twice, Knights Top Bellingham 5-1 in Series Opener
BELLINGHAM, Wash. – First baseman Trace Tammaro blasted two solo homers and the Knights topped Bellingham 5-1 in the opener of their two-game West Coast League series at Joe Martin Field.
An incoming freshman at Portland, Tammaro's leadoff homer over the right-field fence in the seventh inning broke a 1-1 tie. Future Pilot teammate Cody Hawken added a two-run, two-out single later in the frame to increase the lead to 4-1 and the Knights closed it out from there.
Tammaro now has three homers in his last three games. He also homered in a 5-4 nonleague win over the Mid-Valley Southpaws on July 2.
Starter Cameron Haskell (Arizona) allowed one run and two hits through the first six innings and got the win, improving his record to 2-1. He struck out four, walked one, hit another and threw 45 strikes in 70 pitches.
Reliever Connor Redmond (Cal Poly) kept the Bells off the board in the seventh and eighth.  Brendan Beck (Stanford) pitched a scoreless ninth to lock it down.
The Knights (17-12-1 all, 14-10 WCL) took a 1-0 lead in the fifth on Tammaro's first homer, a one-out blast to right field. Bellingham's Grant Holman answered with a solo shot of his own in the bottom half to tie the game.
A sacrifice fly by Austin Feist (St. Martin's) in the ninth gave the Knights another insurance run. He and Tammaro were the only Knights with more than one hit.
The series concludes at 6:35 p.m. Friday. Connor Knutson of Portland (2-0, 3.54) will start for Corvallis, opposed by Grant Holman of Cal (0-0, 1.68) in a matchup of right-handers.
It will be the final meeting of the season between the teams. Bellingham does not play in Corvallis this summer because of the unbalanced schedule.
The Knights then open a three-game series with Victoria at Goss Stadium on Saturday. It's a rematch of the 2017 WCL Championship Series, which the Knights won 2-1.