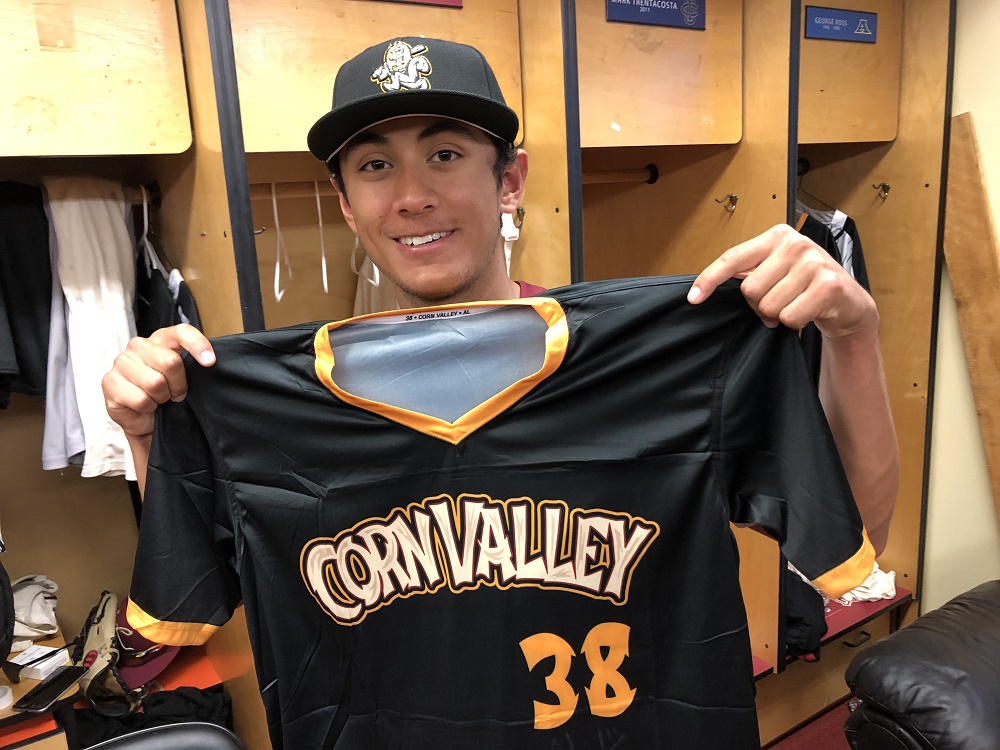 Cabrera's Homer Provides Late Fireworks for Knights in 8-7 Win
A two-run, two-out homer by Cole Cabrera (pictured, above) in the seventh inning gave the Knights an 8-7 win over the U-18 Utah Marshalls  in a nonleague game at Goss Stadium, thrilling an Oregon State Credit Union Fireworks Night capacity crowd of 3,125.
A rising sophomore at Cal Poly from Honolulu, Cabrera's shot cleared the fence in the left-center power alley. It also scored Cole Hamilton (Linn-Benton CC) and capped a four-run, two-out rally that erased a 7-4 lead by the Marshalls, a U-18 all-star team bases in Kearns, Utah.
"I worked the count from 0-2 and put myself in position to get a good pitch to hit," said Cabrera, who the night before had ignited a three-run, game-tying rally in an eventual 5-4 win over the Mid-Valley Southpaws with a double.  "I didn't know it was out but I knew it was going to be down for at least a double.
"I saw it go over the fence and couldn't believe it. Actually, I never hit homers; it was definitely cool to trot around the bases and give my team the lead."
Cody Hawken (Portland) began the decisive rally with a two-out single. Trace Tammaro (Portland in 2018-19) was hit by a pitch and both moved up a base on a wild pitch.
Hamilton then hit an infield single to score Hawken, and Tammaro crossed as well when the throw to first base went wild. That brought up Cabrera, who fell behind 0-2, battled back to 3-2 and then sent the next pitch well over the fence for his first homer of the summer.
Reliever Louie Crow (Cal Poly Pomona in 2018-19) retired the Marshalls in order in the eighth and ninth for the save. Reliever Abbott Haffar (UC Riverside) was the winner.
Hawken had two hits and scored twice; Hamilton had two hits, an RBI and a run scored. Chandler Anderson (Utah) also had two hits and an RBI.
The Knights' (16-12-1 all, 13-10 WCL) are idle on Wednesday. They head to Bellingham for two games with the Bells on Thursday and Friday before hosting Victoria on Saturday through Monday in a rematch of the 2017 WCL Championship Series.
Tuesday's sellout crowd of 3,125 raised total attendance to 22,868 in 15 dates, an average of 1,525 per opening.