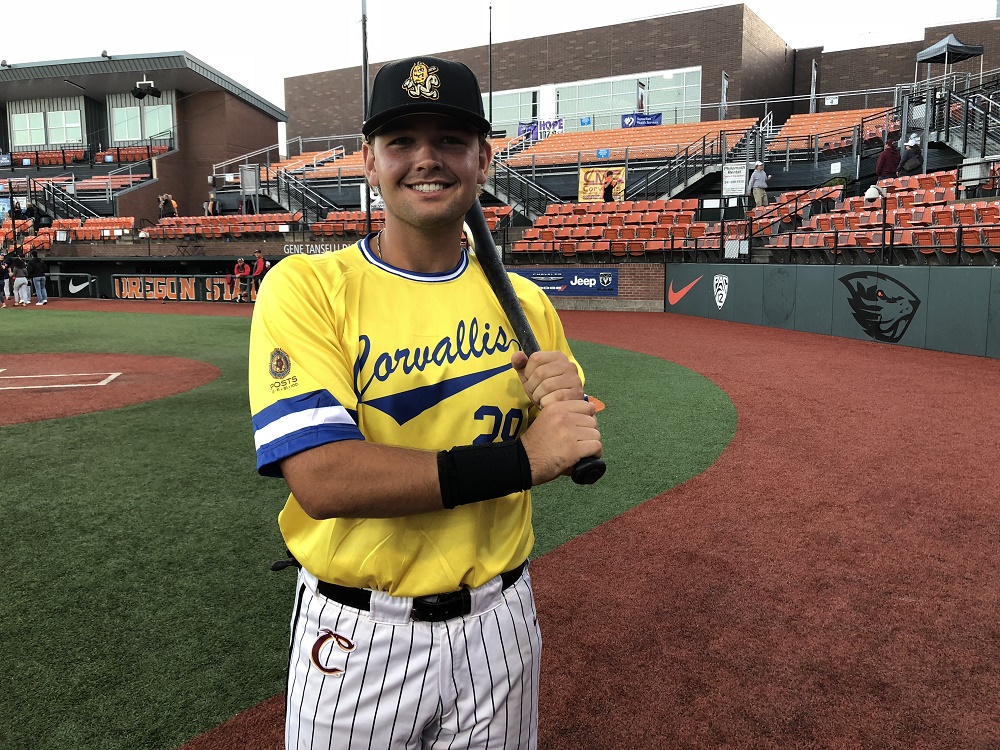 Tammaro's Solo HR Starts Knights' Comeback Win over Southpaws
The Knights rallied from a 4-0 deficit to edge the Mid-Valley Southpaws in a nonleague game at Goss Stadium.
Center fielder Cole Cabrera's (Cal Poly) two-out RBI single in the last of the sixth scored catcher Sam Olsson (San Jose State) with winning run in the seven-inning game.  Olsson had a leadoff single and advanced to second on a groundout.
Left-handed Aaron Shoup (St. Martin's) allowed one hit in four scoreless innings of relief to get the win. He struck out four, allowed one hit, and faced just one batter over the four-inning minimum.
"I was using a two-seam fastball to get ahead and I had confidence in my team to back me up," said Shoup, who was roughed up by the Portland Pickles on June 26 in his last appearance.
"It wasn't a league game but the energy was up in the dugout. Even though it was a seven-inning game and had a different feel to it, it was all positive."
The Knights' (15-12-1 all, 13-10 WCL) fell behind early when the Southpaws, the leaders in Area III American Legion race, erupted for four runs in the first inning. Cody Johnson (Lebanon HS) and Cooper Hartsell (West Albany HS) had RBI singles; two other runs scored on wild pitches.
However, Corvallis closed to within 4-1 in the second when incoming Portland freshman first baseman  Trace Tammaro's (pictured, above) slammed his first homer of the summer, a solo homer well over the right-field fence.
The Knights tied the game with a three-spot in the fifth. Cabrera doubled with two outs and scored on a single by shortstop Beau Philip (Oregon State in 2018-19). Third baseman Briley Knight (Utah in 2018-19) followed with an RBI triple and Knights stole home for a 4-4 tie after two walks had loaded the bases.
The Southpaws augmented their lineup by adding ex-college pitchers Daniel Aranda and Travis Vincent. A former Southpaw from Lebanon High, Aranda pitched at Corban University. Vincent is from McMinnville and pitched at Linn-Benton and Montana State-Billings.
The homestand concludes on Tuesday against the Utah Marshalls on Oregon State Credit Union Fireworks Night, with a special 7:15 p.m. starting time.
The Knights are idle on Wednesday. They head to Bellingham for two games with the Bells on Thursday and Friday before hosting Victoria on July 7-9 in a rematch of the 2017 WCL Championship Series.
Monday's crowd of 1,122 raised total attendance to 19,743 in 14 dates, an average of 1,412 per opening.