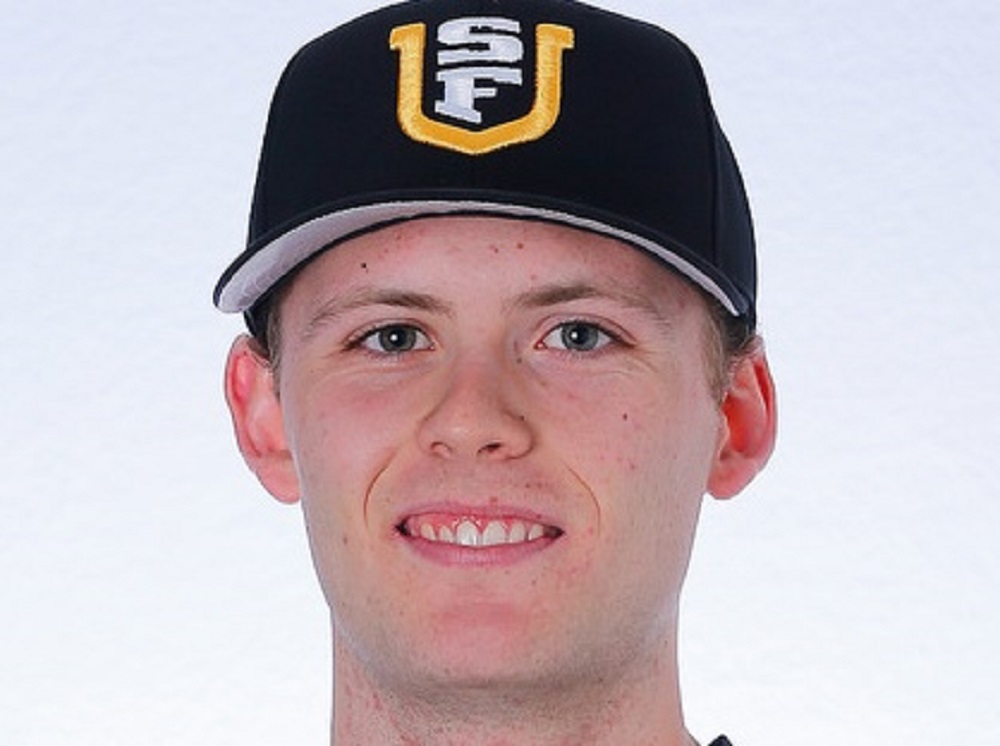 Bourassa Wins Opener as Knights Split With Walla Walla
The Knights split a South Division doubleheader with Walla Walla. Corvallis won the opener 3-2; Walla Walla earned a split with a 5-3, 10-inning victory in the nightcap.
The second-game loss put a severe crimp in the Knights' (14-12-1 all, 13-10 WCL) hopes for a first-half South Division championship and an automatic playoff berth. They now trail Walla Walla (15-10) by 1.5 games and the Sweets have the tie-breaker, as they won the season series 4-2.
The Knights also trail Portland by two games in the loss column. Portland also owns the tiebreaker over the Knights.
San Francisco righty Landen Bourassa (pictured, above) went a solid 6.2 innings to win the opener. He allowed both runs on seven hits and had four strikeouts while defeating the Sweets for the second time this summer.
Kolby Somers (Oregon) got the save after a two-out RBI double drew Walla Walla within 3-2. Third baseman Briley Knight went to his left to spear a ground ball and threw the runner out at first for the final out to preserve the win.
A two-run single by Chad Stevens (Portland) capped a two-out rally in the second inning that sent the Knights ahead 2-1. DH Elliot Willy (Oregon State) added a solo homer in the fourth, his first hit since joining the team on Saturday.
Catcher Sam Olsson (San Jose State) had two hits and scored once. Stevens also had two hits, giving him five in his last two games.
In the nightcap, the Knights rallied from a 3-0 deficit and scored single runs in the fifth, sixth and seventh innings to force extra innings. Trace Tammaro (Portland in 2018-19), Cody Hawken (Portland) and Olsson had the RBIs.
Corvallis had the potential winning run on base in the seventh, eighth and ninth innings and had the winning run at the plate in the 10th when Austin Feist (St. Martin's) lined out to left to end the game.
Chandler Anderson (Utah) doubled twice and single; Beau Philips (OSU in 2018-19) doubled, singled and scored and Hawken had two hits in the second game.
The ongoing homestand concludes with nonleague games on Monday and Tuesday.
On Monday, the Knights host the Mid-Valley Southpaws American Legion team on Pioneer and 99.9 KRKT Military Appreciation Night. All active and retired military personnel will be admitted free of charge. Hot dogs and fountain sodas are $2. Game time is 6:30 p.m.
On Tuesday, the Knights host the Utah Marshalls in the annual Oregon State Credit Union Fireworks Night game. It's a 2Towns Tuesday, with special discounts on hard cider and $2 tacos. Note the special 7:15 p.m. starting time.
Sunday's crowd of 1,634 raised total attendance to 18,621 in 14 dates, an average of 1,432 per opening.