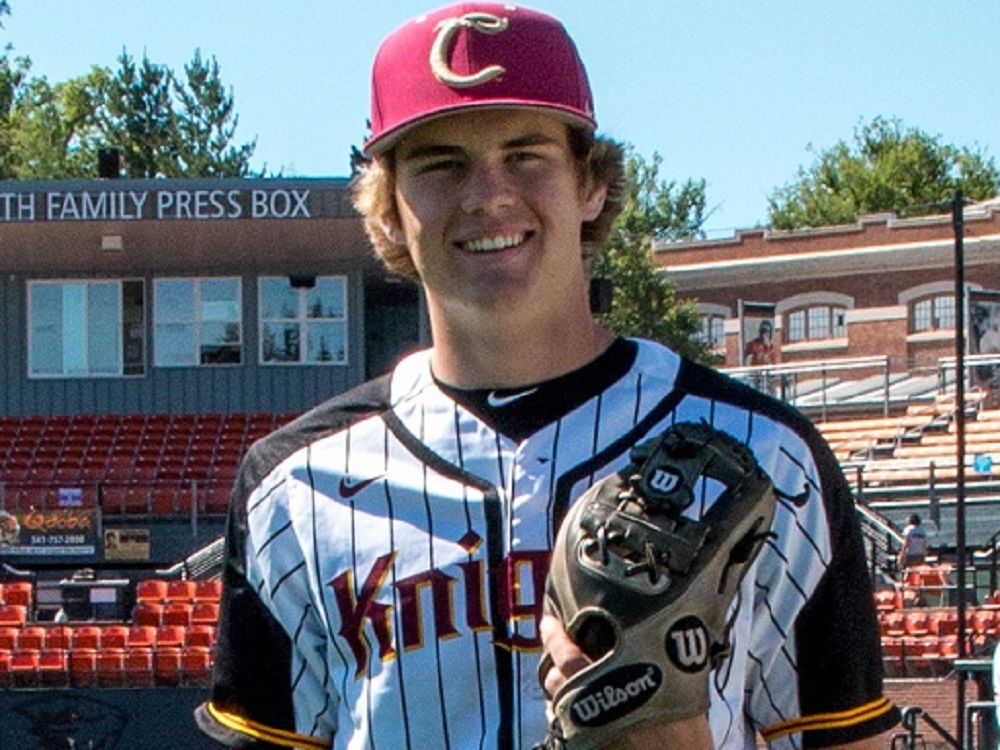 Stevens Has Three Hits as Knights Fall to Sweets in Series Opener
Walla Walla erupted for 18 runs and 21 hits in an 18-5 victory over Corvallis in a West Coast League game at Goss Stadium.
The Knights (13-11-1, 12-9 WCL) fell 1 ½ games behind Walla Walla (14-8 WCL) and Portland (14-8) in the South Division pennant race. They are 1-4 in their last five games; their opponents scored in double figures in each loss.
Second baseman Chad Stevens of Portland (pictured above) had three hits, a run and an RBI for the Knights. Beau Philip (OSU in 20119), Briley Knight (Utah in 2018-19), Chandler Anderson (Utah) and Cody Hawken (Portland) had two hits each and Hawken had an RBI.
The series concludes on Sunday with a 12:30 p.m. doubleheader. Right-handers Connor Redmond (0-0, 0.00) of Cal Poly and Landen Bourassa (2-1, 3.31) of San Francisco will start for Corvallis, opposed by Zach Penrod (0-1, 0.61) of NW Nazarene and Hadyn King (2-0, 2.34), also of USF.
It is Philomath Night, presented by the Philomath Chamber of Commerce. Junior Knights Club members are admitted free; blueberry sundaes and cotton candy are $2. Note the special doubleheader game time of 12:30 p.m.
Saturday's crowd of 1,232 raised total attendance to 16,987 in 12 dates, an average of 1,418 per opening.