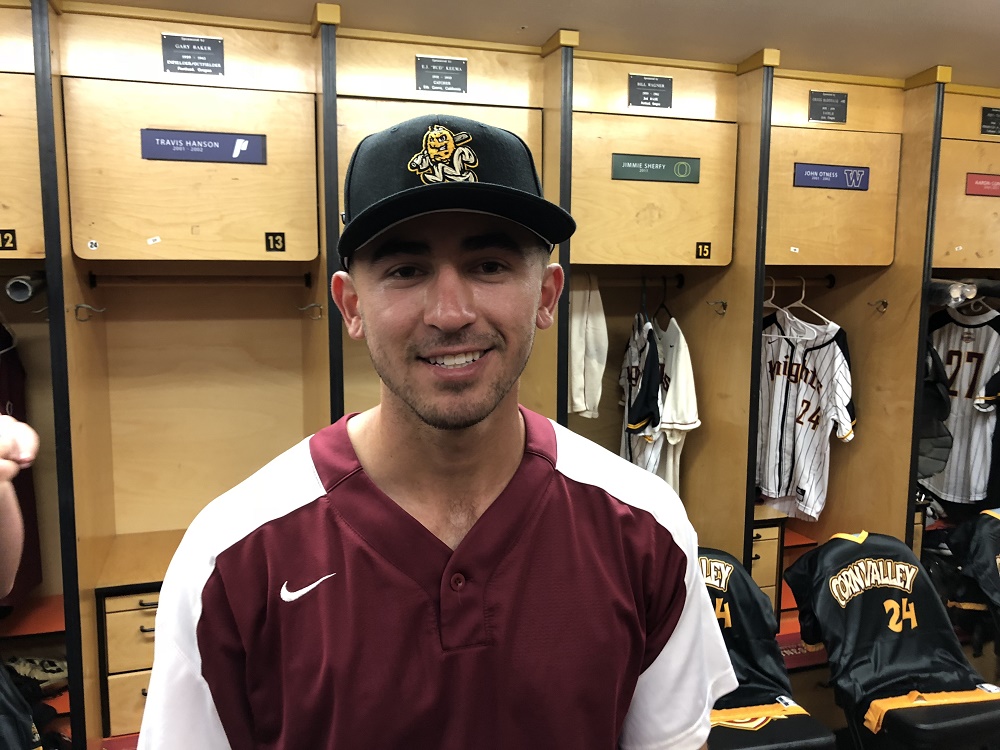 Philip, Feist Homer for Knights in 13-5 Rubber-Game Loss to Pickles
Beau Philip (pictured, above) and Austin Feist hit the first Goss Stadium home runs of the summer for the Knights in a 13-5 loss to Portland in the rubber game of their South Division series.
Corvallis led 3-0 after the first inning but the Pickles bounced back and hammered Knights' pitching for 13 runs and 17 hits, two nights after they pounded out 17 runs and 21 hits in a 17-2 victory in the series openers.
Philip, a star at San Joaquin Delta College who will play at Oregon State in 2018-19, had two hits and two RBIs. Feist (St. Martin's) and Cody Hawken (Portland) also had RBIs; Hawken's double was OSU's only other extra-base hit.
The Knights (13-10-1, 12-8 WCL) fell one-half game behind Walla Walla (13-8 WCL) in the South Division pennant race. Corvallis and Portland are now tied for second place.
Friday's scheduled game with Walla Walla has been postponed so the NCAA-champion Oregon State baseball team can host a victory party at Goss Stadium. It will be played as part of a 12:30 p.m. doubleheader on Sunday.
So, the Knights open a key WCL series with South Division co-leader Walla Walla at 6:30 p.m. on Saturday. Daniel Slominski (0-0, 1.92) is the scheduled starter for the Knights; Walla Walla's probable is undetermined.
Tickets for Friday's game will be honored for both games on Sunday.
Saturday vs. Walla Walla is ZOOperstars! Night, featuring the popular inflatable characters. Snow-cones are $2. Game time is 6:30 p.m.
Sunday's doubleheader vs. Walla Walla is Philomath Night, presented by the Philomath Chamber of Commerce. Junior Knights Club members are admitted free; blueberry sundaes and cotton candy are $2. Note the special doubleheader game time of 12:30 p.m.
Thursday's crowd of 1,035 raised total attendance to 15,755 in 11 dates, an average of 1,432 per opening.