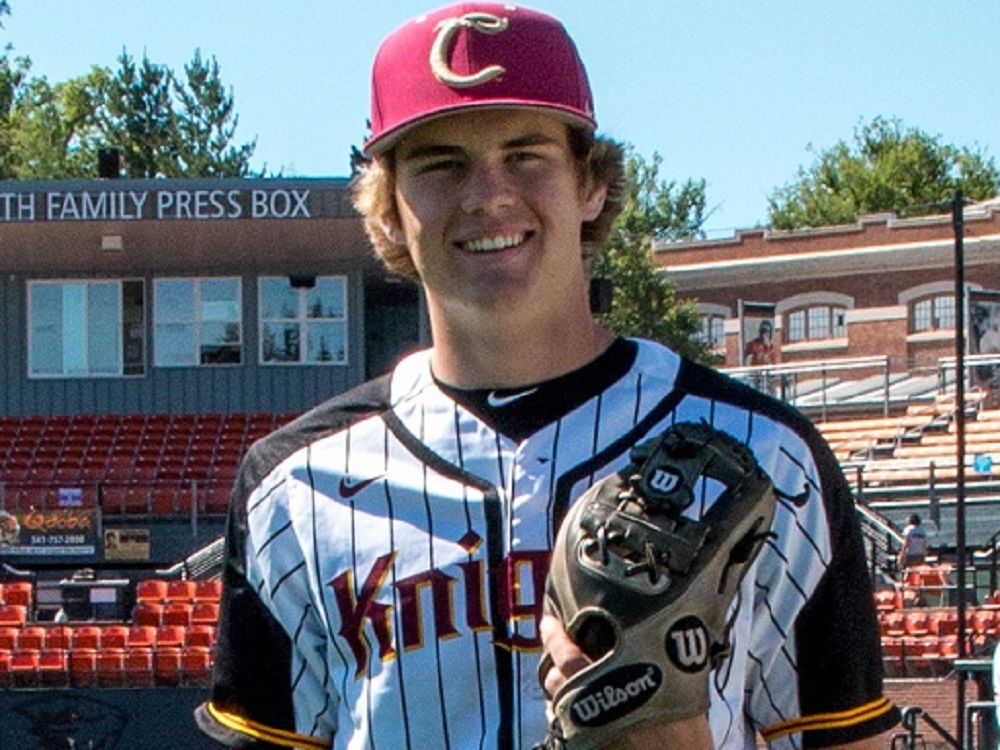 Stevens' Key Triple Powers Knights To Series Win Over Wenatchee
Shortstop Chad Stevens (pictured) slammed a two-run triple in the bottom of the eighth inning to give the Knights a 5-3 win over Wenatchee at Goss Stadium in the rubber game of their West Coast League series.
A rising sophomore at Portland, Stevens' line drive sailed over the head of Wenatchee center fielder Johnny Sage and rolled all the way to the wall. Chad's Pilots teammate Cody Hawken and Cam Haskell (Arizona) scored easily as Stevens steamed into third base.
"I missed a bunt on the first strike and was looking for a ball I could drive," said Stevens, who tied Hawken and Haskell for the team lead in RBIs (6) on the play. "[Wenatchee pitcher Conner McCord] gave me a fastball over the plate and I took it where it was pitched."
Reliever Eli Morse (Portland) went the final 1.1 innings for the win. He escaped a jam in the eighth when catcher Sam Olsson (San Jose State) picked off a runner at third base to end the inning; he then authored a perfect ninth, setting down the final two batters on strikes.
It was the first three-game series win for the Knights (5-6 all, 4-4 WCL). They lost Tuesday's opener 4-0 but prevailed 12-3 on Wednesday to set up Thursday's decisive contest.
Hawken went 2-for-3 with two runs, a steal and an RBI. Haskell was 2-for-4, scored twice and drove in a run; Briley Knight (Utah in 2018-19) tripled and scored to tie the game 3-3 in the sixth and Olsson had a sacrifice fly in the second to give the Knights a temporary 2-1 edge.
Starter Daniel Slominski (San Francisco) allowed three runs in six innings and got a no-decision. Reliever Jordan McDaniel (Linn-Benton) added 1.2 scoreless frames before giving way to Morse in the eighth.
The Knights host Cowlitz on Friday, Saturday and Sunday. Linfield Lefty Cason Cunningham (0-1, 1.68) is Friday's projected starter for the Knights; Cowlitz's starter is TBA.
The seven-game homestand concludes on Monday with a non-league game with the Gresham GreyWolves.
Thursday's crowd of 847 pushed attendance to 7,570 for four dates. That's 890 more than last season through a corresponding number of openings.