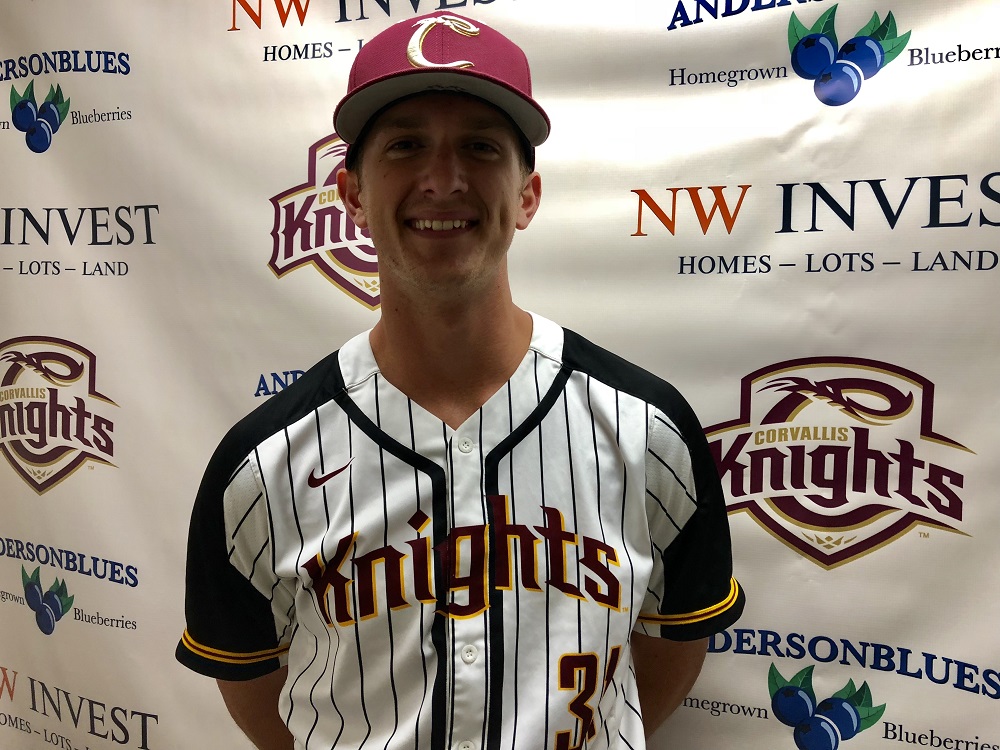 Boatman's Stellar Relief Effort Saves Knights Win Over Cowlitz
UCLA-bound pitcher Dennis Boatman (pictured, above) shut down Cowlitz on one hit over the final 3.1 innings as the Knights topped the Black Bears 6-3 in the opener of their three-game West Coast League series at Goss Stadium.
A former star at Woodcreek High School in Roseville, Calif. – the alma mater of former Knights/Oregon standout closer Stephen Nogosek – Boatman struck out four, got six outs via ground balls and faced just two batters over the minimum in an impressive outing.
Boatman entered the game with a 27.00 ERA, with five walks and no strikeouts in one inning over two appearances. Friday was a 180-degree turnaround, as the 6-foot-5, 215-pounder threw 23 strikes in 37 pitches in locking down the Knights (6-6, 5-4 WCL) third straight victory.
"I had a couple bad outings early, but coming out of the bullpen and getting a first pitch strike was huge for my confidence," said Boatman, who lowered his ERA more than 20 points, to 6.23. "I had fastball control all night."
The Knights led 2-0 early, trailed 3-2, rallied to tie at 3-3 and then went ahead for good in the fifth inning on back-to-back triples by Beau Philip and Cody Hawken (Portland) and a sacrifice fly by Chad Stevens (Portland).
Philip also doubled and scored the tying run in the third inning on a groundout by Stevens. The Oregon State-bound middle infielder is hitting .376 (6-16) with three extra-base hits since joining the team on Tuesday.
Stevens had three RBIs, giving him five in his last two games and a team-high nine on the season. His two-run eighth-inning triple was the difference in Thursday night's 5-3 win over Wenatchee.
Reliever Logan Nousen (Oregon Tech) also had his best outing of the summer and got the win. He entered with two on and no outs in the fifth; the first batter singled, but the lead runner was thrown out at home by right-fielder Austin Feist (St. Martin's) for the first out.
Nousen struck out the next two Black Bears (7-6 WCL) to end the inning and retired the first two hitters in the sixth. Three of his five outs were via strikeouts.
Hawken, Cam Haskell (Arizona) and new Knight Zach Weller (Cal State Fullerton) had the Knights other RBIs. Weller also handled six chances flawlessly at third base.
The series continues at 6:30 p.m. Saturday. Western Oregon lefty Jacob Fricke (0-0, 0.00) makes his first start for the Knights, opposed by Lower Columbia College righty Mitch Lines (1-0, 0.87).
It is Big League Chew Youth Sports Night, presented by Pape. The first 250 fans receive a pouch of Big League Chew and a sheet of Knights trading cards. Children 18 and under wearing their team's youth jersey will be admitted free.
The series finale is set for 3 p.m. Sunday on Snap Fitness Father's Day. Fans can play catch with dad on the field after the game. Landen Bourassa (1-0, 0.00) of San Francisco goes for the Knights; Wyatt Stanley (0-0, 4.69) of Edmonds College gets the baseball for Cowlitz in a matchup of right-handers.
Monday is Oregon Forestry and Mini Wooden Bat Giveaway Night, presented by Starker Forests. The first 250 fans receive a free mini bat.
Friday night's crowd of 1,219 pushed attendance to 7,570 for four dates. That's 1,169 more fans than last season through a corresponding number of openings.
Our seven-game homestand concludes on Monday with a nonleague game with the Gresham GreyWolves.
Weller was the first in a wave of reinforcements expected to arrive in the next couple days as the Knights near full-strength for the first time this summer.
Pitcher Abbott Haffar (UC Riverside) arrives Saturday; pitcher/infielder Brendan Beck (Stanford) joins the club on Sunday; pitcher Connor Redmond and outfielder Cole Cabrera of Cole Poly and pitchers Jacob Palisch (Stanford), Miles Glazier (UC Irvine) and Kolby Somers (Oregon) arrive Monday.