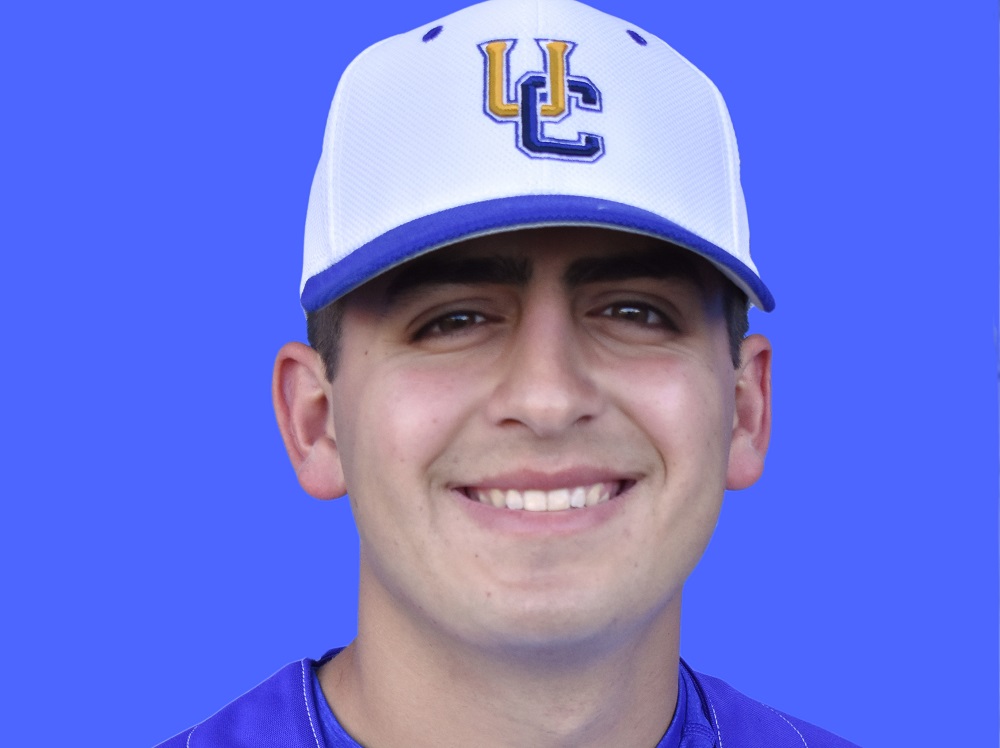 Haffar Stars in Corvallis Debut as Knights Top Black Bears 9-5
Abbott Haffar wasted little time in making an impact for the Corvallis Knights.
The right-hander from UC Riverside (pictured) joined the club on Saturday and pitched three scoreless innings in his debut that night, helping the Knights rally for a 9-5 win over Cowlitz in a West Coast League South Division game at Goss Stadium.
A sophomore-to-be from Simi Valley, Calif., Haffar allowed only one hit and struck out two in his three-inning stint. He got the other seven outs via ground balls and did not allow a baserunner past first base.
"My fastball and curve ball weren't working but my changeup stuck and that's what I got a lot of my outs with," Haffar said.
It was the fourth win in a row for the Knights (7-6, 6-4 WCL), who are 4-1 on their current seven-game homestand, with WCL series wins over Wenatchee and Cowlitz. They drew within 1.5 games of the Portland Pickles in the South Division's first-half playoff race, as the Pickles lost 3-2 at Bellingham.
Corvallis trailed 5-0 after three innings. But the bullpen combined for 6.1 scoreless innings and the Knights scored four times in the fourth and fifth innings to take the lead for good.
Portland teammates Cody Hawken and Chad Stevens each doubled, singled, scored twice and drove in a run for the Knights. Austin Feist (St. Martin's) doubled twice and drove in two; Sam Olsson (San Jose State) added an RBI double and Zach Weller (Cal State-Fullerton) scored twice, started a double play and handled six chances at third base.
The Knights turned two double plays to support relievers Trevor Wells (Linn-Benton CC), Haffar and Louie Crow (San Diego). Wells ended a two-on, two-out threat in the third and then went 2.1 scoreless innings before turning things over to Haffar.
Crow succeeded Haffar with a 1-2-3 ninth inning. He struck out two; the bullpen threesome combined for six strikeouts and no walks. Wells was credited with the win.
The series finale is set for 3 p.m. Sunday on Snap Fitness Father's Day. Fans can play catch with dad on the field after the game. Landen Bourassa (1-0, 0.00) of San Francisco goes for the Knights; Wyatt Stanley (0-0, 4.69) of Edmonds College gets the baseball for Cowlitz in a matchup of right-handers.
The homestand ends on Monday on Oregon Forestry and Mini Wooden Bat Giveaway Night, presented by Starker Forests. The first 250 fans receive a free mini bat.
Saturday night's crowd of 1,661 pushed attendance to 10,450 for six dates, an average of 1,741 per opening,
Haffar's arrival moved the Knights another player closer to full-strength for the first time this summer.
Pitcher/infielder Brendan Beck (Stanford) joins the team on Sunday. Pitcher Connor Redmond and outfielder Cole Cabrera of Cal Poly and pitchers Jacob Palisch (Stanford), Miles Glazier (UC Irvine) and Kolby Somers (Oregon) arrive Monday.