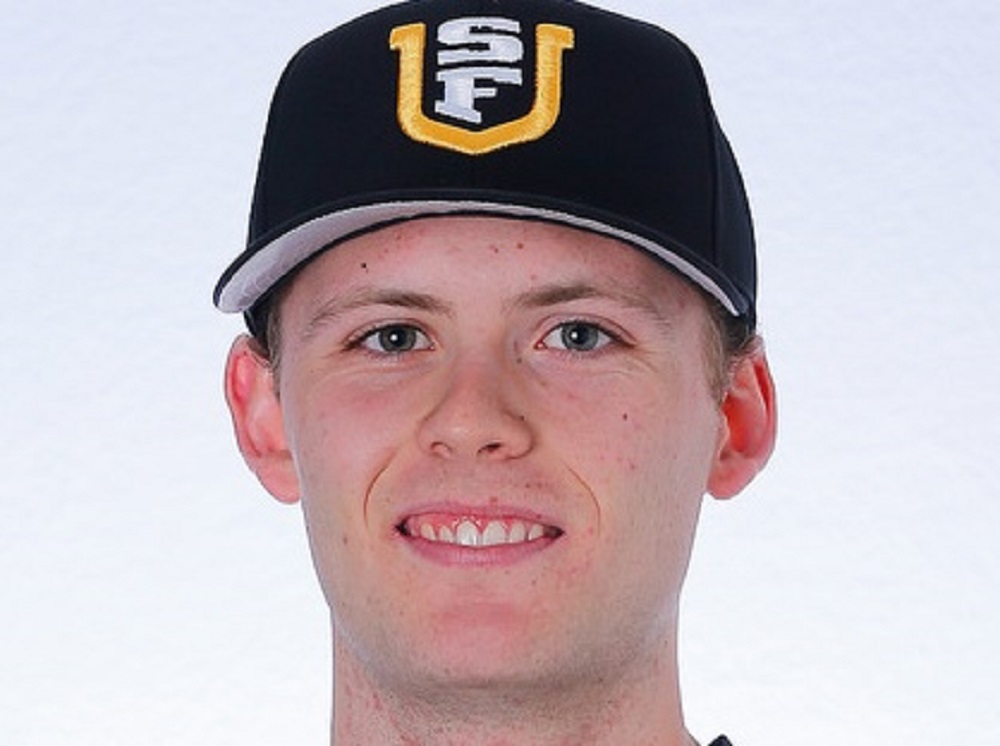 Bourassa's 7-Hit Gem Leads Knights to 6-1 Win, Sweep of Cowlitz
Pitcher Landen Bourassa (pictured, above) scattered seven hits over eight innings to lead the Knights to a 6-1 win over Cowlitz at Goss Stadium and a sweep of their West Coast League series.
A senior-to-be at San Francisco from Lethbridge, Alberta, Canada, Bourassa struck out seven, did not issue a walk and threw 61 strikes in an efficient 90-pitch performance. He improved to 2-0; he went 6.2 innings in a 2-1 win at Walla Walla on June 10.
"I was feeling pretty good, rolling through the first couple innings," Bourassa said. "I was keeping my pitch count down and I felt good all the way, until they took me out."
Cam Haskell (Arizona) finished up, retiring the Black Bears (7-8) in order in the ninth inning on five pitches.
Second baseman Chad Stevens (Portland) tripled, doubled, singled, scored twice and drove in a run to complete a great series against the Black Bears. He was 5-for-10 in the three games, with two doubles, a triple and five RBIs, increasing his team-leading total to 11.
Catcher Cole Hamilton (Linn-Benton) was 2-for-3 with two runs and right fielder Austin Feist (St. Martin's) had two hits and a run. Briley Knight (Utah in 2018-19), Beau Philip (Oregon State in 2018-19) and Cody Hawken (Portland) also had RBIs.
It was the fifth win in a row for the Knights (8-6, 7-4 WCL), who went 5-1 in the six WCL games in the ongoing seven-game homestand, which concludes at 6:30 p.m. Monday with a nonleague game against the Gresham Greywolves.
Monday is Oregon Forestry and Mini Wooden Bat Giveaway Night, presented by Starker Forests. The first 250 fans receive a free mini bat. It's also the Knights Day Camp for Kids day.
Sunday's crowd of 989 pushed attendance to 11,439 for seven dates, an average of 1,634 per opening,
Pitcher/infielder Brendan Beck and pitcher Jacob Palisch of Stanford joined the club on Sunday, moving the Knights two players closer to full-strength for the first time this summer.
Pitcher Connor Redmond and outfielder Cole Cabrera of Cal Poly and pitchers Miles Glazier (UC Irvine) and Kolby Somers (Oregon) arrive Monday.