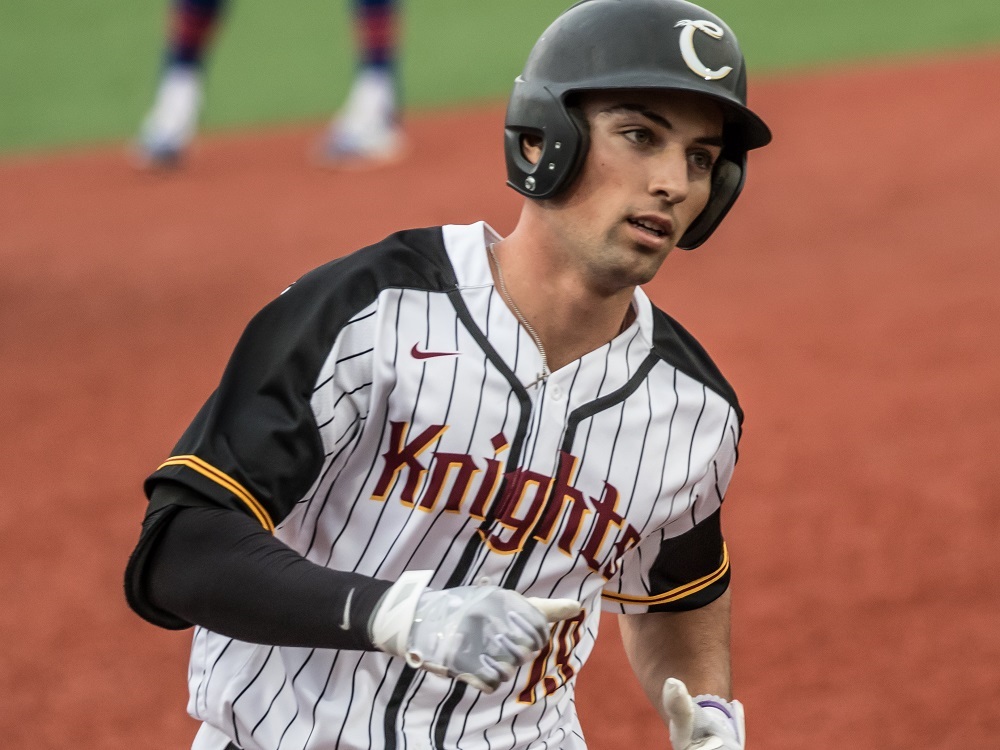 Qsar's Two Homers Lead Knights to 6-3 Win over Sweets
CORVALLIS, Ore. –  Pepperdine senior-to-be Jordan Qsar (pictured, above) slugged two homers and drove in three runs to power the Knights to a 6-3 win over Walla Walla at Goss Stadium.
Qsar led off the second with a mammoth blast over the scoreboard to give the Knights a 1-0 lead. He added a two-run shot to right field in the fifth inning that doubled Corvallis' lead to 4-0.
Qsar now leads the West Coast League with nine homers and ranks third with 29 RBIs. He has three homers and 10 RBIs for the week.
"Coming in to the game today I felt good, my swing felt good," Qsar said. "I got a pitch [on his first homer] and I looked to do damage on it. I'm really glad I got it and got the game rolling.
"Getting two home runs in one game feels amazing, and to get the win as well" was an added bonus, as was winning the series.
It was the 11th consecutive win overall for the Knights (26-10 all, 22-10 WCL, 5-0 WCL second half) and their eighth in a row in league play. Their last loss was June 28 to Victoria.
Oregon Staters Zak Taylor and Elliot Willy added two-out RBIs in the seventh, when the Knights scored twice to restore a comfortable three-run lead (6-3) after the Sweets (16-14 WCL, 1-2 second half) drew within 4-3 with three runs in the seventh.
Portland senior Jordan Horak threw five scoreless innings and got the win to improve to 3-1. Dixie State's Tanner Howell got five outs for a hold and Kansas senior Chase Kaplan added a perfect ninth for his fifth save.
The series concludes at 5:05 p.m. Sunday. Lefty Hazahel Quijada (1-1, 6.75) of UC Riverside will start for Corvallis; UC Irvine lefty Dylan Riddle (1-0, 3.11) goes for the Sweets.
The Knights close out their 10-game homestand against North Division first-half champion Kelowna on Monday, Tuesday and Wednesday.