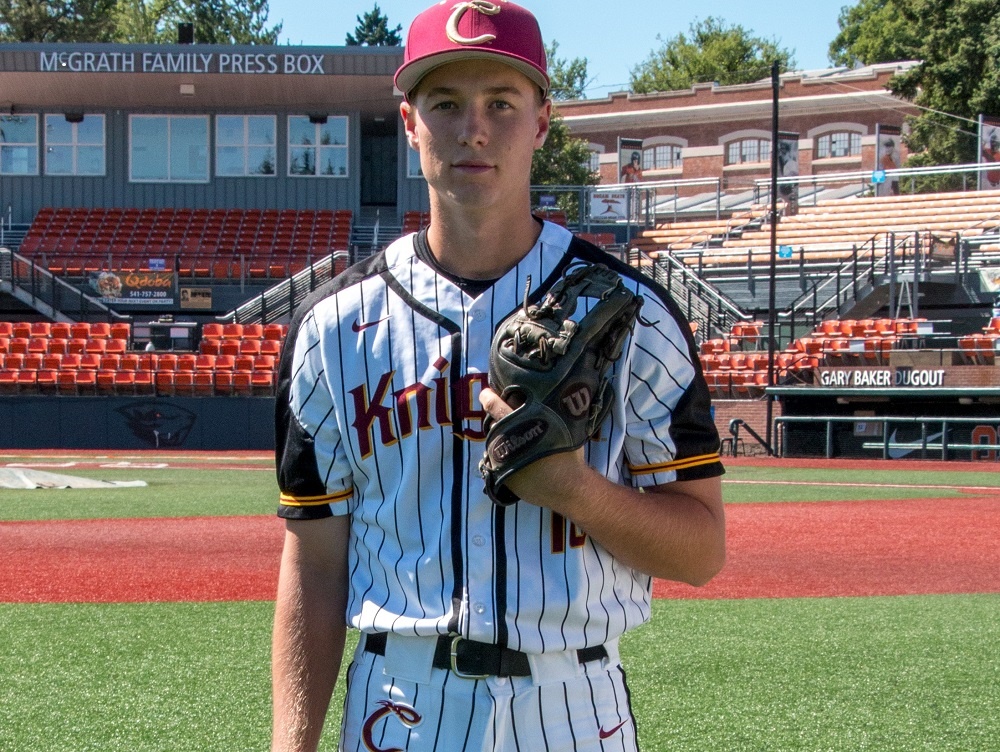 Kuzma Has Two Hits, Three RBIs in Win Over Sweets
CORVALLIS, Ore. –  Infielders Jack Kuzma (pictured, above) and Matt Kelly each drove in three runs and scored twice and the Knights completed a sweep of Walla Walla with an 11-8 win over the Sweets.
Kuzma had an RBI double in the fourth inning and a two-run single in the fifth. Kelly ripped a RBI single in the fourth and added a two-run double to cap the six-run fifth.
A rising sophomore at Cal Poly, Kuzma went 2-for-4 to raise his average 46 points, and upped his RBI total from two to five. He also handled all six defensive chances.
"I switched up my swing a bit and tried some new things and it worked out pretty well," he said. "It feels really good.
"Coming off my first season at Cal Poly I didn't get as many at-bats as I would have liked (31). But I'm starting to get the hang of things now and we're rolling well."
It was the 12th consecutive win overall for the Knights (27-10 all, 23-10 WCL, 6-0 WCL second half) and their ninth in a row in league play. Their last loss was June 28 to Victoria.
Kelly had three hits, three RBIs and two stolen bases. He is now tied with Jordan Qsar (Pepperdine) for the team lead in hits (35), and is 9 of 10 on stolen bases.
First baseman Cole Johnson (Pacific Lutheran) homered, singled and scored twice. He became the 13th Knight to homer this summer when he led off the fourth with a shot over the right-field fence. Corvallis leads the WCL with 29 home runs.
Hazahel Quijada (UC Riverside) allowed two runs and four hits in four innings in his first start of the summer. He struck out five and left with a 5-2 lead that quickly disappeared in the fifth.
Trevor Wells (Linn-Benton) threw two scoreless innings and was credited with the victory.
The Knights open a three-game series with North Division first-half champion Kelowna on Monday that concludes a 10-game homestand. Cal Poly righty Connor Redmond (1-1, 3.08) gets the start for the Knights. Kelowna's starter is TBA.
The series continues at 6:40 p.m. Tuesday and Wednesday. UR Riverside righty Trenton Toplikar (1-0, 5.90) and San Jose State righty Nick Morales (0-0, 1.80) are the probables for the Knights, respectively.