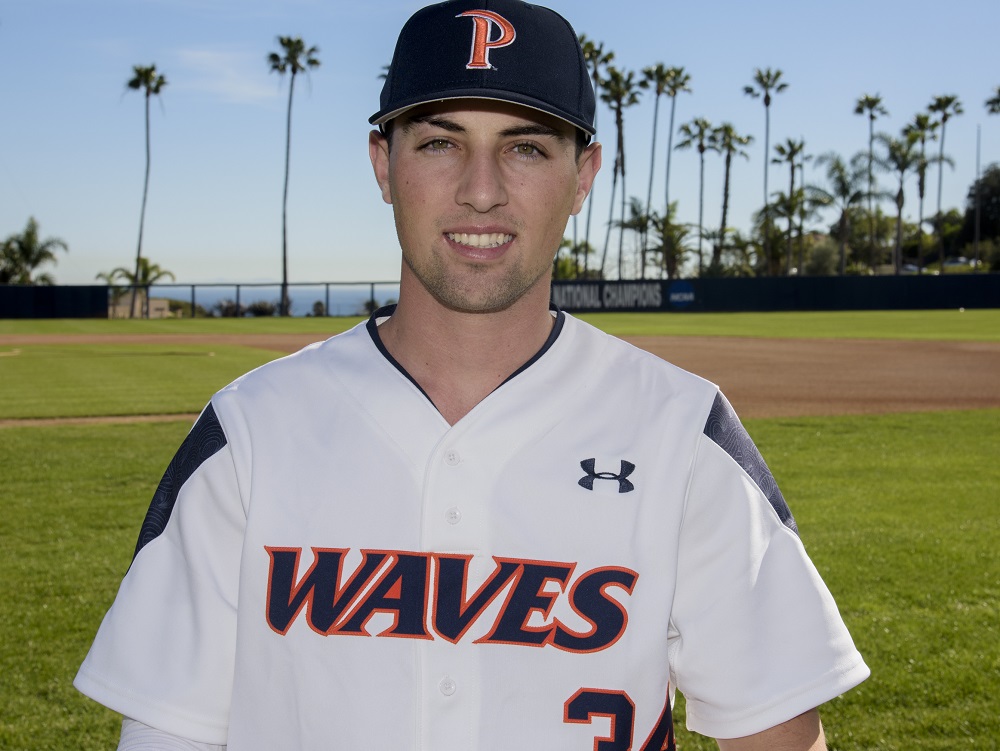 Qsar Goes 4-for-5, Knights Pound Cowlitz 10-3 to Win Finale
CORVALLIS, Ore. – Right fielder Jordan Qsar (pictured above) went 4-for-5 and the Knights hammered Cowlitz 10-3 to salvage the finale of their West Coast League series.
The rising Pepperdine senior had two doubles, two singles, two runs and an RBI as the Knights (11-5 all, 10-5 WCL) pounded out nine hits off four Black Bears (6-9 WCL) pitchers. He raised his average 45 points to .328 (19-58) with his first four-hit game of the summer.
"Part of the success is coming out to summer ball and relaxing," Qsar said. "So far it's been a good time.
"This summer I hoped to work on driving the ball, looking for extra-base hits rather than singles. Sometimes it just clicks and it feels good to have everything working."
A two-out, bases-clearing triple to the base of the right-field fence by Taylor Travess (Oregon) scored three runs to cap a decisive five-run outburst in the sixth inning. That erased a 3-1 deficit; Tanner Cantwell's (Treasure Valley) three-run double made it 9-3 in the seventh and the Knights closed it out.
"We were down 3-1 and two innings later we were up 10-3," Qsar said. "We've done that a couple of times this year. It's good to know that at any point we can take the lead."
Cantwell drove in four runs, Travess three, and Gabe Matthews (Oregon) and Henry Cheney (Portland) one each for the Knights. Corvallis battered Cowlitz pitchers for 11 doubles, two triples and three homers in the series.
Righty Cole Spear (UC Irvine) made his Knights' debut with 3.1 innings of scoreless relief. He struck out seven, allowed two hits and was credited with the victory. Anteater teammate Miles Glazier pitched a perfect ninth in his first appearance, fanning the final two hitters.
"It's huge having guys come in and throw strikes and get guys out," Qsar said.
Starter Nick Morales (San Jose State) cruised through the first four innings. However, a bleeder double, an error and a walk led to three runs; he allowed three hits and three runs in 4.1 innings, with six strikeouts.
The victory snapped a two-game tailspin and enabled the Knights to claim the season series 4-2. Corvallis has never lost a season series to the Black Bears since they joined the WCL in 2010.
The Knights head to Victoria on Tuesday for a 6:35 p.m. game with the HarbourCats at Royal Athletic Park. Righty Louis Crow of San Diego is our projected starter, opposed by Washington State lefty AJ Block (2-0, 1.25). The three-game series concludes on Thursday.
The Knights return home for a Friday-Sunday series with Bellingham, a rematch of the 2016 WCL Championship Series won by the Knights. Corvallis took 2 of 3 against the Bells in Bellingham on June 9-10.