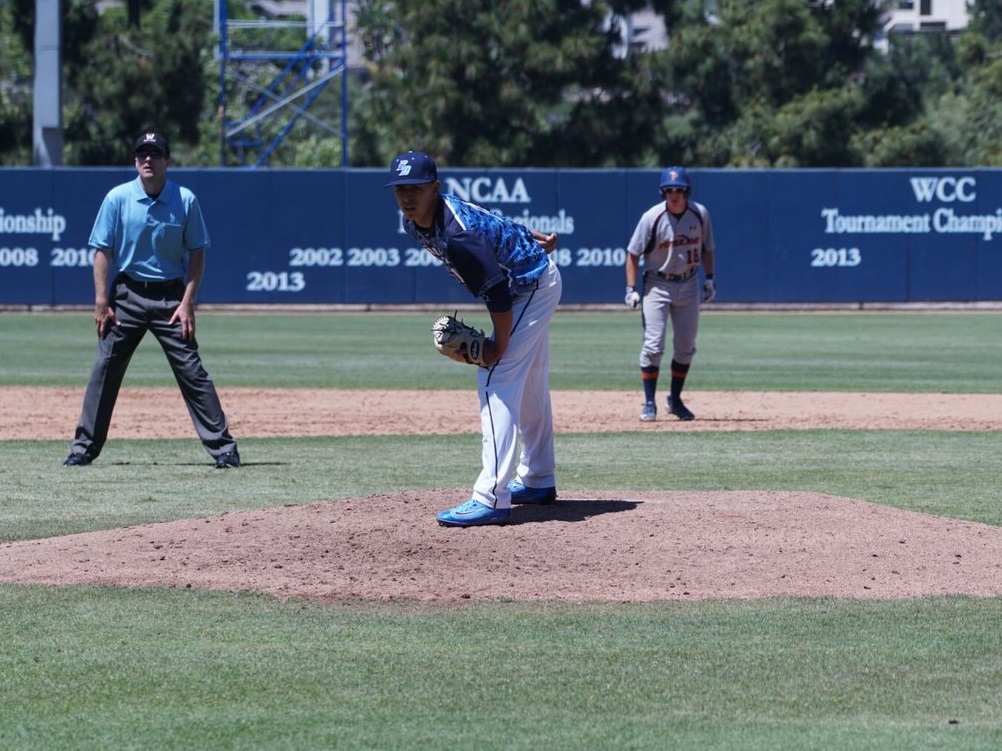 Great Performance by Louis Crow in No-Decision at Victoria
VICTORIA, B.C. – Corvallis starter Louis Crow (pictured) allowed two runs and six hits in a strong seven-inning performance but was not involved in the decision in a 4-2 loss at Victoria.
A rising sophomore at San Diego, Crow struck out eight and did not issue a walk in his longest outing of the summer. He threw 61 strikes in 89 pitches.
The HarbourCats (9-8) broke a 2-2 tie in the eighth inning to take Game 1 of the series at Royal Athletic Park. Reliever Darren Nelson retired the first two batters, a walk, a steal, a double, an error and a single enabled Victoria to push across two runs and the Knights went in order in the ninth inning.
The Knights (11-6 all, 10-6 WCL) took a 2-0 lead in the fourth on an RBI groundout by Jordan Qsar (Pepperdine) and an RBI single by Gabe Matthews (Oregon). However, Victoria got a two-run homer in the bottom half to tie the score.
The game remained scoreless from that point on until the decisive eighth inning. The Knights had just three hits and six Victoria pitchers combined for 13 strikeouts.
The series continues at 6:35 p.m. Wednesday. Jordan Horak of Portland (2-0, 1.45) is the scheduled starter for the Knights, opposed by Isaac Mullins of Washington State (0-1, 1.68) in a matchup of left-handers. It concludes at 6:35 p.m. Thursday; Trenton Toplikar (0-0, 0.00) of UC Riverside will make his first start of the season for the Knights.
The Knights return home for a Friday-Sunday series with Bellingham, a rematch of the 2016 WCL Championship Series won by the Knights. Corvallis took 2 of 3 against the Bells in Bellingham on June 9-10.