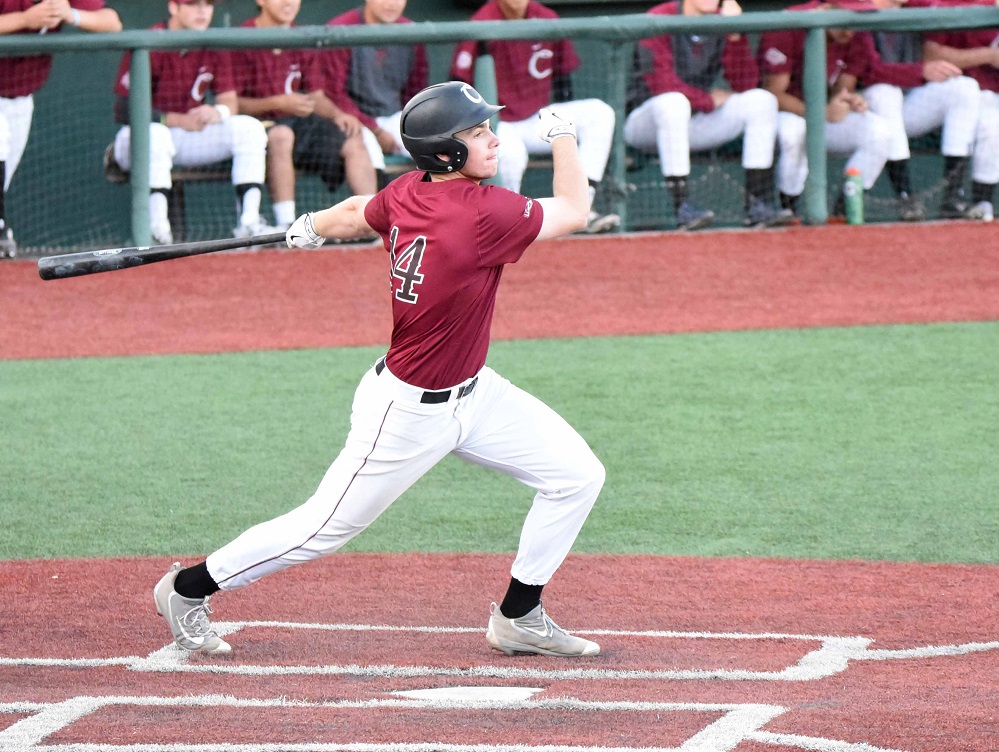 Kelly Doubles, Triples, Has Four RBIs in Win at Victoria
VICTORIA, B.C. – Second baseman Matt Kelly (pictured above) doubled, tripled and drove in four runs to lead the Knights to a 12-4 win over Victoria in Game 2 of their West Coast League series at Royal Athletic Park.
A rising junior at Portland, Kelly hit a two-run triple in the fifth inning and a two-run double in the sixth, capping a five-run rally that gave the Knights an insurmountable 12-3 advantage.  It was his fourth game this summer with two or more RBIs.
The Knights (12-6 all, 11-6 WCL) never trailed while evening the series at a game apiece. First baseman Dillan Scrum (Nevada-Reno) and catcher Troy Claunch (Oregon State in 2017-18) homered, giving the Knights a WCL-leading 17 round-trippers for the season. They had six total extra-base hits.
Shrum blasted a two-run homer, his second, to give the Knights a 2-0 lead in the first inning. He added an RBI single in the five-run sixth, and scored three times.
Claunch homered in the third inning and added an RBI single. Taylor Travess (Oregon) and Chad Stevens (Portland in 2017-18) had two hits apiece.
Starter Jordan Horak (Portland) allowed three runs, had six strikeouts in 5.2 innings, and improved to 3-0 with his longest outing of the season. Jacob Fricke (Western Oregon), Cameron Richman (Portland) and Hazahel Quijada  (UC Riverside) finished up and combined to strike out five and allow only one run over the final 3.1 innings.
The Knights now lead second-place Bend by three games in the South Division pennant race, with 10 games remaining in the first half of the season. The winner of the first half (27 games) earns an automatic playoff berth.
The series concludes at 6:35 p.m. Thursday. UC Riverside rising sophomore Trenton Toplikar (0-0, 0.00) makes his starting debut for the Knights, opposed by Baylor sophomore Luke Boyd (1-1, 2.07) in a matchup of right-handers.
The Knights return home for a Friday-Sunday series with Bellingham, a rematch of the 2016 WCL Championship Series won by the Knights. Corvallis took 2 of 3 against the Bells in Bellingham on June 9-10.