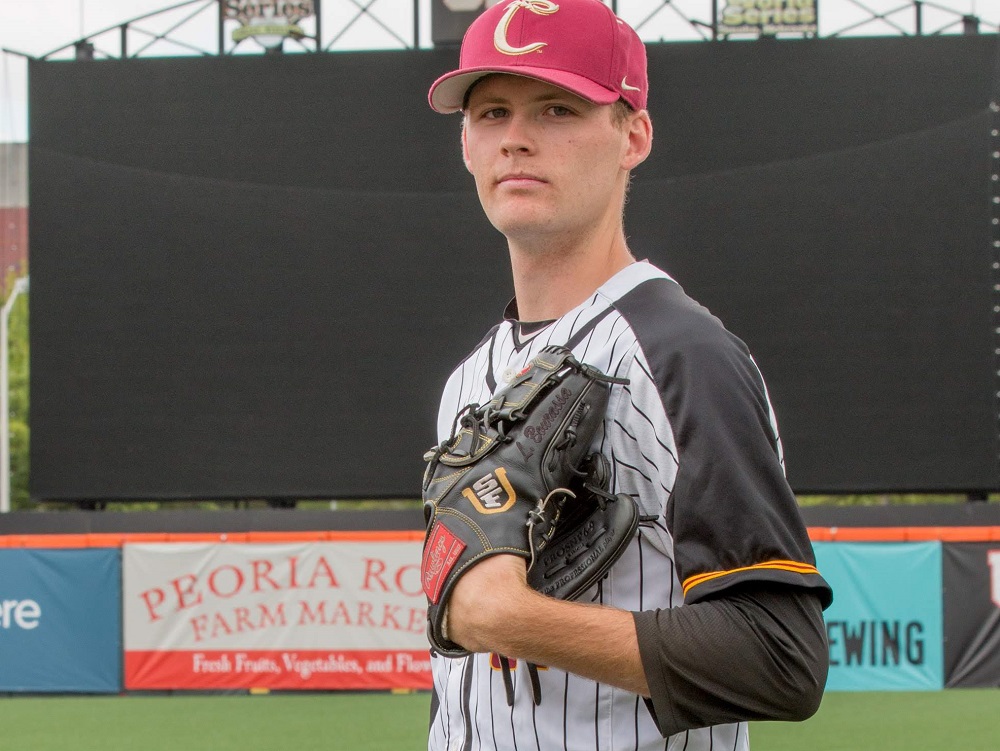 Pickles Top Knights 3-0, Capture Opener of Key South Division Series
PORTLAND – The  Knights wasted a strong pitching performance by all-star starter Landen Bourassa  in a 3-0 loss to the Portland Pickles in a South Division game at Walker Stadium.
It was the third loss in a row for the Knights (25-18-1, 22-16 WCL, 6-5 second half). They now trail Portland by 2.5 games in the second-half South Division playoff race.
A senior-to-be at San Francisco, Bourassa (pictured, above) blanked the Pickles on four hits through six innings but was not involved in the decision. He struck out four, issued no walks and lowered his ERA from 2.55 to 2.15.
Kolby Somers (Oregon) relieved and pitched a scoreless seventh inning. However, he walked two and then allowed a bunt single leading off the eighth, loading the bases with no outs.
Reliever Eli Morse (Portland) got one out on a force play at the plate on a ground ball to short but catcher Sam Olsson threw the relay into right field attempting for a 6-2-3 double play. Two runs scored; the third run came home on an ensuing double and that's all the Pickles needed.
Corvallis had just two hits, back-to-back singles by Zak Taylor (Oregon State) and Cody Hawken (Portland) starting the second inning. They each moved up on a sacrifice but strikeouts sandwiching a walk ended the inning.
The Knights did not get another hit. They had just three baserunners in the final seven innings, one of which was erased on a double play.
The series continues at 5:05 p.m. Sunday; Stanford righty Brendan Beck (1-1, 2.57) is the projected starter for Corvallis. It concludes at 7:05 p.m. Monday; lefty Aaron Shoup (3-2, 3.41) of St. Martin's is the Knights' probable.
Corvallis begins a four-game homestand on Tuesday with a 6:30 p.m. matchup with Kelowna.